British skiers swept away by Sochi 2014 media hype
Jade Etherington and Kelly Gallagher made history for Great Britain at the Winter Paralympics, but they never expected to get as much attention as they have.
19 Mar 2014
Imagen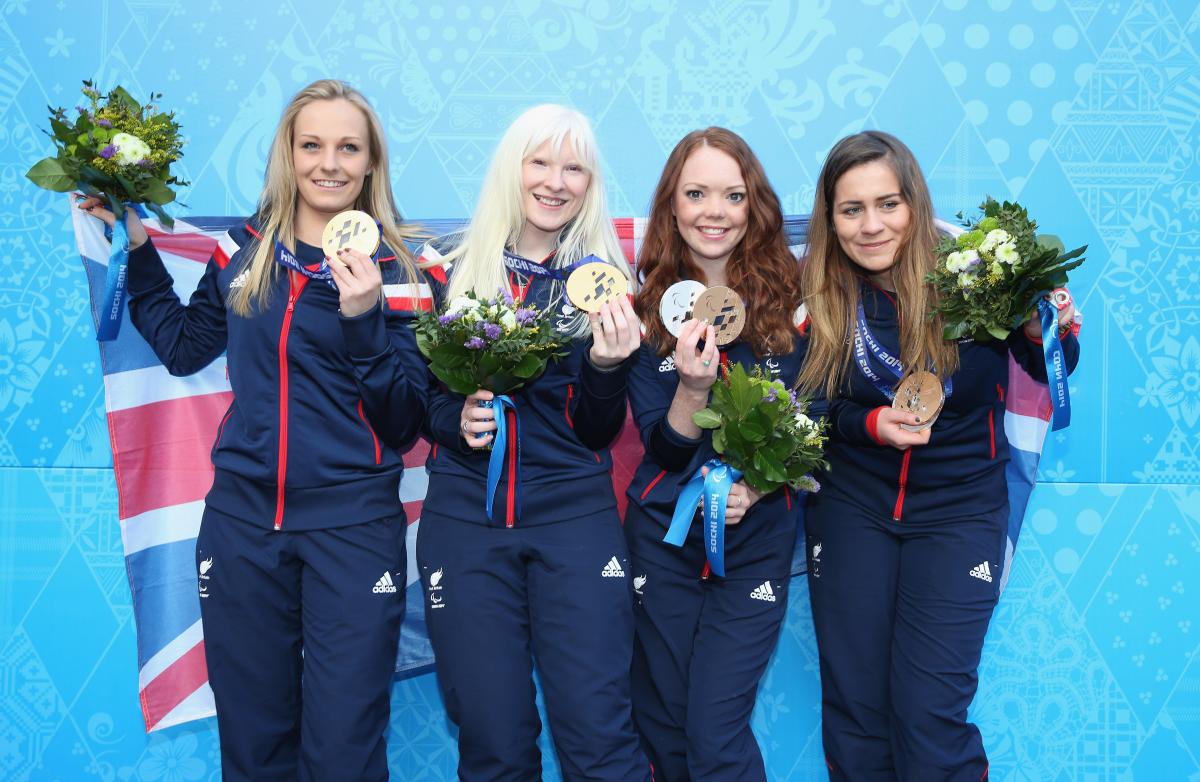 ⒸGetty Images
By Justin A. Rice | For the IPC
"We still need to celebrate J's birthday and we're definitely going to celebrate J's birthday first and then we'll celebrate these (medals). We'll see all of our family and friends and thank them for their support."
While competing at the Sochi 2014 Winter Paralympic Games, Great Britain's visually impaired skiers Kelly Gallagher and Jade Etherington, along with their guides Charlotte Evans and Caroline Powell, made quite a splash in the media back home.
It started on Sunday (9 March) when the Sunday Times put the news of Etherington and Powell's silver medal in the downhill on its front page and their exposure in the press grew exponentially as medals kept being hung around their necks until they became the first British athletes to win four medals at one Winter Paralympics.
And Gallagher's gold in the super-G, the first-ever gold for her country at a Winter Paralympics, got plenty of its own hype in the British media.
So when they finally got home on Monday night (17 March), a slew of media appearances awaited them, including a several BBC radio and television interviews on Tuesday.
"It's amazing our sport is being looked upon as a proper sport and I think there are so many people watching this and it's exciting," Evans said after she and Gallagher won the super-G gold medal.
Gallagher, who almost quit the sport after suffering a back injury and concussion was motivated to double down on her dream two years ago when her father died of cancer.
The 28-year-old is now coming to terms with her newfound fame.
"We are getting a lot of coverage at home and that's for us to deal with because it's very new for us because we never had anybody be interested," she said. "When we won two World Championship medals when we first started ski racing together you couldn't tell a sponsor about it. They were like 'Alright that's very interesting.'
"And now people are interested in our sport with the stand up and sit-skiers and it's really amazing for disabled and winter sport because in the UK winter sport isn't thought of; it is football and rugby."
Even the crowds at the Rosa Khutor Alpine Centre were nerve-racking for Gallagher and Evans.
"We are used to having six people watching us maximum," Evans said. "That's if we are lucky."
Powell said her phone crashed because she got so many messages after she and Etherington won silver in the downhill, which was Great Britain's first Paralympic or Olympic medal on snow in 20 years.
Both Etherington and Powell said that during the Paralympics they did their best to ignore the hoopla so they could focus on their races. But when they did take a peek at massive media coverage and social media outpour, they were encouraged by what they saw.
"It really helps us when we do look to know that people are cheering us on and the whole ParalympicsGB team," Etherington said during the Games. "It's great to get out the awareness of the sport and hope everyone is watching on Channel 4."
Powell said the London 2012 Paralympics was a watershed moment for para-spot in Great Britain and a boon for the country's alpine team.
"The 2012 games in London definitely helped," Powell said. "The Paralympics they were huge. They seemed to be bigger than the Olympics."
Gallagher said if British fans can come around on para-sport, so can American fans.
"I think so," she said. "Definitely. Why not?"
And now that the Paralympians have returned to London to show off their medals and meet their media obligations, they have one more bit of unfinished business during their victory lap: Celebrate Etherington's birthday.
Fittingly, she turned 23 on the day she appeared on the front of the Sunday Times.
"We still need to celebrate J's birthday and we're definitely going to celebrate J's birthday first and then we'll celebrate these (medals)," Powell said. "We'll see all of our family and friends and thank them for their support."