Canada's Anderson cannot be stopped
Wheelchair basketball star Pat Anderson recorded a triple-double at North Greenwich Arena and is on a roll in London.
01 Sep 2012
Imagen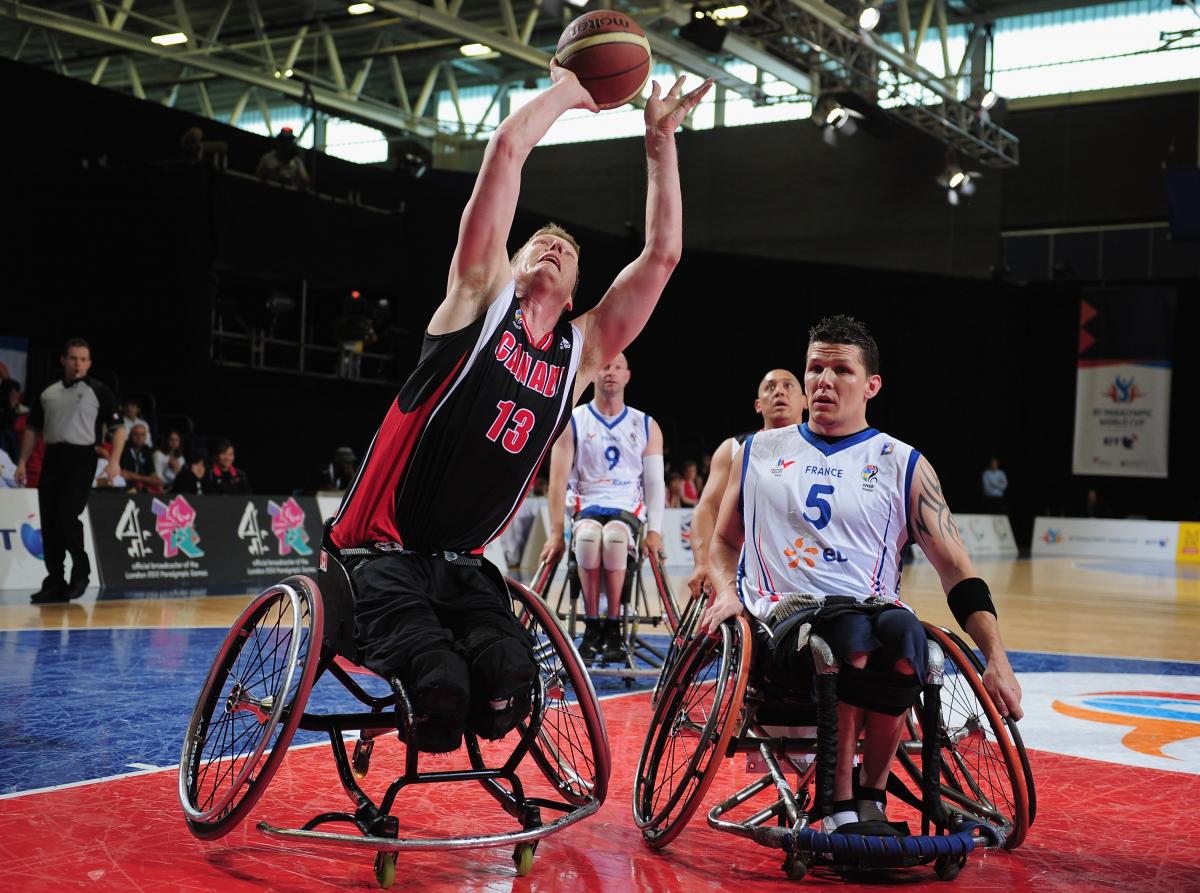 ⒸGetty Images
"Every game is a new game, and I don't go in knowing I'm going to have a great game. I go in to focus on the things I can control. I just play ball and see how things work out."
Patrick Anderson provided an imperious performance to underline both his status as the world's best player, and Canada's gold medal hopes, in a 70-54 win over Great Britain on Friday (31 August).
By the time Anderson left the court with little over five minutes remaining, having played every second up until that point, he had provided 29 points and 14 rebounds to earn a huge ovation from an otherwise partisan home crowd at North Greenwich Arena.
The 33-year-old arrived at the London 2012 Games with a phenomenal reputation, having led Canada to two gold medals and one silver in his Paralympic career. In his two matches to date, that reputation has looked entirely justified.
In the opening game against Japan he scored his side's first 23 points, and he followed that with another dominant display that left the crowd, media and social media users purring in admiration.
It would be unfair to describe is as a one-man performance, especially given the considerable contribution of Anderson's captain, David Eng.
But there was little doubt about who the star of the evening was, as the media gathered in the mixed zone after the game to converge on a man many think is the sport's greatest ever player.
"It's only the second game, so I haven't really proved anything," a modest Anderson said.
"But I'm proud of the fact that people regard me that way, and I want to represent the sport well, especially with everybody watching here in the UK and around the world.
"I was excited about this game, because I knew there'd be a good crowd and good attention for the really strong GB team. We've had a great rivalry over the years."
One journalist put it to Anderson that his 2010 retirement now seemed like "madness" given his form on the court so far in this year's competition.
"This is my fourth Paralympics, I've done this a few times and it's a challenge, it doesn't come easy," he responded.
"I put a lot of work, and I wouldn't have come back just to be here. I came back 18 months ago so that I could put in the work to make it look effortless.
"Every game is a new game, and I don't go in knowing I'm going to have a great game. I go in to focus on the things I can control. I just play ball and see how things work out."
Anderson was the difference between the two teams, but Britain still had their moments, not least in an encouraging second quarter performance that saw them close the gap to 34-29 at half-time, with Jon Pollock among those to impress.
But Canada then pulled away in a one-sided third quarter, leaving the host nation with two defeats from their two matches to date.
"It was a little bit similar to yesterday (against Japan) – we got a hot start, and they put a real run on us in that second quarter with the crowd behind them," Anderson said.
"That was something we had to withstand, and we couldn't get too much going there for a while.
"But we came up great in that third quarter, we were really composed and that's the kind of basketball we want to play. I thought we took the crowd out of it a bit in the third quarter."
It wasn't just Anderson's point accumulation that caught the eye – one defensive play on British veteran Peter Finbow left the crowd gasping towards the end of the first half.
Next up for the Canadians is Poland, who beat Japan, 78-53, on Friday.
"I've played against some of their players, and every team here has two or three guys that are world class," Anderson added.
"They have a few of those guys, and you never know – these guys seem to have great days and poor days. We'll be watching out for them."
Unfortunately, for the rest of the competition, Anderson rarely has poor days. On this evidence, he could become one of the brightest stars of the entire London 2012 Paralympic Games.