Choi revels in stunning gold rush
Korean judoka recovers from hospital visit to clinch memorable gold medal.
01 Sep 2012
Imagen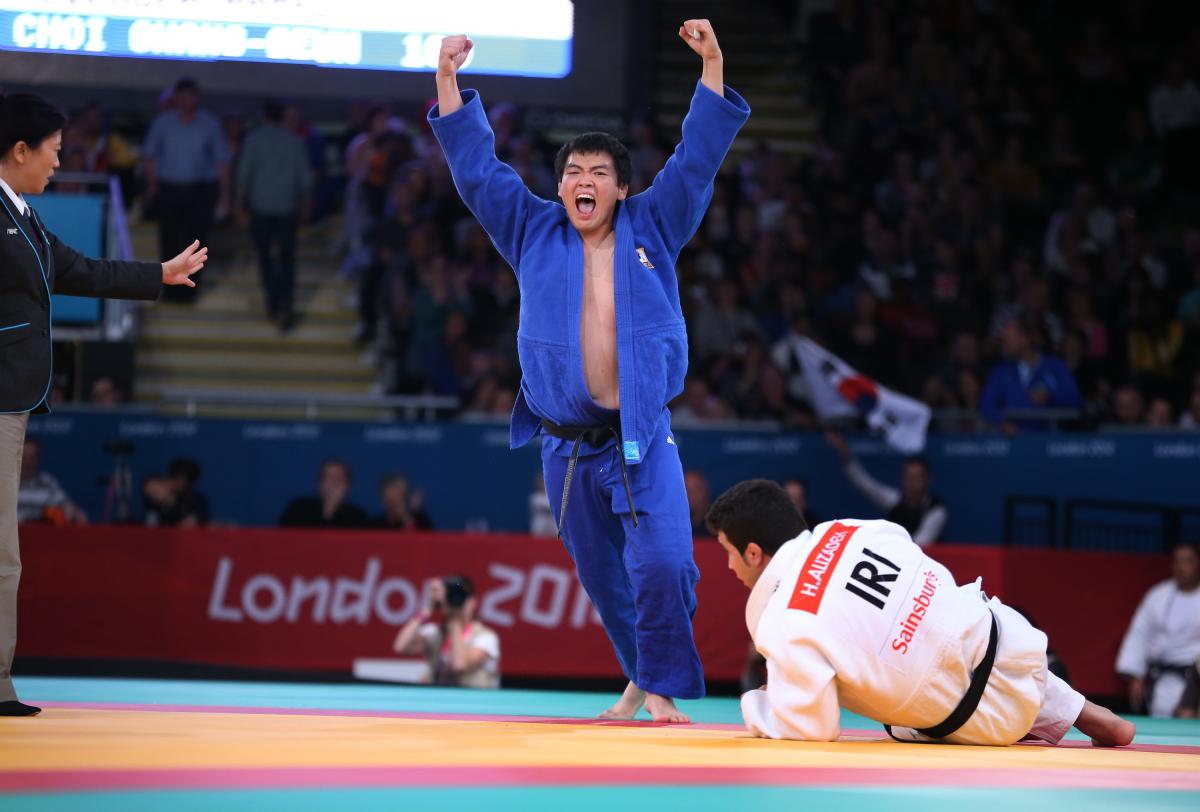 ⒸGetty
"I'm thankful for my coach, and this medal is a blessing from God. I don't know how it happened so quick, it was just the strength in my body."
Korean judoka Gwang-Geun Choi promised to share the highlight of his career with his mother after winning the men's -100kg judo at ExCeL on Saturday (1 September).
Choi, 24, took just 45 seconds to achieve ippon against American Myles Porter.
"I'm going to call my mother in Korea, because she's not sleeping at the moment and I need to speak to her about the good news," Choi said.
Choi's achievements were even more remarkable after he had been hospitalised just two weeks before the start of the London 2012 Paralympic Games due to a leg injury.
"I'm so happy," he said. "I wanted to win gold, but I wasn't sure if I could.
"I'm thankful for my coach, and this medal is a blessing from God. I don't know how it happened so quick, it was just the strength in my body."
Silver medalist Porter had plans to relax after a punishing four years of training.
"If I came home with any medal it would have been great, I just wish it was a different colour," he said. "But a silver medal is great, and I've definitely proved myself over these four years.
"My fiancée, my coach and my best friend are here and we are going to go have dinner, reminisce and enjoy ourselves. I've been here for a while, so I'm going to have a big, old-style American cheeseburger and relax."
Porter had looked in confident mood, beating Aramitsu Kitazono and Vladimir Fedin on route to the final.
But he was caught out by Choi's first real attack, less than a minute into the bout. Porter said: "I just deviated from my plan a little bit. I thought I'd be able to take him, but he held on to my arm and I ended up rolling through."
Choi's triumph meant there was no fairytale fifth Paralympic gold medal for veteran Brazilian judoka Antonio Tenorio, but he did claim bronze after progressing through the repechage.
Tenorio, who had earlier lost to Fedin, secured a tense 11-10 win over Kitazono after the Japanese judoka conceded a penalty just 23 seconds from time. Then he beat Hamed Alizadeh to secure a spot on the podium.
Tenorio said: "The bronze is like more than gold, because everyone here is 20 years younger than me. It's very important to be on the podium. That's the most important thing to me.
"I'm very proud, and I'm pleased for everyone who has supported me. It means so much because I'm not just representing myself, I'm representing the 190 million people of Brazil."
Tenorio confirmed he will continue his career to take in a sixth Paralympic Games.
He said: "I will be carrying on until Rio 2016, and then I'll retire. I'll be 45 by then, so I'll need to stop at the point.
"Brazil now has a lot of judokas, and they're all younger than me. I'm very proud of them. Now I need to train hard with all my colleagues before Rio 2016."