Moments etched in history of Paralympic Winter Games
The Games, over the years, have witnessed many outstanding performances by the Para athletes that will remain vivid in our minds for years to come
24 Feb 2022
Imagen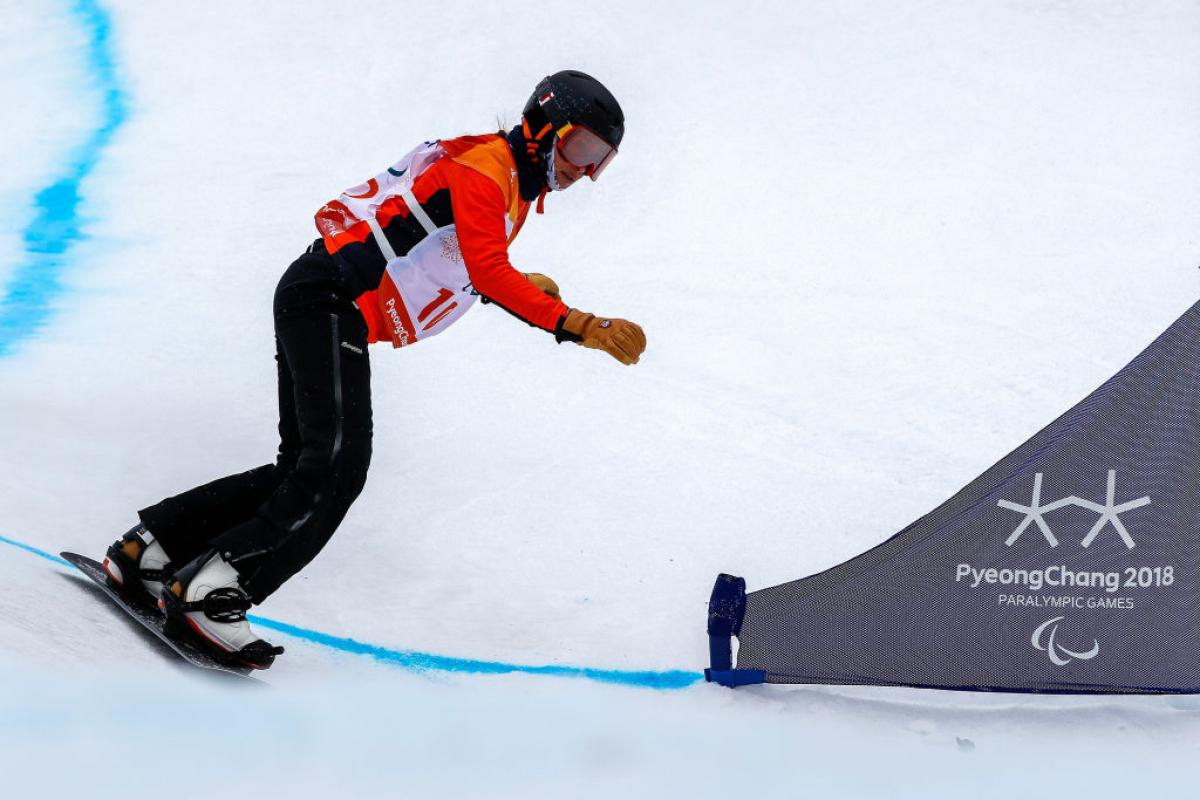 ⒸBuda Mendes/Getty Images
By IPC
As the Winter Paralympics grew in popularity, they started attracting the best talents from around the globe. The Games grew and with that number of competitions and competitiveness.
The Winter Paralympic Games have, over the years, witnessed many outstanding performances by the Para athletes that will remain vivid in our minds for years to come.
Here's a look at some of the memorable moments in Winter Paralympic Games.
BIBIAN MENTEL-SPEE (HOLLAND, PARA SNOWBOARDING, PYEONGCHANG 2018)
In one of the top moments of the 2018 Games when Bibian Mentel-Spee claimed two gold medals. An incredible showing as she had come into the Games just two months after undergoing cancer treatment at the age of 45.
The Dutch snowboarder did not get time to prepare as she was undergoing cancer treatment the entire 2017. Despite that she won her first gold in snowboard cross and it was a very emotional moment for her as she defeated compatriot Lisa Bunschoten. Mentel-Spee then went on to beat American Brittani Coury by 0.07 seconds to win the banked slalom gold.
Mentel-Spee, who underwent cancer treatment nine times in her life, shifted to Para Snowboarding after having been diagnosed with bone cancer and getting her leg amputated.
TEAM CHINA (WHEELCHAIR CURLING, PYEONGCHANG 2018)
The Chinese Wheelchair Curling team won their first Winter Paralympic medal for China at the 2018 Games.
A force to reckon with at the Summer Paralympic Games, China had to wait till 2018 for their first medal in Winter Games. And they took it in style, with the wheelchair curling team topping the podium following a 6-5 triumph over Norway in the gold medal match, after an extra end.
This victory was also seen as a boost for winter Para sports in the country, especially with the next Games being scheduled at Beijing.
TEAM USA (PARA ICE HOCKEY, SALT LAKE 2002)
Para Ice Hockey, then known as sled hockey, was introduced in Paralympics in 1994 at Lillehammer and the United States team did not participate. Four years later in Japan, they finished last in their preliminary round pool.
But in 2002 with the Paralympics at home in Salt Lake City, the US team made its breakthrough to win their first gold medal.
The US sled hockey programme became the gold standard in the sport, winning three gold medals in a row till 2018. It began a stretch of four gold medals in five Games that the team will look to extend in Beijing. The US also won a bronze medal in 2006. Since 2009, the US has also claimed five world championship gold medals.
BRIAN MCKEEVER (CANADA, ALPINE SKIING, VANCOUVER 2010 AND SOCHI 2014)
Brian McKeever's triple success will remain a moment to cherish for him and his fans,
Vision impaired cross-country skier Brian McKeever, guided by Graham Nishikawa, confirmed once again his status as Canada´s most decorated winter Paralympian, sweeping all three individual events to reach 13 gold medals across five Games to become the Paralympics' most successful cross-country skier. After all that he still had enough energy to drive his team to the last gasp bronze on the final day relay event. Even Canadian Prime Minister Justin Trudeau celebrated his success on Twitter, congratulating McKeever on several occasions together with the other Canadian medallists.
In the Sochi 2014, his success was all the more incredible. The Canadian made a dramatic recovery despite a fall to register a sensational win in the 1km sprint cross-country.
A clash of skis with Russian Vladimir Udaltcov near the start of the men's visually impaired event not only threw McKeever on his back, but momentarily dashed his hopes of sealing his second gold of the Games, and ninth career Paralympic title. Eventually, he overtook three competitors along with the leader, Swede Sebastian Modin to claim gold.
The race generated a huge amount of interest around the globe and became one of the most iconic moments of Sochi 2014, as well as in Paralympic history.
"We're racers so once you're on the course and stuff happens, that's part of racing. You just put the bit between your teeth and go," said McKeever, who eventually bagged 10 Paralympic gold medals.
THEO GMUR (SWITZERLAND, ALPINE SKIER, PYEONGCHANG 2018)
The Swiss star made an outstanding Winter Paralympic debut at PyeongChang 2018 Games claiming triple gold in Alpine Skiing.
Even though sharing a highly-competitive men's standing category with Austria's Markus Salcher, France's Arthur Bauchet, New Zealand's Adam Hall and Neutral Paralympic Athlete Aleksei Bugaev, the 21-year-old managed to claim triple gold in the downhill, super-G, and giant slalom.
OKSANA MASTERS (USA, CROSS-COUNTRY SKIING, PYEONGCHANG 2018)
Oksana Masters' who won two gold medals at the Pyeongchang 2018 Games - in 1.5km sprint classic sitting and 5km sitting - has a unique distinction of being a Paralympian with success in both, Summer and Winter Games. At the Tokyo 2020 Games, she won two gold in Road time trial H4–5 and Road race H5.
At PyeongChang 2018, she has also accumulated two silvers in Para Biathlon along with a bronze in Cross-Country.
ROMAN PETUSHKOV (BIATHLON AND CROSS-COUNTRY SKIING, SOCHI 2014)
Russian Nordic skier Roman Petushkov claimed an unprecedented six gold medals at his home Paralympic Winter Games at Sochi 2014.
The 36-year-old joined Paralympic Winter greats such as Canadian alpine skier Lauren Woolstencroft and German biathlete Verena Bentele, by winning five individual and one relay title at a single Games.
LAUREN WOOLSTENCROFT (CANADA, ALPINE SKIING, VANCOUVER 2010)
Lauren Woolstencroft started her Paralympic Winter Games journey with two gold medals and a bronze at the Salt Lake 2002 Games. She picked another gold and a silver medal in 2006 at Turin. While she contemplated retirement after Turin, the home Games at Vancouver in 2010 inspired her to keep going and what a decision it turned out to be.
At Vancouver, Woolstencroft set the record for most individual gold medals in a Winter Paralympics by winning five gold medals in Giant Slalom, Slalom, Super-G, Downhill Skiing, and Super Combined - one of the best performances at a single Games.
TEAM SOUTH KOREA (PARA ICE HOCKEY, PYEONGCHANG 2018)
Hosts South Korea had already displayed a telling performance by making it to the semi-final stage of Para Ice Hockey for the first time at a Winter Paralympics in 2018. Backed by home fans they broke the shackles against Italy to clinch a thrilling win for bronze with 3.18 minutes to go.
Dong-Shing Jang pushed the puck into the net for a dramatic 1-0 victory - the late win triggering emotional celebrations that will live long in the memory. The stand out performance came from Jae Woong-Lee who, on his birthday, came up with nine incredible saves.