No. 17: Emotions run high as Ellie excels
When Ellie Simmonds turned in the last 50m of the 400m freestyle S6 she was just eight hundredths of a second ahead of USA's Victoria Arlen. But she pushed on to the end to win gold and set a new world record.
15 Dec 2012
Imagen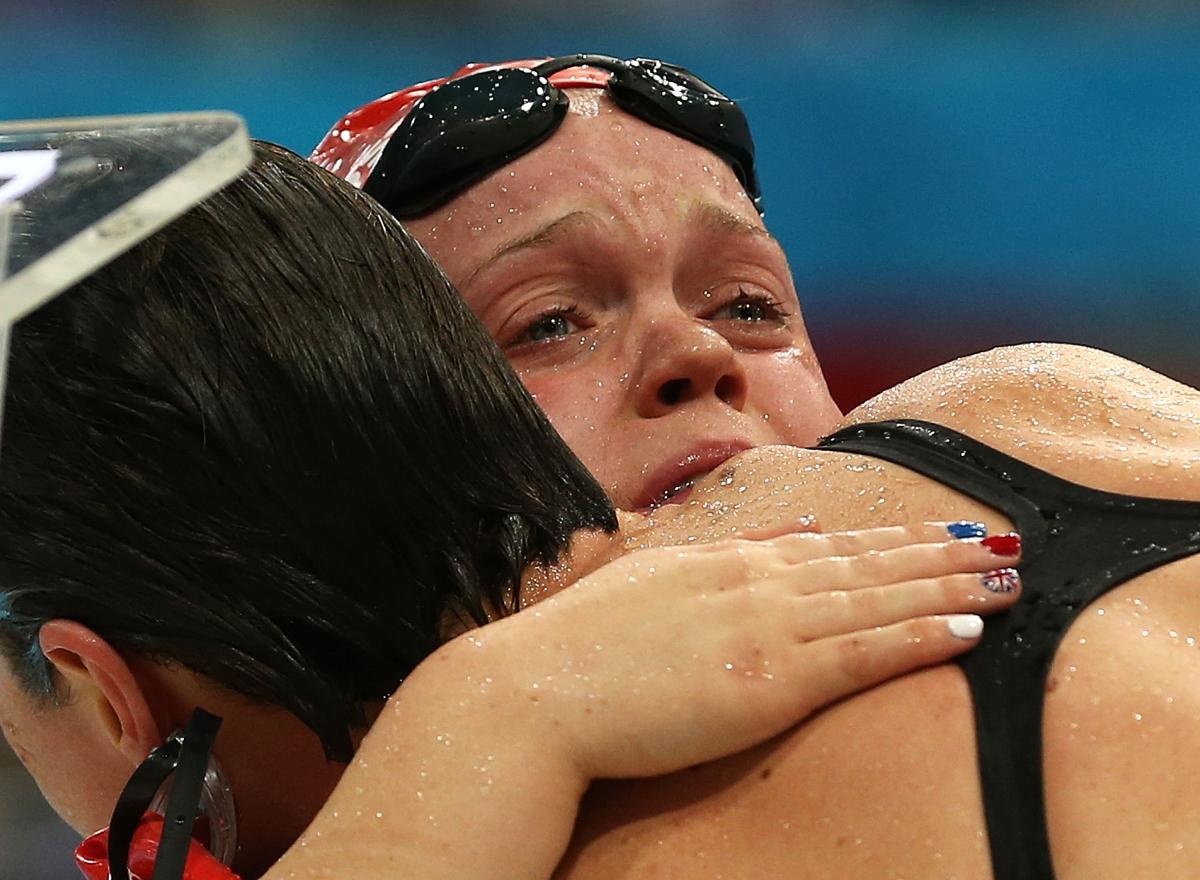 ⒸGetty Images
By IPC
Find out which other stories made it into the Top 50 Paralympic Moments of 2012.
The women's 400m freestyle S6 was a thriller to watch.
Two 17 year olds – USA's Victoria Arlen and Great Britain's Ellie Simmonds – going head-to-head as the crowds in the Aquatics Centre went wild.
Afterward, Simmonds could hardly control her emotions as she admitted it had been one of the toughest races of her life.
"I knew it was going to be so tough leading into it with Victoria being on form and I knew I had to give it my everything and give it my all. That last 50 hurt, it just killed me," she said.
"[Arlen] is such an amazing athlete and she's so fast as well, so I knew that I just had to dig deep and just get everything out of me."
Simmonds went into the final feeling fairly confident. She had swum a Paralympic and European record time of 5:24.64 in the heats that morning.
Arlen, who had successfully appealed against a reclassification earlier that day (1 September), established a firm lead for the first 300m. But Simmonds, the defending champion, was on her shoulder for most of the way as the two of them pulled away from China's Song Lingling and the Netherlands' Mirjam de Koning-Peper.
By the half-way stage, Simmonds, was just 0.42 seconds behind Arlen, the world record holder, and slowly she clawed her way forward to gain a 0.08-second lead on the final turn.
"There's 40 metres to go. The crowd are going bonkers – absolutely bonkers for Eleanor Simmonds," commentator Nick Gillingham screamed into the microphone as lines of spectators began to stand up in excitement.
The home-crowd favourite pushed a whole body length ahead of Arlen, extending her lead further in the last 15m to win in a world-record time of 5:19.17 – five seconds ahead of Arlen's world record.
Simmonds slapped the wall in delight, before her face filled with emotion. Within seconds she had tears streaming down her face and when interviewed afterwards, it was hard for her voice wavered with emotion.
"I'm exhausted. I can't believe I did it. It was so tough. I saw her [Arlen] on the last 100 and I was like, 'I'm going to have to put my head down' and I thought, 'I'm going to do it for everyone who's supported me'."
Simmonds admitted that having a home crowd behind her had given her a real boost as she thanked her fans.
"It was amazing. I walked out and saw the crowd. It was definitely a big advantage," she said.
Simmonds went on to win gold in the 200m individual medley SM6, silver in the 100m freestyle S6 and bronze in the 50m freestyle S6.
Editor's Note: For the final 50 days of the year, the IPC will count down the year's top moments in Paralympic sport, culminating with the year's best moment on 31 December.
The 50 moments were selected by nominations from National Paralympic Committees and International Federations and are based on sport performance, emotional moments, media attraction and athletes' personal stories.
The IPC would also like to call on the public to submit their own nominations for what they believe was the top Paralympic moment of 2012. They can do so by emailing ipc.media@paralympic.org, or by leaving a comment on www.Facebook.com/ParalympicGames or sending a tweet to @Paralympic.
Related Images