No. 27 Brazil win historic goalball gold
The Brazilian men's goalball team beat Paralympic champions Finland on home soil to claim their first world title.
05 Dec 2014
Imagen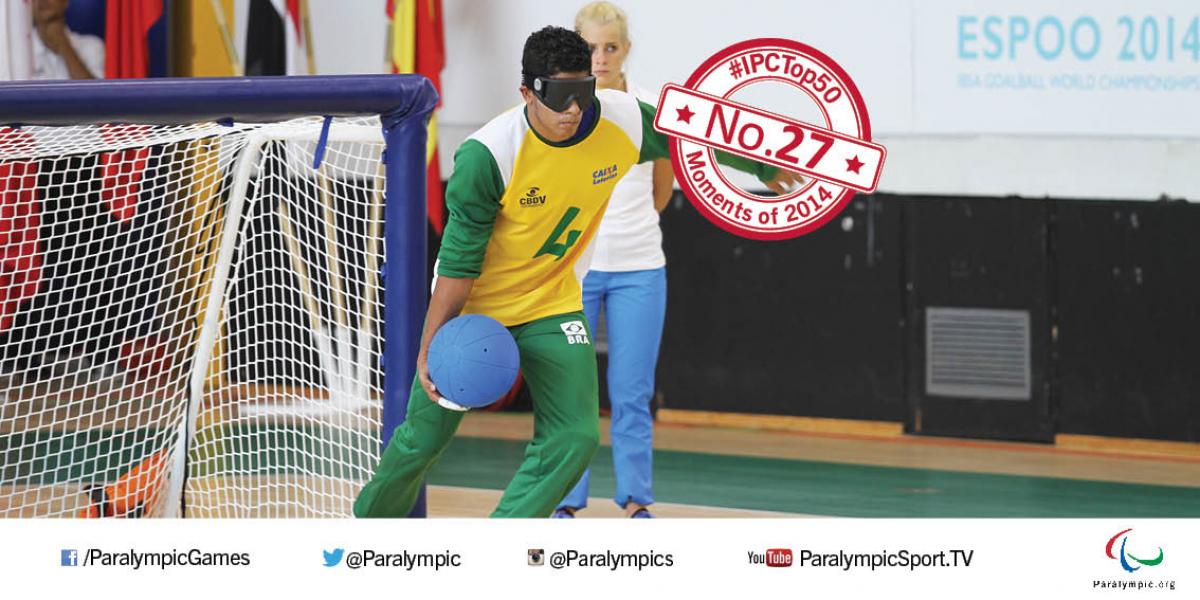 By Rosanna Haroutounian | for the IPC
"Becoming a champion may be easy, but staying on the top is very hard."
No. 27 in the IPC's Top 50 Moments of 2014 is an historic victory for the Brazilian men's goalball team, who claimed their very first world title at the 2014 IBSA Goalball World Championships in Espoo, Finland, in July.
This landmark victory was made even sweeter by beating Paralympic champions Finland on their home soil in a replay of the final from London 2012, courtesy of six goals from top scorer Leomon Silva.
Eventual winners Brazil went into the gold medal game undefeated, after beating reigning world champions Lithuania 14-4 in the semi-final.
Finland meanwhile beat the USA 6-3 in the other semi-final game.
"We haven't met Brazil since London," said Finnish head coach Timo Laitinen before the final. "They have their home Paralympic Games coming, so they have invested a lot into goalball."
That investment paid off for Brazil who won 9-1 and were crowned world champions with two years to go until Rio 2016.
"We knew it would be a very hard game because Finland is the present Paralympic Champion," said Brazil's head coach Alessandro Tosim. "It was our intention to play well and just come up with a good result."
Brazil's success was due in large part to Silva, the top men's goal-scorer of the tournament. He netted six of his 51 goals in the final.
"I never count my goals when I'm playing at a tournament," said Silva. "During the World Championships, I didn't count my goals either. I just remember that all the players were together after the final game, and when they called me as the top-scorer, it was a surprise and I got very excited."
Silva said he received an "amazing" reception upon returning to Brazil.
"The coach's relatives live in Sao Paulo and they went to Guarulhos Airport to welcome us as world champions," he said. "When I came back to Brasilia, all my family members, including my grandmother, were there at the airport to welcome me."
He said he and his teammates are focused on maintaining their momentum for future tournaments and the Paralympic Games in 2016.
"The challenge is to be prepared for the Paralympics in Rio, to win the gold medal in our home, but before that, we have to play other tournaments, like the Parapan American Games in Toronto in 2015," he said.
"Becoming a champion may be easy, but staying on the top is very hard."