No. 28 Leung Yuk Wing back to winning ways in boccia
After going 10 years without a gold medal, Hong Kong's Leung Yuk Wing won four of them in 2014 with success at the World Championships and Asian Para Games.
04 Dec 2014
Imagen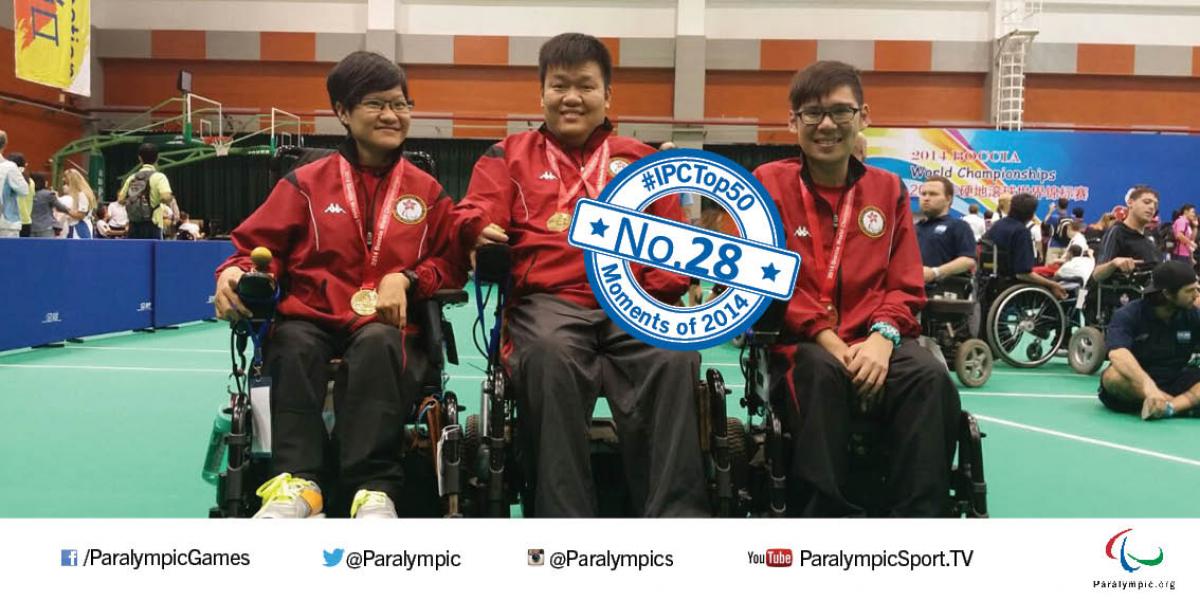 ⒸNPC Hong Kong
By IPC
After going 10 years without a gold medal, Hong Kong's Leung Yuk Wing once again tasted success in 2014. The 29-year-old's four gold medals at the BISFED Boccia World Championships and Asian Para Games is one of the Top 50 Moments of 2014.
A bright future was predicted of Leung Yuk Wing after he won double gold at his first Paralympic Games in Athens, Greece, in 2004. Top of the podium in both the mixed individual and mixed pairs BC4 events, many thought he would dominate his class for years to come.
Unfortunately pressure got the better of him. Despite a silver medal win at the Beijing 2008 Games, Leung Yuk Wing struggled to replicate his gold medal winning form. That is until 2014.
This year Yuk Wing has re-emerged as one of the world's best boccia players. In September he won two world titles in Beijing, China, and followed it up in October with another two titles, this time at the Asian Para Games in Incheon, South Korea.
"After winning the titles in Athens 20004, I put too much pressure on myself and my results then turned unsatisfactory," said Leung Yuk Wing who admits he is surprised at his fortunes this year.
"I worked on my psychological thinking in the past years and tried to focus on doing my best in every match. This has helped me maintain a peaceful mind during competition."
"The biggest challenge is to learn how to control my emotions to reduce the stress, which may affect my performance during the competitions."
The training has clearly made Leung Yuk Wing mentally stronger and in Beijing, he had to come from three ends down to win individual gold. It was gold in the pairs BC4 event however that gave him the most pleasure.
"The first gold medal I won at the World Championships was from the pairs BC4 event. I was very happy because the pair event was our goal. I thanked my teammate, Lau Wing Yan and Wong Kwan Hang.
"I was even happier winning the first place for the pairs event than for the individual event."
In Incheon, Leung Yuk Wing won the individual Asian Para Games title with a 5-2 final win over teammate Wai Yan Vivan Lau. The two finalists, together with Wong Kwan Hang, also won gold in the pairs BC4 event with a hard fought victory over Thailand.
"I was very glad to win at the Incheon Para Games as I haven't captured a gold medal at the Asian Para Games before.
"My own family and friends were not there at Incheon, however the Hong Kong Paralympic Committee arranged supporting teams to go cheer for the Hong Kong delegation and they were there to cheer for the boccia team too.
"We felt the positive energy and I appreciate their support."
After returning to medal winning form, Leung Yuk Wing is content with how his 2014 faired. His attention is now turning to further success, but he knows that to top the podium more often, he will have to beat some top quality opponents.
"I am very happy," he said looking back at his season's achievements. "I felt I have tried my best and my efforts paid off. I am much obliged to my coaches for helping me to achieve my goals.
"The 2015 Boccia Asia and Oceania Team & Pairs Championships will be the most important competition in 2015. Of course, in 2016, the Rio Paralympics will be our goal. I hope our team will do well and win medals in these competitions.
"My main rivals will be Zheng Yuansen (China), Larpyen Pornchok (Thailand), Seo Hyeonseok (South Korea), Eliseu Dos Santos (Brazil) and also my teammate Lau Wai Yan."