Sochi 2014: Brazil hoping for Winter Games debut
Fernando Aranha and Andre Cintra are aiming to lead Brazil to the Paralympic Winter Games for the first time ever.
07 Mar 2013
Imagen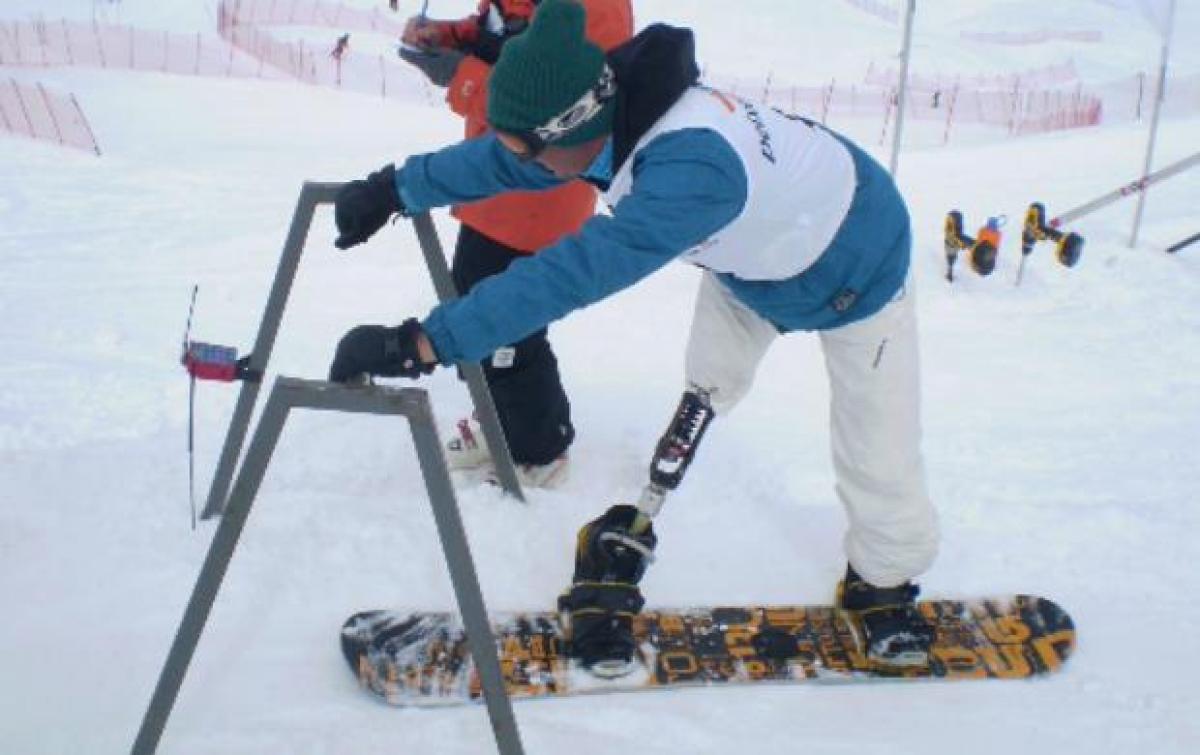 ⒸNPC Brazil
By Matt Wordingham | For the IPC
"As Brazil haven't had anyone compete in the Winter Paralympics before, I think the only pressure is what I put on myself. I feel very happy that I am the first Brazilian guy to go to a Winter Paralympic Games. It is a big challenge for me."
With just one year to go until Sochi 2014, Fernando Aranha and Andre Cintra are hoping to become the first athletes from Brazil to compete at a Paralympic Winter Games.
They could also be joined athletes from Turkey and Uzbekistan who are also set to compete at a Winter Paralympics for the first time in their country's history.
Cintra's challenge
After being awarded the Rio 2016 Games and then finishing seventh on the London 2012 medals table with 21 golds, Brazil has dramatically increased their presence in Paralympic sport over the last decade.
Now for Brazil, Cintra is aiming to compete at the Games in para-snowboarding, an event that will also make its debut in Sochi; however Aranha has yet to secure a required time to compete in Russia next year.
It was less than a year ago when Cintra realised he was able to represent Brazil at the Games after receiving information sent by the Brazilian Paralympic Committee.
"They sent me a letter with a loads of details on and I accepted it straight away," he said. "I have earned enough points from my last two races to qualify, so I'm really looking forward to it.
"As Brazil haven't had anyone compete in the Winter Paralympics before, I think the only pressure is what I put on myself. I feel very happy that I am the first Brazilian guy to go to a Winter Paralympic Games. It is a big challenge for me."
That challenge will be enhanced by the lack of snow in Brazil which makes training hard for Cintra in the lead-up to the Games.
"We have very little snow in Brazil which means I need to do a lot of travelling," he said.
"My coach is from the USA and he has been teaching me a lot of new techniques and various different positions that I need to put my body in on the board. I have learned a lot from him and the Committee help me a lot as well. The Winter Paralympics is not very popular in Brazil now, but after these Games and after Rio in 2016, I think they will become a lot more popular.
Aranha's journey
Brazil also have their Winter Paralympic Games hopes on the shoulders of 34-year-old Aranha as he tries to qualify for Sochi 2014.
Aranha, who has previously competed in international para-triathlon events, only took up sit skiing a few months ago in order to improve the recognition of the Winter Paralympics in Brazil.
He recently competed at the 2013 IPC Nordic Skiing World Championships in Solleftea, Sweden, but was unable to earn any points due to all of his finishing times being outside of the IPCs 130 per cent rule.
"I met some people who used to do para-triathlon and had started to do cross-country skiing. It got me interested so I wanted to give some winter sports a go," he said.
"They discovered that the IPC wanted to increase the number of participating countries in the Winter Paralympic Games and so they figured out that I would be an ideal person to try this out at the present moment.
"The national federation in Brazil is doing a great job with the Paralympic Committee to raise the profile and get more athletes to develop Paralympic sports in Brazil. Brazil is already one of the big powerhouses in the summer Paralympics and they would like that to go with the Winter Paralympics too."
With very little training so far, Aranha was aware that he wasn't going to be a competitive figure at the event in Sweden, but recognises that it was an important starting point.
"I had only trained for a few weeks, so I knew that I wouldn't have a chance, but I enjoyed the experience," he said.
Nicknamed 'Spider' due to the translation of his surname in Portuguese, Aranha has always enjoyed sport and enjoyed playing basketball and athletics as a youngster, however he believes sit skiing is harder than anything else he has ever done.
"It is the most demanding sport that I have competed in so far," he said. "It's very fast and difficult, so I need to build my strength up to get more power to be able to be competitive."
Within the next year Aranha and Cintra have the chance to help Brazil follow in the footsteps of fellow South American nation Argentina, who sent athletes to the last Winter Paralympics in Vancouver for the first time.
Perhaps they can make history in Paralympic sport in Brazil even prior to the country hosting the Rio 2016 Games.
Related Images