Wine-lover Andrea Macri hopes 2022 is vintage year for Para Ice Hockey
Italy defender on a mission to raise awareness of his sport at Beijing 2022 ahead of Milano-Cortina 2026
12 Feb 2022
Imagen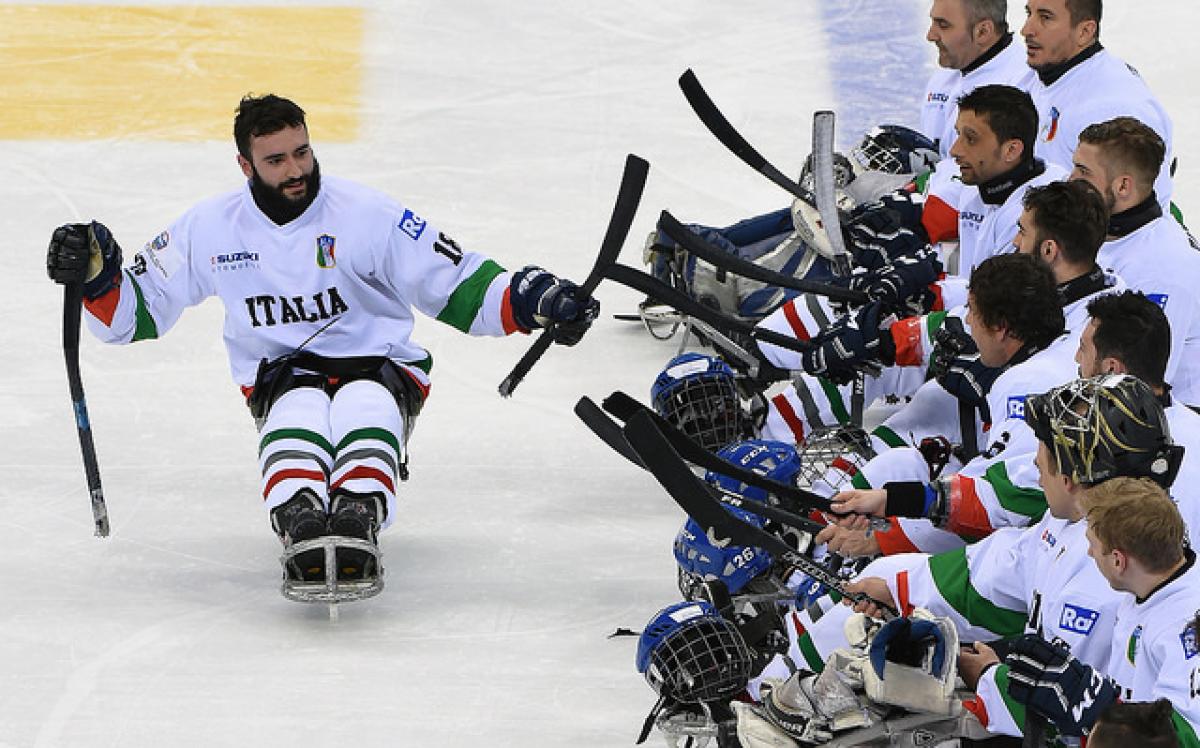 ⒸPOCOG
By AMP Media I For The IPC
Andrea Macri is a man on a mission. First he wants to help raise awareness of Paralympic Ice Hockey in Italy.
Then there is his "big passion" for wine which has steered him towards a series of exams on the way to qualifying as a sommelier.
Macri has also recently started playing wheelchair tennis and admits he is tempted to see where that leads him once the Beijing 2022 Paralympic Games are over.
"After 10 years of playing all the time in closed ice rinks with cold temperature it is nice to be outside to have fun," said three-time Paralympian Macri, who also enjoys mountain biking.
"My coach says I have potential but I have to pay attention now because it is quite dangerous for the arms to play tennis and I need them in the Paralympic Games for another sport."
At least there is nothing dangerous about wine-tasting.
"I have a big passion for this. I did three courses and then the Covid (pandemic) started so I have a final exam. I really enjoy it when I have free time. Not to become drunk, to enjoy wine, to visit new wineries and also when I am travelling on my day off. I think about whether to turn it into a job or keep it as a passion."
At London 2012 Macri entered as a fencer and came away with a team fourth place. Four years ago, the Para Ice Hockey team made it to the bronze-medal match in PyeongChang and, again, finished fourth after losing 1-0 to South Korea.
"I would like to say it is funny but it is not that funny. Playing a medal final is an honour, it is important, it is one of the best achievements that I have had in my life so it was really nice. 
"Unfortunately we were not lucky. We didn't lose 10-0 but we lost 1-0 and they scored a very stupid goal."
In December at the qualification tournament in Berlin, Italy finished first and were unbeaten, booking their place at a Games for the fifth consecutive time.
Defender Macri, who was injured at 17 when his school roof collapsed, has played a major part in the set-up and is hoping the team can raise the profile of what is a minority sport.
There is an even greater incentive – Italy will be hosting Milan-Cortina 2026 and Macri, currently assistant-captain, dreams of leading his country in four years.
"We need to use this Paralympic Games to improve the whole Para Ice Hockey movement in our country so we would like big media help. And we hope to be a very good example to create a bigger movement in the next Games.
"I hope that one day I will have the C on my chest and be the captain. It is my dream in the next Paralympic Games."
Macri is the only full-time player on the roster thanks to the compensation he received for the accident. It enabled him to stop working in a bank where he was continually asking for time off. He sometimes reflects on the years since.
"Last year I turned 30 so it is a kind of change of my life when you have to start to think about being an older man and not a younger guy. I stop and think 'what is your life now? Are you happy, are you proud?' and the answer is 'yes'. 
"I will be for the fourth time at a Paralympic Games and that is a great honour. I hope I will have more goals and achieve more."