Imagen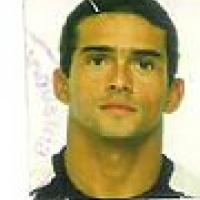 Biography
Impairment information
Origin of Impairment
Acquired
Classification
S3, SB2, SM3
Further personal information
Family
Wife Rosa and daughter Jennifer
Occupation
Administrator, Athlete
Languages
Portuguese, English
Sport specific information
When and where did you begin this sport?
At the age of fourteen.
Why this sport?
He started to practice the sport due to his rehabilitation. Also, one member of the Paralympic swimming team [Gledson Soares] invited to him to practice the sport.
Club / Team
CADEF: Rio Grande, BRA
Training Regime
Trains for 4 hours every day.
General interest
Injuries
"I had poliomyelitis when I was 3-years-old. I have sequels on my upper and lower limbs." (Athlete, 18 Jun 2007)
Results
IPC Swimming World Championships Eindhoven 2010 (Eindhoven, Netherlands)

| Event | Medal | Unit | Date | Rank |
| --- | --- | --- | --- | --- |
| Men's 50 m Breaststroke SB2 | | Heat 1 | | 5 |
| Men's 50 m Backstroke S3 | | Heat 2 | | 5 |
| Men's 4x50 m Freestyle 20pts | | Final Round | | 5 |
| Men's 4x50 m Freestyle 20pts | | Heat 1 | | 2 |
| Men's 200 m Freestyle S3 | | Final Round | | 8 |
| Men's 200 m Freestyle S3 | | Heat 2 | | 4 |
| Men's 150 m Individual Medley SM3 | | Heat 2 | | 5 |
| Men's 100 m Freestyle S3 | | Heat 1 | | 4 |
IPC Swimming World Championships Durban 2006 (Durban, South Africa)

| Event | Medal | Unit | Date | Rank |
| --- | --- | --- | --- | --- |
| Men's 50 m Breaststroke SB2 | | Final Round | | 4 |
| Men's 50 m Backstroke S3 | | Final Round | | 3 |
| Men's 200 m Freestyle S3 | | Final Round | | 3 |
| Men's 150 m Individual Medley SM3 | | Final Round | | 5 |
| Men's 100 m Freestyle S3 | | Final Round | | 4 |
| Men's 150 m Individual Medley SM3 | | Heats (SM2/3) | | 3 |
IPC Swimming World Championships Mar del Plata 2002 (Mar del Plata, Argentina)

| Event | Medal | Unit | Date | Rank |
| --- | --- | --- | --- | --- |
| Men's 150 m Individual Medley SM3 | | Final Round | | 3 |
| Men's 50 m Breaststroke SB2 | | Final Round | | 4 |
| Men's 50 m Breaststroke SB2 | | Heats (SB1/2) | | 5 |
| Men's 50 m Backstroke S3 | | Final Round | | 5 |
| Men's 50 m Backstroke S3 | | Heats | | 5 |
| Men's 200 m Freestyle S3 | | Final Round | | 6 |
| Men's 200 m Freestyle S3 | | Heats | | 4 |
| Men's 100 m Freestyle S3 | | Final Round | | 7 |
| Men's 100 m Freestyle S3 | | Heats | | 6 |
| Men's 50 m Freestyle S3 | | Final Round | | 7 |
| Men's 50 m Freestyle S3 | | Heats | | 8 |
IPC Swimming World Championships Christchurch 1998 (Christchurch, New Zealand)

| Event | Medal | Unit | Date | Rank |
| --- | --- | --- | --- | --- |
| Men's 50 m Breaststroke SB2 | | Final Round | | 1 |
| Men's 50 m Breaststroke SB2 | | Heats | | 1 |
| Men's 50 m Freestyle S3 | | Final Round | | 4 |
| Men's 50 m Freestyle S3 | | Heats | | 4 |
| Men's 150 m Individual Medley SM3 | | Heats | | 9999 |
| Men's 200 m Freestyle S3 | | Final Round | | 3 |
| Men's 100 m Freestyle S3 | | Final Round | | 3 |
| Men's 50 m Backstroke S3 | | Heats | | 1 |
| Men's 4x50 m Medley Open | | Final Round | | 9999 |
| Men's 50 m Backstroke S3 | | Final Round | | 2 |