Imagen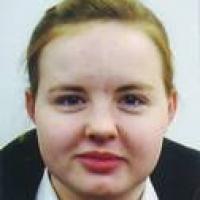 Biography
Further personal information
Residence
Nottingham, ENG
Higher education
Exercise Science, Sports Science - Edinburgh Napier University: Scotland
Sport specific information
When and where did you begin this sport?
In 2021 she first tried skiing in a snow tunnel in Germany and a month later she was on real snow in Norway. "I fell over three times, I had one crash and I broke a ski my first time on snow, but it was amazing."
Why this sport?
Having previously competed in able-bodied swimming, she took up Para swimming following her amputation. After missing out on selection for the Scottish Para swimming team at the 2018 Commonwealth Games in Gold Coast, QLD, Australia, she decided to pursue other sports. She took up Para Nordic skiing after encouragement from British Para Nordic skier Scott Meenagh. "Initially I started skiing for cross-training to benefit my boats for Para canoe. I never thought I'd be competing so quickly or at the Paralympics. I've always found a lot of freedom in water, which is why I've loved swimming and canoeing. Sometimes it's quite restrictive to get around on land when you have to use mobility aids to get from A to B. With skiing, it was another big sense of freedom."
Name of coach
Kieran Jones; Fern Cates [national]
Training Regime
She trains up to 30 hours a week, across both Para cross-country skiing and Para canoeing.
International debut
Year
2021 [Para Nordic skiing]
Competing for
Great Britain
General interest
Memorable sporting achievement
Winning silver in the VL3 200m and the KL3 200m events at the 2021 World Para Canoeing Championships in Copenhagen, Denmark. (Athlete, 04 Mar 2022; SportsDeskOnline, 04 Mar 2022)
Sporting philosophy / motto
"You are never fully dressed without a smile." (Twitter profile, 13 Apr 2019)
Awards and honours
She received the Sporting Award at the 2020 Young Scot Awards in Scotland. (young.scot, 13 Aug 2020; ywcascotland.org, 2020)

She was named the 2018 Sports Person with a Disability of the Year by East Lothian Council in Scotland. (eastlothian.gov.uk, 31 Oct 2018)

She carried the Olympic torch through Inverness, Scotland, in the lead-up to the 2012 Olympic Games in London. (winningstudents-scotland.ac.uk, 25 Apr 2013)
Other sports
She was classified in Para Nordic skiing in the LW12 category for the 2021/22 season, and has also been classified in Para swimming in the S9, SB8 and SM9 categories. She has represented Great Britain in Para canoe sprint, winning silver medals in both the VL3 and KL3 200m events at the 2021 World Championships in Copenhagen, Denmark. (thebmc.co.uk, 14 Dec 2018; sundaypost.com, 30 Aug 2017; wsportsalliance.com, 23 Sep 2021; SportsDeskOnline, 29 Nov 2021; IPC, 29 Nov 2021)
Milestones
She became the first female Nordic skier to represent Great Britain at the Paralympic Winter Games when she competed in the women's sitting sprint cross-country skiing event at the 2022 Games in Beijing. (paralympic.org, 09 Mar 2022; bbc.co.uk, 09 Mar 2022)
Ambitions
To compete in canoe sprint at the 2024 Paralympic Games in Paris. (OIS, 05 Mar 2022)
Impairment
She was diagnosed with reflex sympathetic dystrophy [RSD], also known as complex regional pain syndrome [CRPS], at age 12. The condition affects the mobility of her legs and causes her constant pain. She underwent surgery to amputate her left leg above the knee in August 2016. "I was living with a leg that felt as if it had been wrapped in barbed wire and set on fire. I know some people will think I've made a mistake. I have absolutely no regrets. The operation was the right thing to do. I was in a wheelchair for a decade and have not used it since the immediate aftermath of the surgery. The day after the ­operation, I looked like a new person, free of the nerve pain for the first time in years." (napier.ac.uk, 28 Jun 2018; itv.com, 26 Aug 2016; dailyrecord.co.uk, 07 Aug 2016; winningstudents-scotland.ac.uk, 25 Apr 2013)
Other information
SKIING BEGINNINGS
Having taken up Para Nordic skiing in October 2021, she was selected to compete in the sport at the world championships in Lillehammer, Norway, in January 2022. "I first got into the sport through a friend of mine, Scott Meenagh who's been on the [British] team for quite a while and went to Pyeongchang for the 2018 Paralympic Games. He's been telling me for years that he thinks I would enjoy the sport. The more I thought about it, the more I thought it could really benefit my canoeing and training to make the boat go faster. I spoke to my [canoe] coach Matt Lawrence about it and he was super supportive and here we are. It is early days to see what the benefit will be to my paddling but I definitely think there will be. It is really exciting and a fun journey to be on. I am still a beginner and it is cool. As much as I feel this can benefit my paddling, my paddling is also benefiting my racing on the snow too, particularly with having strength in my arms." (britishcanoeing.org.uk, 10 Jan 2022; northern-times.co.uk, 04 Jan 2022)

FULL CIRCLE IN BEIJING
Her first experience of the Paralympic Games was watching the 2008 Games in Beijing on television. She saw Beijing herself when she was part of the British team at the 2022 Paralympic Winter Games opening ceremony. "It's really pretty special that Beijing is my first Paralympics. The first time I saw the Paralympics was the summer Games in 2008. I had recently been diagnosed with CRPS [complex regional pain syndrome] and had a procedure which didn't go quite right, it left me pretty ill and I don't remember much from that week. One thing I do remember was watching the Paralympics on a tiny TV in my hospital room, I remember watching the swimming, especially Ellie Simmonds winning those two incredible golds. Arriving at the [2022 Paralympic Winter Games] opening ceremony and seeing the Water Cube [Beijing National Aquatics Centre] and the Bird's Nest [National Stadium] was a real reminder of where I was in that hospital bed in 2008 and everything that has happened since. Being able to walk out was amazing, and being able to actually physically walk out was even better - I learned to walk again about six weeks ago [speaking in March 2022]." (Facebook profile, 05 Mar 2022)

PARA CANOE
In July 2018 she announced she was turning her focus to Para canoe sprint instead of Para swimming after she was selected to join British Canoeing's 2019 World Class Programme. She began pursuing Para canoe sprint seriously after she received an email from British Para swimmer Charlotte Henshaw, who had made the switch from Para swimming to Para canoe sprint. Henshaw was looking for other athletes to take up Para canoe, so Gordon decided to make the transition. "Some people might find it strange that I'm stepping away [from swimming] while still improving but swimming to me is so much more than performance. I'm leaving with a smile on my face, loving the sport and excited for the next chapter. It's hard to put into words the impact swimming has had on my life. It helped me pick myself up and carry on during the toughest of times, taught me to be resilient when my health was falling apart and doctors were telling me everything I didn't want to hear, but most importantly it gave me a reason to get out of bed in the morning when most of the time I just wanted to hide." (findingyourfeet.net, 19 Dec 2018; britishcanoeing.org.uk, 21 Nov 2018; Instagram profile, 28 Jul 2018)

FURTHER EDUCATION
She has studied fitness, health and exercise at Forth Valley College in Falkirk, Scotland. (Facebook profile, 18 Jun 2017)