Imagen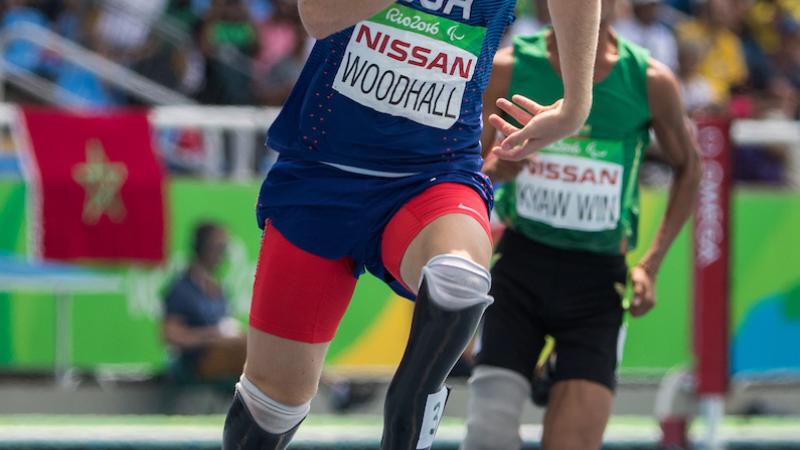 Hunter Woodhall
Athletics
After an impressive international debut at the 2015 World Championships, teenager Woodhall underlined his credentials winning two medals at his first Paralympics in Rio.
Aged just 16, Woodhall, under the guidance of Brazilian coach Joaquim Cruz, won 400m T44 (49.05) silver and 200m T44 (22.09) bronze at the 2015 World Championships.
A year later he went to Rio and won 200m T44 silver (21.12) and 400m T44 (46.70) bronze, each time losing out on gold to New Zealand's Liam Malone.
In the 200m he set personal bests in both the heats and final, whilst in the 400m final he smashed the Americas record.
Unsurprisingly, he was named 2016 Male High School Track Athlete of the Year by US Paralympics.
He was born with a fused right ankle and the condition fibular hemimelia in his left leg. At age 11 months both his legs were amputated below the knee.
Biography
Impairment information
Type of Impairment
Limb deficiency
Origin of Impairment
Congenital
Further personal information
Family
Partner Tara Davis
Residence
Fayetteville, AR, USA
Occupation
Athlete, Student
Languages
English, Spanish
Higher education
Business, Communications - University of Arkansas: Fayetteville, AR, USA
Sport specific information
When and where did you begin this sport?
He took up the sport in 2009 in Utah, United States of America. "I played pretty much every sport you can think of like soccer, basketball, skiing, wrestling, basketball, and track. My parents never let me use my legs as an excuse to give up on myself. I appreciate that attitude looking back as it set the tone for my life. As I got older I started to find out what I like to do and what I was good at and kept practising in those areas."
Why this sport?
"I had a very difficult time fitting in when I was younger, so the best way to feel like I was a part of something was doing that my brothers did. My family did a lot of five-kilometre fun runs and I wanted to feel like I was a part of something with them, so I started doing races with them. It was just something that I felt very comfortable doing. Something that took me away from whatever was happening in the world, that didn't matter because I felt good."
Club / Team
University of Arkansas: Fayetteville, AR, USA
Name of coach
Chris Bucknam [club]
International debut
Competing for
United States
Tournament
World Championships
General interest
Memorable sporting achievement
Competing at the 2016 Paralympic Games in Rio de Janeiro. (killcliff.com, 06 Feb 2019)
Most influential person in career
Coach Jaoquim Cruz. (Athlete, 17 Jul 2017)
Hero / Idol
Brazilian middle-distance runner Joaquim Cruz. (Athlete, 17 Jul 2017)
Injuries
In March 2018 he began to suffer from fatigue in his quadriceps and undertook a reduced training schedule for five weeks. (milesplit.com, 03 Apr 2019)
Sporting philosophy / motto
"Work, inspire, never give up." (Athlete, 17 Jul 2017)

"They said I'd never walk, so I learned to run instead." (Instagram profile, 06 Oct 2019; Twitter profile, 07 Oct 2019; Destiny Washington YouTube channel, 29 Jan 2018)
Awards and honours
In 2017 he was named the Gatorade State Boys Track and Field Athlete of the Year for Utah, United States of America. (usatodayhss.com, 22 Jun 2017)

He was named the 2016 Male High School Track Athlete of the Year by US Paralympics. (teamusa.org, 19 Oct 2016)

In 2016 he was named a US Paralympics Track and Field High School All-American in the 200m and 400m. (teamusa.org, 19 Oct 2016)
Other sports
He has competed in able-bodied athletics for the University of Arkansas in the United States of America. (teamusa.org, 06 Apr 2020)
Famous relatives
His partner Tara Davis has competed in athletics for the University of Texas in the United States of America. (milesplit.com, 03 Apr 2019)
Ambitions
To compete at the 2020 Paralympic Games in Tokyo. (paralympic.org, 09 May 2017; milesplit.com, 03 Apr 2019)
Impairment
He was born with a fused right ankle and fibular hemimelia in his left leg, which is a shortening or absence of the fibula bone. At age 11 months both of his legs were amputated below the knee. (shrinersinternational.org, 06 Jul 2012)
Other information
OTHER ACTIVITIES
He has served as an ambassador for Shriners Hospital for Children, a network of medical facilities across North America which provide specialised health care for children. "It's definitely a big part of my life. Especially growing up when I didn't really have anyone to look up to and I didn't really know anyone in my same situation. So if I can be that person for somebody else and I can make their situation a little easier then that's all that matters to me." (Facebook page, 14 Mar 2020; teamusa.org, 2016; Destiny Washington YouTube channel, 29 Jan 2018)

YOUTUBE CHANNEL
He shares a YouTube channel with his girlfriend Tara Davis, who has competed in athletics for the University of Texas. "The way me and Tara met was through track and field, we met at a track meet. It's the biggest thing in both of our lives, so it's somewhere where we can really connect. The YouTube videos are a place where we can express ourselves and have fun and do whatever we want. A lot of times the videos are based around track, which is something we love because it's obviously a big part of our life and it's fun to share that with others. One of my biggest hobbies is filming and video creation, so that's given me a way to do that. It's given me freedom to get into new cameras and learn more about editing." (milesplit.com, 03 Apr 2019)

EARLY STRUGGLES
He says he has experienced negative comments through his career. "A lot of them didn't take place in the sports world. A lot of them were in school. I was home schooled until I was in fifth grade. In sixth grade, I went through a lot of bullying in school. In seventh grade, I moved schools and managed to make friends who were very instrumental in my life and helped me build my self confidence. Most of the time, I would be able to build close relationships with people on my teams. I've also had some hazing incidents with people, coaches or spectators from other teams being very vocal [negatively] about what I'm doing." (milesplit.com, 03 Apr 2019)
Results
IPC Athletics 2015 World Championships (Doha, Qatar)

| Event | Medal | Unit | Date | Rank |
| --- | --- | --- | --- | --- |
| Men's 200 m T44 | | Heat 2 | 2015-10-24 | 2 |
| Men's 200 m T44 | | Final 1 | 2015-10-25 | 3 |
| Men's 400 m T44 | | Final 1 | 2015-10-27 | 2 |
World Para Athletics Championships London 2017 (London, Great Britain)

| Event | Medal | Unit | Date | Rank |
| --- | --- | --- | --- | --- |
| Men's 400 m T43 | | Final 1 | 2017-07-17 | 2 |
| Men's 200 m T43 | | Final 1 | 2017-07-22 | 2 |
| Men's 4x100 m T42-47 | | Final 1 | 2017-07-23 | 9999 |