Imagen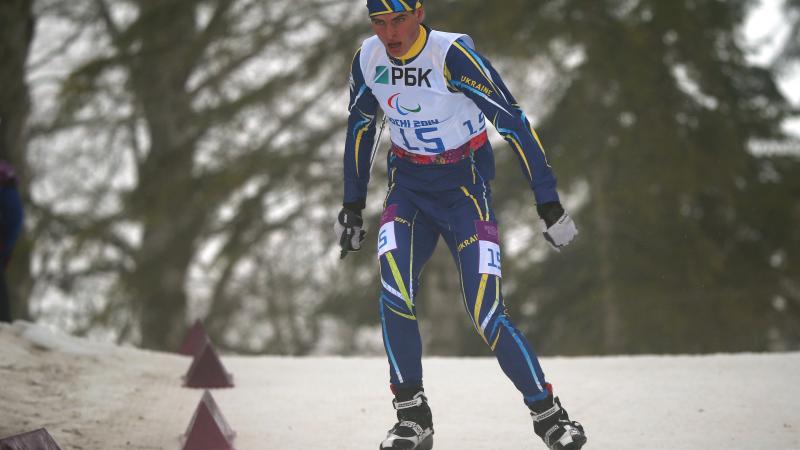 Ihor Reptyukh
Nordic Skiing
Ihor Reptyukh had a season to remember as he won his maiden Winter Paralympic title at PyeongChang 2018. The Ukrainian Nordic skier was the fastest in the men's cross-country long distance standing.
He followed that up with silver in the biathlon middle distance and bronze in the biathlon sprint.
The year before, Reptyukh could not defend his biathlon long distance title at the World Championships in Finsterau, Germany. Instead, he climbed to the top of the podium in the cross-country short distance and long distance events.
With more than 1,000 points amassed during the 2016-17 World Cup, he also claimed the overall men's cross-country standing title for the season.
With vast experience on the Para Nordic skiing circuit, Reptyukh has shown ever-improving form. Competing in the 2011-12 cross-country World Cup, he finished in 19th place overall in the men's standing. Just a year later, he had risen to ninth place.
However, Reptyukh's biggest leap came at the 2012-13 biathlon World Cup. After finishing 2011-12 in 15th place, he rose to third in the overall standings for 2012-13.
As if that was not enough, Reptyukh left an impression on his opponents on his World Championships debut in 2013, winning one gold and one bronze in biathlon.
In 2013-14, Reptyukh stood on the World Cup podium six times contributing towards two top-ten finishes in both cross-country and biathlon standings.
On his Paralympic debut in Sochi 2014, the Ukrainian faced stiff competition from Canada's Mark Arendz and Norwegian Paralympic Champion Nils-Erik Ulset.
But with four top ten finishes including silver in the relay, the youngster showed he could perform at the highest level before going on to win his second world title in 2015.
He retained his place among the top skiers in 2015-16, finishing in the top five in the biathlon World Cup.
Results
IPC Nordic Skiing World Championships Solleftea (Solleftea, Sweden)

| Event | Medal | Unit | Date | Rank |
| --- | --- | --- | --- | --- |
| Men's Sprint - Classic Standing | | Final | 2013-02-25 | 11 |
| Men's Long Distance - Free Style Standing | | Final | 2013-02-27 | 3 |
| Men's Short Distance Standing | | Final | 2013-02-28 | 3 |
| Men's Middle Distance Standing | | Final | 2013-03-01 | 1 |
| Men's Long Distance Standing | | Final | 2013-03-03 | 9 |
| Men's Middle Distance - Classic Standing | | Final | 2013-03-05 | 4 |
2015 IPC Nordic Skiing World Championships Cable (Cable, United States of America)

| Event | Medal | Unit | Date | Rank |
| --- | --- | --- | --- | --- |
| Men's Short Distance Standing | | Race 1 | 2015-01-24 | 5 |
| Men's Long Distance - Free Style Standing | | Race 1 | 2015-01-25 | 3 |
| Men's Middle Distance Standing | | Race 1 | 2015-01-27 | 3 |
| Men's Sprint - Classic Standing | | Race 1 | 2015-01-28 | 6 |
| Men's Long Distance Standing | | Race 1 | 2015-01-30 | 1 |
| Men's Middle Distance - Classic Standing | | Race 1 | 2015-01-31 | 3 |
| Open Relay | | Final | 2015-02-01 | 3 |
2017 IPC Nordic skiing World Championships Finsterau, GER (Finsterau, Germany)

| Event | Medal | Unit | Date | Rank |
| --- | --- | --- | --- | --- |
| Men's Middle Distance Standing | | Final | 2017-02-11 | 6 |
| Men's Sprint - Free Style Standing | | Final | 2017-02-12 | 1 |
| Men's Long Distance Standing | | Final | 2017-02-14 | 6 |
| Open Relay | | Final | 2017-02-15 | 4 |
| Men's Long Distance - Classic Standing | | Final | 2017-02-16 | 1 |
| Men's Sprint Standing | | Final | 2017-02-18 | 2 |
| Men's Middle Distance - Free Style Standing | | Final | 2017-02-19 | 2 |