Imagen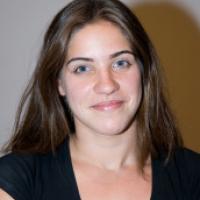 Biography
Impairment information
Origin of Impairment
Congenital
Classification
S5, SB4, SM5
Further personal information
Languages
Hebrew, English
Higher education
Biochemistry - Technion-Israel Institute of Technology: Haifa, ISR
Sport specific information
When and where did you begin this sport?
She began swimming at age five at the Ilan Sport Center club in Haifa, Israel.
Why this sport?
The sport was part of her rehabilitation.
Club / Team
Ilan Sport Center: Haifa, ISR
Name of coach
Jacob Beninson [national]
Training Regime
"My agenda is centred around my training sessions. I train twice a day and sometimes I do other fitness workouts. Morning sessions start at 06:00 and end at 08:00. I come home, have breakfast, sometimes study a bit and prepare for the next training session that starts at 16:00, after which I return home for a little rest so that I can wake up again the next day at 05:00."
International debut
Tournament
European Championships
General interest
Nicknames
Buli (Athlete, 26 Aug 2010)
Hobbies
Skiing. (jpost.com, 04 Apr 2018)
Sporting philosophy / motto
"I have had a lot of crisis moments and question marks as I progressed in my career. There were a lot of barriers I encountered, and I had to ask myself lots of questions, like why do I do what I do? What do I enjoy? And how can I learn to enjoy hard work? These crises only strengthened my motivation to keep going, because I understood what I wanted to achieve and what my goal was. I can say that today I am very focused and know that I am doing what I do for the right reasons. I'm capable of setting a goal and reaching it. It sounds elemental, but for a dream to be realised I should at least know that I did everything I could to succeed. The worst thing that could happen is for me to know what I want but not to try. It is totally up to me." (haimbaemek.co.il, 20 Aug 2019)
Awards and honours
She was named Israeli Sports Personality of the Year in 2008 by the Jerusalem Post newspaper. (jpost.com, 22 Dec 2017)
Ambitions
To compete at the 2020 Paralympic Games in Tokyo. (haimbaemek.co.il, 20 Aug 2019)
Impairment
She was born with a spinal condition that affects the use of her legs. (infolive.tv, 09 Aug 2008)
Other information
TEAM LEADER
She has served as an athlete representative for the Israel Paralympic Committee. In mid-2019 she wrote to the Israeli Ministry of Culture and Sports regarding late funding for Para athletes preparing for the 2020 Paralympic Games in Tokyo. "We are in a critical year of preparing for the 2020 Paralympics. We rely on government money for our daily expenses, and the scarcity of it affects our ability to train properly. Our athletes rely on this funding when making decisions about taking loans, studying, and integrating family life into a busy training schedule. Our athletes represent the country with great respect and reach impressive achievements, and the state should do everything possible to allow us to continue with all our strength to face Tokyo 2020." (one.co.il, 17 Jun 2019; paralympic.org, 30 Mar 2017)

GROWING UP ON A KIBBUTZ
She has fond memories of growing up on a kibbutz, a self-sufficient commune, which helped her adapt to her impairment. "My childhood on the kibbutz was amazing. We were 12 children, six boys and six girls, and because we grew up together the other kids saw my disability as nothing unusual. Like siblings, we were a very cohesive group. I never had social problems on the kibbutz. I was treated just like the other children and I did everything like everyone else. [But] spending time with other children with disabilities, who were no different from me, also helped me to cope and gave me an environment to flourish in." (haimbaemek.co.il, 20 Aug 2019)

FURTHER STUDIES
In 2019 she was studying a postgraduate qualification in psychology and business administration at the Interdisciplinary Centre in Herzliya, Israel. (haimbaemek.co.il, 20 Aug 2019; jpost.com, 04 Apr 2018)
Results
IPC Swimming World Championships Mar del Plata 2002 (Mar del Plata, Argentina)

| Event | Medal | Unit | Date | Rank |
| --- | --- | --- | --- | --- |
| Women's 50 m Freestyle S5 | | Heats | | 4 |
| Women's 50 m Freestyle S5 | | Final Round | | 5 |
| Women's 100 m Freestyle S5 | | Heats | | 5 |
| Women's 100 m Freestyle S5 | | Final Round | | 5 |
| Women's 50 m Backstroke S5 | | Heats | | 5 |
| Women's 50 m Backstroke S5 | | Final Round | | 5 |
| Women's 100 m Breaststroke SB4 | | Final Round | | 1 |
IPC Swimming World Championships Durban 2006 (Durban, South Africa)

| Event | Medal | Unit | Date | Rank |
| --- | --- | --- | --- | --- |
| Women's 100 m Breaststroke SB4 | | Heats | | 2 |
| Women's 50 m Freestyle S5 | | Heats | | 4 |
| Women's 50 m Freestyle S5 | | Final Round | | 4 |
| Women's 100 m Breaststroke SB4 | | Final Round | | 1 |
| Women's 100 m Freestyle S5 | | Heats | | 4 |
| Women's 100 m Freestyle S5 | | Final Round | | 2 |
| Women's 200 m Freestyle S5 | | Final Round | | 2 |
| Women's 200 m Freestyle S5 | | Heats | | 2 |
IPC Swimming World Championships Eindhoven 2010 (Eindhoven, Netherlands)

| Event | Medal | Unit | Date | Rank |
| --- | --- | --- | --- | --- |
| Women's 100 m Breaststroke SB4 | | Heat 1 | | 1 |
| Women's 100 m Freestyle S5 | | Heat 1 | | 1 |
| Women's 100 m Freestyle S5 | | Final Round | | 1 |
| Women's 200 m Freestyle S5 | | Heat 2 | | 1 |
| Women's 200 m Freestyle S5 | | Final Round | | 2 |
2013 IPC Swimming World Championships (Montreal, Canada)

| Event | Medal | Unit | Date | Rank |
| --- | --- | --- | --- | --- |
| Women's 200 m Freestyle S5 | | Final 1 | 2013-08-13 | 2 |
| Women's 100 m Freestyle S5 | | Heat 1 | 2013-08-17 | 4 |
| Women's 100 m Freestyle S5 | | Final 1 | 2013-08-17 | 4 |
| Women's 50 m Freestyle S5 | | Final 1 | 2013-08-18 | 4 |
| Women's 50 m Freestyle S5 | | Heat 2 | 2013-08-18 | 3 |
2015 IPC Swimming World Championships (Glasgow, Great Britain)

| Event | Medal | Unit | Date | Rank |
| --- | --- | --- | --- | --- |
| Mixed 4x50 m Freestyle 20pts | | Heat 1 | 2015-07-13 | 9 |
| Women's 200 m Freestyle S5 | | Heat 2 | 2015-07-15 | 2 |
| Women's 200 m Freestyle S5 | | Final 1 | 2015-07-15 | 2 |
| Women's 50 m Freestyle S5 | | Heat 1 | 2015-07-17 | 3 |
| Women's 50 m Freestyle S5 | | Final 1 | 2015-07-17 | 3 |
| Women's 200 m Individual Medley SM5 | | Final 1 | 2015-07-18 | 2 |
| Women's 200 m Individual Medley SM5 | | Heat 1 | 2015-07-18 | 2 |
| Women's 100 m Freestyle S5 | | Heat 2 | 2015-07-19 | 2 |
| Women's 100 m Freestyle S5 | | Final 1 | 2015-07-19 | 4 |
Mexico City 2017 World Para Swimming Championships (Mexico City, Mexico)

| Event | Medal | Unit | Date | Rank |
| --- | --- | --- | --- | --- |
| Women's 100 m Freestyle S5 | | Heat 1 | 2017-12-02 | 2 |
| Women's 100 m Freestyle S5 | | Final 1 | 2017-12-02 | 3 |
| Women's 50 m Freestyle S5 | | Heat 2 | 2017-12-05 | 3 |
| Women's 50 m Freestyle S5 | | Final 1 | 2017-12-05 | 3 |
| Women's 200 m Freestyle S5 | | Final 1 | 2017-12-06 | 4 |