Imagen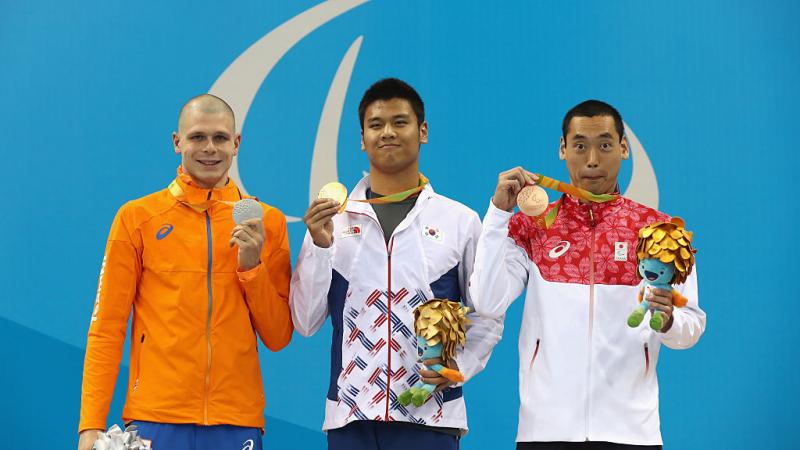 South Korea's InKook Lee finally broke his 100m backstroke S14 hoodoo at the Rio 2016 Paralympic Games.
Four years earlier, at London 2012, he had qualified as the fastest man from his heat but was disqualified from the final after arriving late to the call room.
He also struggled to reach the top of the podium at the 2013 and 2015 World Championships, losing out in 2013 to the Netherlands' Marc Evers, the Paralympic champion. He even broke the world record in the heats, before it was lowered by Russia's Viacheslav Emeliantsev in the final on his way to gold.
But at Rio 2016 the glory was all his and he was in such good form that he broke the Paralympic record in the heats and finals.
Lee has his mother to thank for his success. Wanting him to overcome his fear of water, she took Lee swimming and at London 2012 he was the youngest member of the South Korean team at the age of 17.
He has been recognised for his achievements nationally via various awards and will look to add the backstroke world title to his collection in Mexico City in 2017.
Results
2013 IPC Swimming World Championships (Montreal, Canada)

| Event | Medal | Unit | Date | Rank |
| --- | --- | --- | --- | --- |
| Men's 200 m Freestyle S14 | | Final 1 | 2013-08-12 | 6 |
| Men's 200 m Freestyle S14 | | Heat 2 | 2013-08-12 | 5 |
| Men's 100 m Backstroke S14 | | Final 1 | 2013-08-14 | 2 |
| Men's 100 m Backstroke S14 | | Heat 1 | 2013-08-14 | 1 |
2015 IPC Swimming World Championships (Glasgow, Great Britain)

| Event | Medal | Unit | Date | Rank |
| --- | --- | --- | --- | --- |
| Men's 200 m Freestyle S14 | | Final 1 | 2015-07-15 | 8 |
| Men's 200 m Freestyle S14 | | Heat 1 | 2015-07-15 | 4 |
| Men's 100 m Backstroke S14 | | Heat 2 | 2015-07-19 | 1 |
| Men's 100 m Backstroke S14 | | Final 1 | 2015-07-19 | 2 |
Mexico City 2017 World Para Swimming Championships (Mexico City, Mexico)

| Event | Medal | Unit | Date | Rank |
| --- | --- | --- | --- | --- |
| Men's 200 m Freestyle S14 | | Final 1 | 2017-12-05 | 2 |
| Men's 100 m Backstroke S14 | | Heat 2 | 2017-12-06 | 9999 |
| Men's 100 m Butterfly S14 | | Heat 2 | 2017-12-07 | 1 |
| Men's 100 m Butterfly S14 | | Final 1 | 2017-12-07 | 1 |
London 2019 World Para Swimming Championships (London, Great Britain)

| Event | Medal | Unit | Date | Rank |
| --- | --- | --- | --- | --- |
| Men's 100 m Backstroke S14 | | Heat 2 | 2019-09-10 | 11 |
| Men's 100 m Butterfly S14 | | Heat 2 | 2019-09-15 | 5 |
| Men's 100 m Butterfly S14 | | Final 1 | 2019-09-15 | 5 |