Imagen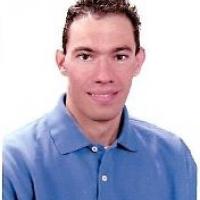 Ioannis Kostakis
Swimming
Biography
Impairment information
Type of Impairment
Spinal Cord Injuries
Origin of Impairment
Acquired
Classification
S3, SB2, SM3
Further personal information
Occupation
Athlete, Sports Administrator
Higher education
Accounting - Technological Educational Institute of Athens [TEI]: Greece
Sport specific information
When and where did you begin this sport?
He first swam in the sea as a child and took up Para swimming in 1996 in Athens, Greece. He began competing in 1998. "I fell in love with water as a baby, because I swam in the sea before I walked. In the water I feel free, I move, I swim. I can't imagine my life without it because it is a way of life."
Why this sport?
He initially used swimming for physiotherapy following his accident and was inspired to compete after he met athletes taking part in the 1996 Paralympic Games in Atlanta. "Swimming was something I always loved, as well as water skiing. I am very familiar with water and I love it. It is something that has always suited me."
Club / Team
Panathinaikos Athletic Club: Athens, GRE
General interest
Hobbies
Music, watching films, going to the cinema, photography. (Athlete, 12 Sep 2019)
Memorable sporting achievement
Winning bronze in the S3 100m freestyle at the 2004 Paralympic Games in Athens. (Athlete, 12 Sep 2019)
Most influential person in career
Coach Panagiotis Paipetis. (Athlete, 12 Sep 2019)
Hero / Idol
Dutch swimmer Pieter van den Hoogenband. (Athlete, 12 Sep 2019)
Injuries
He was involved in a car accident only a few hours after winning a silver medal in the S3 100m freestyle at the 2011 European Championships in Berlin, Germany. He fractured both of his legs, and required two operations and two months of rehabilitation. (paralympic.gr, 01 Aug 2021; sport24.gr, 11 Sep 2016)
Awards and honours
In 2015 he received a sporting achievement award from the Greek Paralympic Committee. (paralympic.gr, 18 Dec 2015)

He was named 2014 Male Athlete of the Year by the Greek Paralympic Committee. (paralympic.gr, 16 Dec 2014)

In 2013 and 2014 he was named Best Para Athlete by the Panhellenic Sports Press Association in Greece. (paralympic.gr, 01 Aug 2021)
Ambitions
To compete at the 2024 Paralympic Games in Paris. (inpao.gr, 14 Jan 2022)
Impairment
A car accident in 1996 resulted in quadriplegia. (sport24.gr, 11 Sep 2016; paralympic.gr, Sep 2012)
Other information
OCCUPATION
He has served as general secretary of the Hellenic Paralympic Association in Greece, and has also worked for the Greek Ministry of Culture and Sports. (paralympic.gr, 01 Aug 2021; swimming.gr, 03 Dec 2020; nafsweek.gr, 18 Jan 2021; sch.gr, 19 Jan 2021)
Results
IPC Swimming World Championships Eindhoven 2010 (Eindhoven, Netherlands)

| Event | Medal | Unit | Date | Rank |
| --- | --- | --- | --- | --- |
| Men's 50 m Freestyle S3 | | Final Round | | 7 |
| Men's 100 m Freestyle S3 | | Heat 1 | | 2 |
| Men's 50 m Freestyle S3 | | Heat 2 | | 3 |
| Men's 50 m Breaststroke SB2 | | Final Round | | 6 |
| Men's 50 m Breaststroke SB2 | | Heat 1 | | 4 |
| Men's 4x50 m Medley 20pts | | Final Round | | 6 |
| Men's 4x50 m Medley 20pts | | Heat 1 | | 4 |
| Men's 4x50 m Freestyle 20pts | | Heat 1 | | 5 |
| Men's 200 m Freestyle S3 | | Final Round | | 5 |
| Men's 200 m Freestyle S3 | | Heat 2 | | 3 |
| Men's 150 m Individual Medley SM3 | | Final Round | | 6 |
| Men's 150 m Individual Medley SM3 | | Heat 1 | | 2 |
| Men's 100 m Freestyle S3 | | Final Round | | 5 |
IPC Swimming World Championships Durban 2006 (Durban, South Africa)

| Event | Medal | Unit | Date | Rank |
| --- | --- | --- | --- | --- |
| Men's 100 m Freestyle S3 | | Final Round | | 6 |
| Men's 150 m Individual Medley SM3 | | Heats (SM2/3) | | 9999 |
| Men's 200 m Freestyle S3 | | Final Round | | 5 |
| Men's 50 m Freestyle S3 | | Heats | | 8 |
| Men's 50 m Freestyle S3 | | Final Round | | 8 |
IPC Swimming World Championships Mar del Plata 2002 (Mar del Plata, Argentina)

| Event | Medal | Unit | Date | Rank |
| --- | --- | --- | --- | --- |
| Men's 100 m Freestyle S3 | | Heats | | 3 |
| Men's 50 m Freestyle S3 | | Final Round | | 5 |
| Men's 50 m Freestyle S3 | | Heats | | 5 |
| Men's 100 m Freestyle S3 | | Final Round | | 3 |
| Men's 200 m Freestyle S3 | | Heats | | 3 |
| Men's 200 m Freestyle S3 | | Final Round | | 4 |
| Men's 50 m Butterfly S3 | | Final (S3-4) | | 9999 |
| Men's 50 m Butterfly S3 | | Heats (S2-4) | | 1 |
IPC Swimming World Championships Christchurch 1998 (Christchurch, New Zealand)

| Event | Medal | Unit | Date | Rank |
| --- | --- | --- | --- | --- |
| Men's 100 m Freestyle S4 | | Heats | | 13 |
| Men's 50 m Butterfly S4 | | Final Round | | 5 |
| Men's 50 m Butterfly S4 | | Heats | | 6 |
| Men's 200 m Freestyle S4 | | Heats | | 10 |
| Men's 50 m Freestyle S4 | | Heats | | 17 |
2013 IPC Swimming World Championships (Montreal, Canada)

| Event | Medal | Unit | Date | Rank |
| --- | --- | --- | --- | --- |
| Men's 200 m Freestyle S3 | | Heat 2 | 2013-08-12 | 4 |
| Men's 200 m Freestyle S3 | | Final 1 | 2013-08-12 | 3 |
| Men's 50 m Breaststroke SB2 | | Final 1 | 2013-08-13 | 1 |
| Men's 50 m Freestyle S3 | | Heat 1 | 2013-08-14 | 4 |
| Men's 50 m Freestyle S3 | | Final 1 | 2013-08-14 | 4 |
| Men's 100 m Freestyle S3 | | Final 1 | 2013-08-16 | 4 |
| Men's 50 m Butterfly S3 | | Final 1 | 2013-08-18 | 3 |
2015 IPC Swimming World Championships (Glasgow, Great Britain)

| Event | Medal | Unit | Date | Rank |
| --- | --- | --- | --- | --- |
| Men's 200 m Freestyle S3 | | Heat 1 | 2015-07-13 | 4 |
| Men's 200 m Freestyle S3 | | Final 1 | 2015-07-13 | 6 |
| Men's 150 m Individual Medley SM3 | | Final 1 | 2015-07-15 | 4 |
| Men's 50 m Freestyle S3 | | Heat 1 | 2015-07-16 | 5 |
| Men's 50 m Freestyle S3 | | Final 1 | 2015-07-16 | 4 |
| Men's 50 m Breaststroke SB2 | | Final 1 | 2015-07-17 | 3 |
| Men's 50 m Backstroke S3 | | Heat 1 | 2015-07-18 | 11 |
Mexico City 2017 World Para Swimming Championships (Mexico City, Mexico)

| Event | Medal | Unit | Date | Rank |
| --- | --- | --- | --- | --- |
| Men's 200 m Freestyle S3 | | Final 1 | 2017-12-04 | 5 |
| Men's 50 m Breaststroke SB2 | | Final 1 | 2017-12-05 | 4 |
| Men's 50 m Breaststroke SB2 | | Heat 2 | 2017-12-05 | 4 |
| Men's 50 m Freestyle S3 | | Final 1 | 2017-12-06 | 5 |
| Men's 50 m Freestyle S3 | | Heat 1 | 2017-12-06 | 5 |
| Men's 150 m Individual Medley SM3 | | Final 1 | 2017-12-07 | 3 |
| Men's 150 m Individual Medley SM3 | | Heat 1 | 2017-12-07 | 3 |