Imagen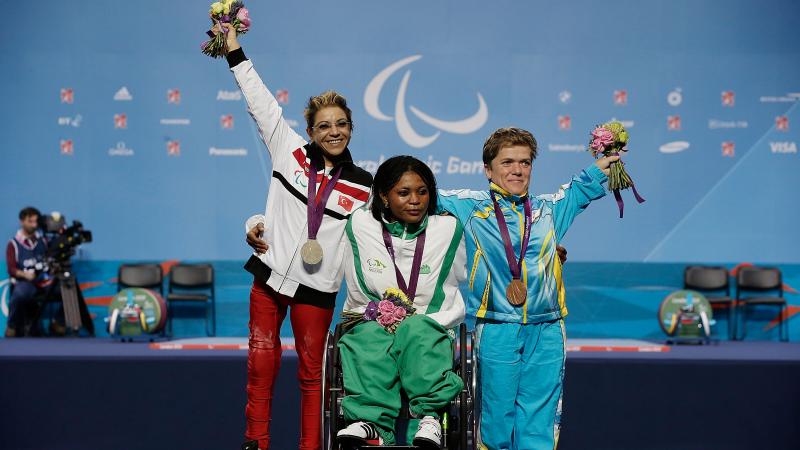 Lidiia Soloviova
Powerlifting
It is strange to see Lidiia Soloviova leaving a competition without any medal. But it happened at the 2017 World Championships, with the Ukrainian powerlifter finishing fourth in the women´s up to 50kg.
It was Soloviova's first major setback as she could not reach the podium at a major international competition for the first time ever. Few had doubts, though, that she would bounce back and would be seen on a podium soon again.
In 2018, she won the Fazza World Cup in Dubai, United Arab Emirates, followed by silver at the European Open Championships in Berck-sur-Mer, France.
Soloviova was at college when coach Lilia Ginkul asked her to join a group of volunteers to try powerlifting. She was the smallest of them all, but managed to lift nothing less than 57kg, showing natural talent for the sport.
That was only the start of a highly-successful career which saw her take her third Paralympic gold at Rio 2016, the first in the women's up to 50kg.
Soloviova, who was born with chondrodystrophy, knows about overcoming challenges since she was a little girl. Her parents gave her up for adoption soon after she was born. Later in life, she was reunited with her birth mother who recognised her from media coverage of her sporting success.
She also holds three golds, one silver and one bronze at Paralympic Games since making her debut at Sydney 2000. Soloviova also claimed the European title in 2015.
In recognition of her many victories, she has received the Order of Princess Olga [second and third grades], and Order for Special Merits in Ukraine.
Results
IPC Powerlifting World Championships Kuala Lumpur 2002 (Kuala Lumpur, Malaysia)

| Event | Medal | Unit | Date | Rank |
| --- | --- | --- | --- | --- |
| Women's -44 kg | | Final Round | | 2 |
IPC Powerlifting World Championships Busan 2006 (Busan, South Korea)

| Event | Medal | Unit | Date | Rank |
| --- | --- | --- | --- | --- |
| Women's -40 kg | | Final Round | | 1 |
2010 IPC Powerlifting World Championships (Kuala Lumpur, Malaysia)

| Event | Medal | Unit | Date | Rank |
| --- | --- | --- | --- | --- |
| Women's Up to 40.00kg | | Final | 2010-07-25 | 9999 |
2014 IPC Powerlifting World Championships (Dubai, United Arab Emirates)

| Event | Medal | Unit | Date | Rank |
| --- | --- | --- | --- | --- |
| Women's Up to 50.00 kg MD | | Final | 2014-04-07 | 2 |
Mexico City 2017 World Para Powerlifting Championships (Mexico City, Mexico)

| Event | Medal | Unit | Date | Rank |
| --- | --- | --- | --- | --- |
| Women's Up to 50.00kg | | Final | 2017-12-05 | 4 |
Nur-Sultan 2019 World Para Powerlifting Championships (Nur-Sultan, Kazakhstan)

| Event | Medal | Unit | Date | Rank |
| --- | --- | --- | --- | --- |
| Women's Up to 50.00kg | | Final | 2019-07-14 | 3 |
| Mixed Team Event | | Final | 2019-07-20 | 3 |
Tbilisi 2021 World Para Powerlifting Senior World Championships (Tbilisi, Georgia)

| Event | Medal | Unit | Date | Rank |
| --- | --- | --- | --- | --- |
| Women's Up to 50.00kg | | Final | 2021-11-29 | 3 |