Imagen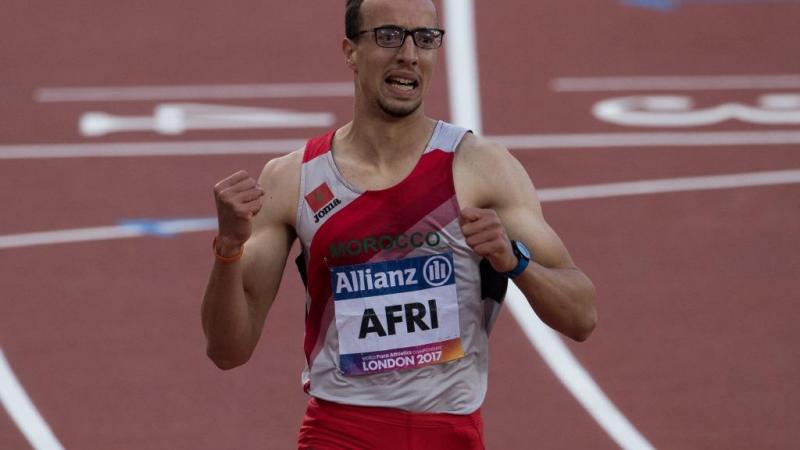 The Moroccan visually impaired athlete clinched his first major title at London 2017, winning both the 200m and 400m T12.
In the longer sprint Afri clocked 48.60 seconds – breaking the previous championship record which had stood for a phenomenal 15 years, and just 0.08 seconds shy of the world record set by his compatriot Mahmoud Khaldi at the London 2012 Paralympic Games.
Competing in his first World Championships, Afri kept his composure well against a field including the 2015 world gold medallist, Luis Goncalves. Afir started strongly with his distinctive long stride eating up the track, and he held on brilliantly to take the tape well clear of his rivals.
At the Rio 2016 Paralympic Games – Afri's first foray in to major international competition at 20-years-old – he won 400m T12 silver and 200m T12 bronze.
Results
World Para Athletics Championships London 2017 (London, Great Britain)

| Event | Medal | Unit | Date | Rank |
| --- | --- | --- | --- | --- |
| Men's 100 m T12 | | Heat 2 | 2017-07-14 | 7 |
| Men's 100 m T12 | | Semifinal 2 | 2017-07-15 | 5 |
| Men's 400 m T12 | | Heat 2 | 2017-07-17 | 1 |
| Men's 400 m T12 | | Final 1 | 2017-07-18 | 1 |
| Men's 200 m T12 | | Heat 3 | 2017-07-19 | 1 |
| Men's 200 m T12 | | Semifinal 2 | 2017-07-20 | 1 |
| Men's 200 m T12 | | Final 1 | 2017-07-21 | 1 |
Dubai 2019 World Para Athletics Championships (Dubai, United Arab Emirates)

| Event | Medal | Unit | Date | Rank |
| --- | --- | --- | --- | --- |
| Men's 400 m T12 | | Heat 1 | 2019-11-07 | 2 |
| Men's 400 m T12 | | Final 1 | 2019-11-09 | 2 |
| Men's 400 m T12 | | Semifinal 1 | 2019-11-09 | 1 |
| Men's 100 m T12 | | Heat 1 | 2019-11-10 | 9999 |