Imagen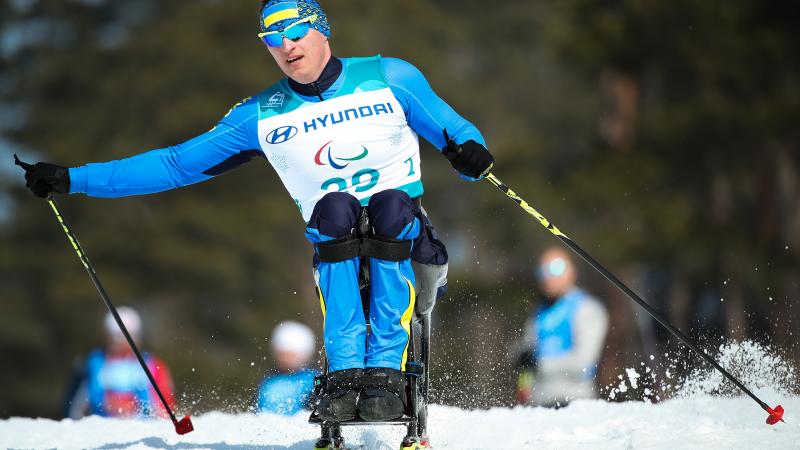 Maksym Yarovyi
Nordic Skiing
Maksym Yarovyi will forever cherish the moment he won his first Winter Paralympic title. The Ukrainian ended first in the men's cross-country long distance sitting at PyeongChang 2018, his second Games.
He went on to claim bronze in the cross-country middle distance to round off his most successful Paralympics to date.
Since debuting in 2011, Yarovyi has risen through the ranks of the men's sitting in both cross-country skiing and biathlon.
Until 2018, his most prolific season had been the 2016-17, when he won quadruple gold in the men's cross-country sprint, middle and long distance, and the biathlon sprint sitting at the World Championships in Finsterau, Germany.
He also won the overall cross-country World Cup title.
Yarovyi's talent was spotted by coaches at a rehabilitation centre. He had originally been pegged to be a swimmer, but as the pool was too far from his house to train he decided to give Nordic skiing a go.
His Paralympic debut at Sochi 2014 saw him reach the podium three times, powering to a trio of silver medals. Just a year later, at his first World Championships he converted those into two golds.
His career achievements so far have bought him wide recognition. He was named among the 2014 best athletes of Mykolayiv region of Ukraine in the 'Strong Spirit' nomination category.
Yarovyi always says when he is "on the snow I am free from everything: troubles, worries and negative moments." But when he is not training or competing, he enjoys playing computer games, travelling, watching movies, reading books and listening to music.
Results
IPC Nordic Skiing World Championships Solleftea (Solleftea, Sweden)

| Event | Medal | Unit | Date | Rank |
| --- | --- | --- | --- | --- |
| Men's Sprint - Classic Sitting | | Final | 2013-02-25 | 14 |
| Men's Long Distance - Classic Sitting | | Final | 2013-02-26 | 5 |
| Men's Short Distance Sitting | | Final | 2013-02-28 | 8 |
| Men's Middle Distance Sitting | | Final | 2013-03-01 | 7 |
| Men's Long Distance Sitting | | Final | 2013-03-03 | 7 |
| Men's Middle Distance - Classic Sitting | | Final | 2013-03-05 | 8 |
2015 IPC Nordic Skiing World Championships Cable (Cable, United States of America)

| Event | Medal | Unit | Date | Rank |
| --- | --- | --- | --- | --- |
| Men's Short Distance Sitting | | Race 1 | 2015-01-24 | 1 |
| Men's Long Distance - Free Style Sitting | | Race 1 | 2015-01-25 | 2 |
| Men's Middle Distance Sitting | | Race 1 | 2015-01-27 | 6 |
| Men's Sprint - Classic Sitting | | Race 1 | 2015-01-28 | 1 |
| Men's Long Distance Sitting | | Race 1 | 2015-01-30 | 6 |
| Open Relay | | Final | 2015-02-01 | 3 |
2017 IPC Nordic skiing World Championships Finsterau, GER (Finsterau, Germany)

| Event | Medal | Unit | Date | Rank |
| --- | --- | --- | --- | --- |
| Men's Sprint - Free Style Sitting | | Final | 2017-02-12 | 1 |
| Open Relay | | Final | 2017-02-15 | 4 |
| Men's Long Distance - Classic Sitting | | Final | 2017-02-16 | 1 |
| Men's Sprint Sitting | | Final | 2017-02-18 | 1 |
| Men's Middle Distance - Free Style Sitting | | Final | 2017-02-19 | 1 |
Prince George 2019 World Para Nordic Skiing Championships (Prince George, Canada)

| Event | Medal | Unit | Date | Rank |
| --- | --- | --- | --- | --- |
| Men's Middle Distance - Free Style Sitting | | Final | 2019-02-17 | 7 |
| Men's Sprint - Free Style Sitting | | Final | 2019-02-18 | 6 |
| Men's Sprint Sitting | | Final | 2019-02-20 | 7 |
| Men's Long Distance - Classic Sitting | | Final | 2019-02-24 | 9999 |
Lillehammer 2021 World Para Snow Sports Championships (Lillehammer, Norway)

| Event | Medal | Unit | Date | Rank |
| --- | --- | --- | --- | --- |
| Men's Middle Distance - Classic Sitting | | Final | 2022-01-13 | 12 |
| Men's Sprint Sitting | | Final | 2022-01-15 | 17 |
| Men's Long Distance - Free Style Sitting | | Final | 2022-01-18 | 9 |
| Men's Sprint - Classic Sitting | | Final | 2022-01-22 | 11 |