Imagen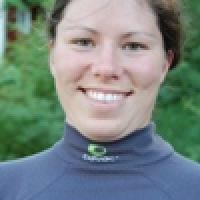 Mariann Marthinsen
Nordic Skiing | Swimming
As one of Norway's most prolific para-athletes, Marthinsen has achieved success at Paralympic Games in both swimming and cross-country skiing.
Splitting her time between training, competing and social work, the Norwegian competed at three summer Paralympic Games between 2004 and 2012. At Beijing 2008, Marthinsen won bronze in the 100m backstroke S8 and also medalled at the World Championships in 2006 in the same event.
Marthinsen, who had her right leg amputated at the age of two following a road traffic accident, was also the holder of 13 world records in the water between 2003 and 2007.
Her first Paralympic Winter Games experience came at Vancouver 2010, when she secured three top 10 finishes in the three events she entered.
From there, two years after she first tried skiing in 2008, Marthinsen began to focus increasingly on winter sport. Her determination paid off in the 2011-12 season, when she finished on top of the World Cup rankings in her first competitive season on snow, after winning seven World Cup races.
Since then Marthinsen has finished in the top three every season. Capping it all off, in the last two years, she became a Paralympic champion at Sochi 2014 and won her latest World Championships medals. Had it not been for her sit-ski breaking in the 5km race in Sochi which cost her a two second lead, Marthinsen was also in line for a second gold.
It is not known if Marthinsen will return to the pool anytime soon. But her success across summer and winter sports is rivalled by another sit-skier – the USA's London 2012 rowing bronze medallist and cross-country Worlds podium finisher Oksana Masters. The pair will battle it out in 2015-16, with Masters looking to gain an edge as she prepares for the Rio 2016 Paralympic Games.
Results
IPC Swimming World Championships Durban 2006 (Durban, South Africa)

| Event | Medal | Unit | Date | Rank |
| --- | --- | --- | --- | --- |
| Women's 100 m Freestyle S8 | | Final Round | | 4 |
| Women's 100 m Freestyle S8 | | Heats | | 4 |
| Women's 100 m Backstroke S8 | | Final Round | | 2 |
| Women's 100 m Backstroke S8 | | Heats | | 2 |
| Women's 50 m Freestyle S8 | | Heats | | 6 |
| Women's 50 m Freestyle S8 | | Final Round | | 5 |
| Women's 4x100 m Freestyle 34 pts | | Final Round | | 7 |
| Women's 4x100 m Medley 34 pts | | Final Round | | 8 |
IPC Nordic Skiing World Championships Solleftea (Solleftea, Sweden)

| Event | Medal | Unit | Date | Rank |
| --- | --- | --- | --- | --- |
| Women's Sprint - Classic Sitting | | Final | 2013-02-25 | 3 |
| Women's Long Distance - Classic Sitting | | Final | 2013-02-26 | 2 |
| Women's Middle Distance - Classic Sitting | | Final | 2013-03-05 | 2 |
2015 IPC Nordic Skiing World Championships Cable (Cable, United States of America)

| Event | Medal | Unit | Date | Rank |
| --- | --- | --- | --- | --- |
| Women's Long Distance - Free Style Sitting | | Race 1 | 2015-01-25 | 3 |
| Women's Sprint - Classic Sitting | | Race 1 | 2015-01-28 | 2 |
| Women's Middle Distance - Classic Sitting | | Race 1 | 2015-01-31 | 3 |
| Mixed Relay | | Final | 2015-02-01 | 3 |