Imagen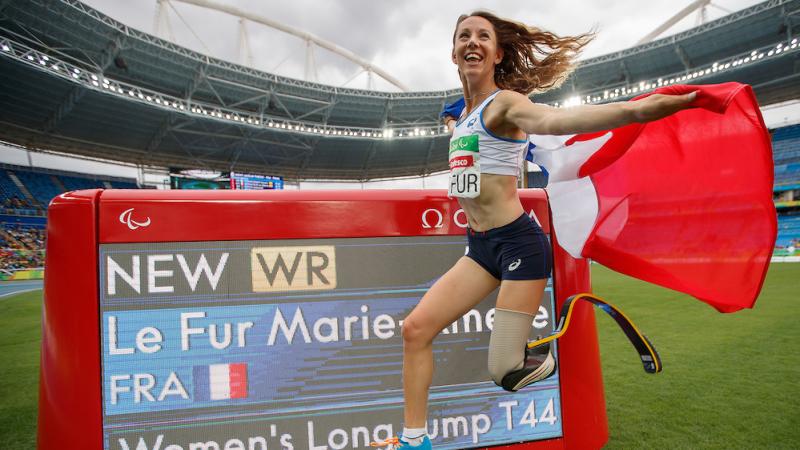 Marie-Amelie Le Fur
Athletics
At Rio 2016, le Fur won two golds and a bronze medal, and set two world records in a Games to remember for the T44 athlete.
Her first gold came in the long jump T44; a leap of 5.83m - 9cm better than her previous world record - secured her top spot from Great Britain's Stef Reid.
Two days later, she lowered her own 400m T44 world record to 59.27 to top the podium once again.
In the 200m T44 (27.11), she finished with bronze.
Le Fur warmed up for Rio 2016 with an outstanding 2015 season, winning two gold and two silver medals at the World Championships in Doha, Qatar.
To win her two golds, she set two sensational world records. In the long jump T44, she jumped further than the previous world record in all six rounds. Although four of them exceeded the wind limit, her third round jump of 5.74m set a new world record, whilst her final round jump of 5.84m with a 2.2m/s winds behind her, confirmed the world title.
Days later in the 400m T44, she became the first female leg amputee to break the 60 second barrier with a blistering time of 59.30 seconds to once again top the podium.
Over 100m and 200m T44 she took silver in Doha behind the Netherlands' Marlou van Rhijn.
Le Fur made her Paralympic debut in Beijing in 2008, narrowly missing out on gold by 0.01 seconds to the USA's April Holmes.
At London 2012, she finally became Paralympic champion winning the 100m T44 (13.19), and took home silver in the 200m (26.76) after smashing the world record for single leg amputees to claim silver. In the long jump T42/44 she claimed bronze.
Le Fur took up athletics aged six, but lost her left leg just below the knee after a serious motorcycle accident in 2004.
Just one year later she was running with a prosthetic leg and preparing for her debut at the 2006 World Championships.
To-date she has competed in four World Championships including Doha 2015, winning 12 medals, four of which are gold. She has also won two European titles.
Photo Gallery
Imagen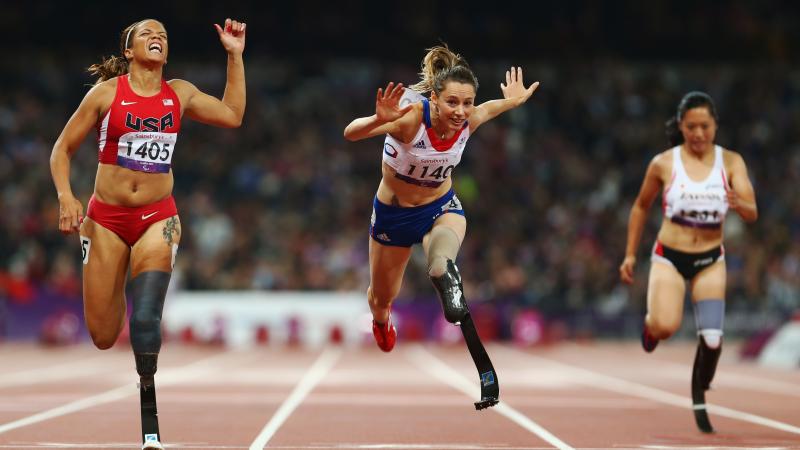 Imagen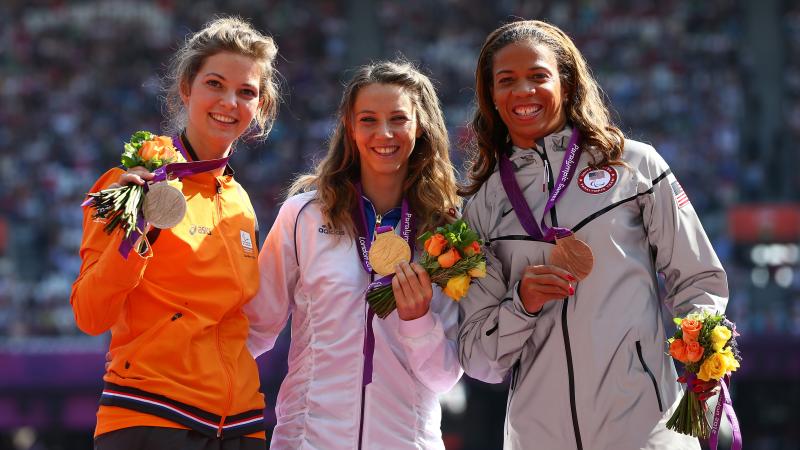 Biography
Impairment information
Type of Impairment
Limb deficiency
Origin of Impairment
Acquired
Further personal information
Family
Husband Matthieu, daughter Anna [2019].
Occupation
Athlete, Manager, Sports Administrator
Higher education
Physiology - University of Poitiers: France
Sport specific information
When and where did you begin this sport?
She first trained in athletics at age six. She began running with a prosthetic limb in 2005.
Why this sport?
"At first I wanted to participate in athletics because my sister had become involved, but I continued because I love the feeling of speed and lightness during races. In 2003 I was at the World Championships [in Paris, France], and I saw a [Para athletics] demonstration race. I saw their prosthetics, how they worked. I was impressed. One year later, since the moment the decision was made to amputate my leg, this race memory allowed me to build a positive future." She used a running blade for the first time in a movie. "After this experience I met an extraordinary club president who opened me the doors and allowed me to train near home. My all-time coach also accepted to get into the impaired sport world. It was a beautiful human story, linked to all these people."
Name of coach
Jean-Baptiste Souche, FRA
Training Regime
She has one training session from Tuesdays to Thursdays, when she combines them with her work at the French National Paralympic Committee. On Mondays and Fridays she trains at least two sessions, one day of them in Bordeaux, with her coach Jean-Baptiste Souche. She also trains on weekends, up to two sessions.
International debut
Tournament
World Championships
General interest
Hobbies
Cooking. (Athlete, 20 Aug 2018)
Memorable sporting achievement
Claiming three gold medals at the Paralympic Games and three gold medals at the world championships. (Athlete, 20 Aug 2018)
Most influential person in career
Her parents, her sister and her husband. (Athlete, 20 Aug 2018)
Sporting philosophy / motto
"Make your life a dream." (marie-amelie-lefur.fr, 01 Oct 2016)
Awards and honours
The sports complex of the University of Poitiers, France, was named after her in 2019. (Instagram profile, 11 Oct 2019; lanouvellerepublique.fr, 16 Oct 2019)

In 2018 she was chosen by two French villages, Saint-Roch and Fortan, as a model to represent Marianne, a French national symbol that stands for freedom and reason. A plaque and a bust were created as she became the first sportswoman to personify the national symbol. (francebleu.fr, 22 Jan 2018; lanouvellerepublique.fr, 19 May 2018; 21 May 2018)

In 2018 a sports hall in Montastruc, a sporting square in Lallaing, a city stadium in Ingre and a therapeutic and pedagogical centre in Evreux [all in France] were named after her. (ladepeche.fr, 26 Mar 2018; Facebook page, 12 May 2018; intensite.net, 07 Jun 2018; paris-normandie.fr, 03 Dec 2018)

She was upgraded as Official of the Legion of Honour in France in 2016. (la-croix.com, 01 Dec 2016)

In 2013 she was named a Knight of the Legion of Honour in France. (Facebook page, 08 Jun 2018)

A gym in Naveil, France, was named after her in recognition of her performance at the 2012 Paralympic Games in London. (lanouvellerepublique.fr, 13 Oct 2012)

She received the Official of the Order of Merit medal in 2009 in France. (orthopedie.proteor.fr, 19 Jan 2009)
Ambitions
To win the gold medal at the 2020 Paralympic Games in Tokyo, and set a new world record. (handirect.fr, 21 Sep 2019)
Impairment
In March 2004 she was injured in a motorcycle accident, which resulted in her left leg being amputated below the knee. (marie-amelie-lefur.fr, 01 Oct 2016; Athlete, 20 Aug 2018)
Other information
BOOK
In 2019 she published her autobiography named "Fais de ta vie un reve" [Make your life a dream]. "I wanted to transmit it [her life]. I wanted it to be an inspiration for people, impaired or not, who have faced difficulties throughout their lives, or just for those who want to discover what is behind the career of a high performance athlete." (Facebook page, 25 Oct 2019; ouest-france.fr, 14 Oct 2019)

MATERNITY BREAK
In 2019 she gave birth to her daughter Anna and returned to training in October 2019. (lanouvellerepublique.fr, 13 Sep 2019; ouest-france.fr, 14 Oct 2019)

NPC PRESIDENT
In December 2018 she became president of the French Paralympic and Sports Committee [CPFS]. "I am very happy and honoured with the mission I am given and I wish to use my personal experience and my status as a high-level athlete." She still had intentions to compete at the 2020 Paralympic Games in Tokyo, but expects to end to her athlete's career thereafter. (paralympic.org, 14 Dec 2018; ouest-france.fr, 09 Nov 2018)

OTHER ACTIVITIES
She was a co-chairperson of the athletes' committee for France's successful 2024 Olympic and Paralympic Games proposal. She has also been an ambassador for the French Sports Ministry's campaign to fight against discrimination. (edf.fr, 23 Mar 2016; intensite.net, 07 Jun 2018)

PERSONAL LOSS
After the 2016 Paralympic Games in Rio de Janeiro she intended to start a family. When she was eight months pregnant she had pre-eclampsia, and lost the baby. She spoke openly about the experience to help others. "We learnt that the mourning of a perinatal loss affected many more people than we realised, and we discovered there was a sort of taboo and strong sense of guilt on the issue. So I really wanted to use this experience that we had been through to help others who may also go through this." (france3-regions.francetvinfo.fr, 22 May 2018)

WORLD'S FIRST
In 2018 she became the first female with a lower limb amputation to jump over six metres when she set a 6.01m new world mark at the 2018 European Championships in Berlin, Germany. (paralympic.org, 18 Dec 2018; ouest-france.fr, 18 Sep 2018)

JOB
She works as a project chief at a nuclear power plant in Saint-Laurent-des-Eaux, France. (ouest-france.fr, 31 May 2018; handisport.org, 21 Dec 2018; lanouvellerepublique.fr, 13 Sep 2019, 16 Oct 2019).
Results
IPC Athletics World Championships Assen 2006 (Assen, Netherlands)

| Event | Medal | Unit | Date | Rank |
| --- | --- | --- | --- | --- |
| Women's 100 m T44 | | Heat 1 | | 1 |
| Women's Long Jump F44 | | Final Round | | 2 |
| Women's 200 m T44 | | Final Round | | 2 |
| Women's 100 m T44 | | Final Round | | 2 |
2011 IPC Athletics World Championships (Christchurch, New Zealand)

| Event | Medal | Unit | Date | Rank |
| --- | --- | --- | --- | --- |
| Women's Long Jump F44/46 | | Final | 2011-01-24 | 9 |
| Women's 200 m T44 | | Final | 2011-01-25 | 1 |
| Women's 100 m T44 | | Final | 2011-01-26 | 1 |
IPC Athletics World Championships (Lyon, France)

| Event | Medal | Unit | Date | Rank |
| --- | --- | --- | --- | --- |
| Women's Long Jump T44 | | Final 1 | 2013-07-23 | 2 |
| Women's 100 m T44 | | Semifinal 1 | 2013-07-24 | 1 |
| Women's 100 m T44 | | Final 1 | 2013-07-25 | 2 |
| Women's 200 m T44 | | Final 1 | 2013-07-27 | 2 |
IPC Athletics 2015 World Championships (Doha, Qatar)

| Event | Medal | Unit | Date | Rank |
| --- | --- | --- | --- | --- |
| Women's Long Jump T44 | | Final 1 | 2015-10-22 | 1 |
| Women's Long Jump T44 | | WR Attempt | 2015-10-22 | 1 |
| Women's 200 m T44 | | Heat 1 | 2015-10-23 | 2 |
| Women's 200 m T44 | | Final 1 | 2015-10-24 | 2 |
| Women's 400 m T44 | | Final 1 | 2015-10-28 | 1 |
| Women's 100 m T44 | | Final 1 | 2015-10-29 | 2 |
| Women's 100 m T44 | | Heat 1 | 2015-10-29 | 2 |