Imagen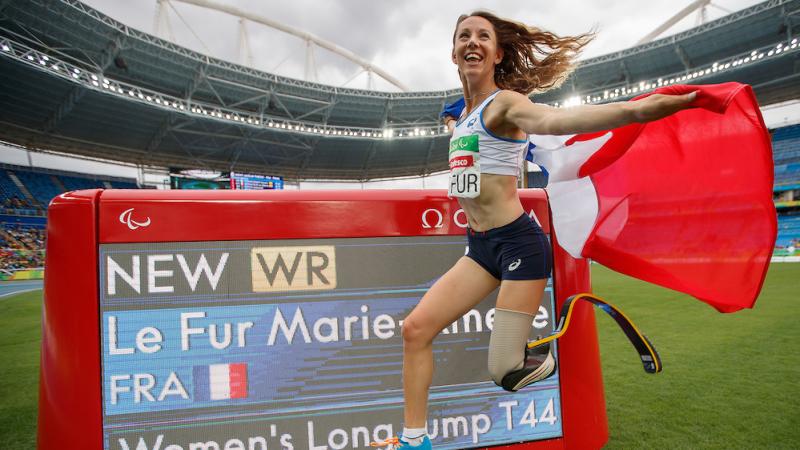 Marie-Amelie Le Fur
Athletics
At Rio 2016, le Fur won two golds and a bronze medal, and set two world records in a Games to remember for the T44 athlete.
Her first gold came in the long jump T44; a leap of 5.83m - 9cm better than her previous world record - secured her top spot from Great Britain's Stef Reid.
Two days later, she lowered her own 400m T44 world record to 59.27 to top the podium once again.
In the 200m T44 (27.11), she finished with bronze.
Le Fur warmed up for Rio 2016 with an outstanding 2015 season, winning two gold and two silver medals at the World Championships in Doha, Qatar.
To win her two golds, she set two sensational world records. In the long jump T44, she jumped further than the previous world record in all six rounds. Although four of them exceeded the wind limit, her third round jump of 5.74m set a new world record, whilst her final round jump of 5.84m with a 2.2m/s winds behind her, confirmed the world title.
Days later in the 400m T44, she became the first female leg amputee to break the 60 second barrier with a blistering time of 59.30 seconds to once again top the podium.
Over 100m and 200m T44 she took silver in Doha behind the Netherlands' Marlou van Rhijn.
Le Fur made her Paralympic debut in Beijing in 2008, narrowly missing out on gold by 0.01 seconds to the USA's April Holmes.
At London 2012, she finally became Paralympic champion winning the 100m T44 (13.19), and took home silver in the 200m (26.76) after smashing the world record for single leg amputees to claim silver. In the long jump T42/44 she claimed bronze.
Le Fur took up athletics aged six, but lost her left leg just below the knee after a serious motorcycle accident in 2004.
Just one year later she was running with a prosthetic leg and preparing for her debut at the 2006 World Championships.
To-date she has competed in four World Championships including Doha 2015, winning 12 medals, four of which are gold. She has also won two European titles.
Photo Gallery
Imagen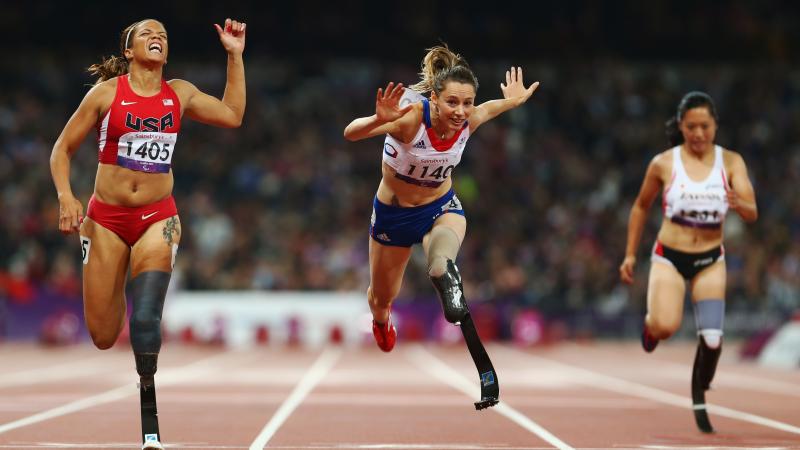 Imagen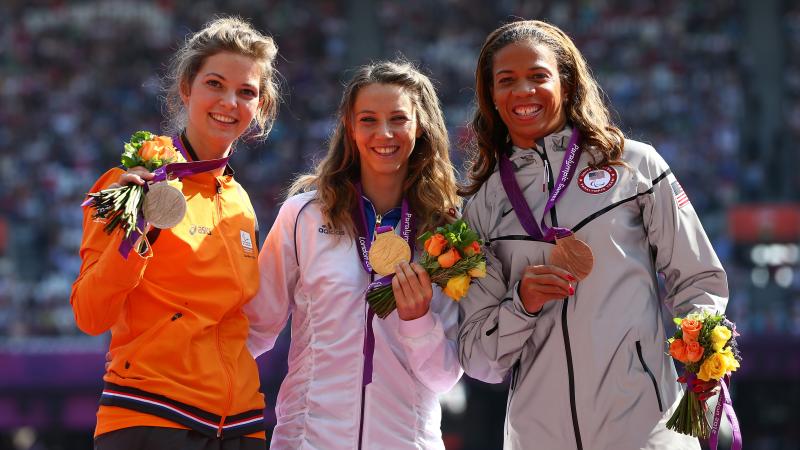 Results
IPC Athletics World Championships Assen 2006 (Assen, Netherlands)

| Event | Medal | Unit | Date | Rank |
| --- | --- | --- | --- | --- |
| Women's 100 m T44 | | Heat 1 | | 1 |
| Women's Long Jump F44 | | Final Round | | 2 |
| Women's 200 m T44 | | Final Round | | 2 |
| Women's 100 m T44 | | Final Round | | 2 |
2011 IPC Athletics World Championships (Christchurch, New Zealand)

| Event | Medal | Unit | Date | Rank |
| --- | --- | --- | --- | --- |
| Women's Long Jump F44/46 | | Final | 2011-01-24 | 9 |
| Women's 200 m T44 | | Final | 2011-01-25 | 1 |
| Women's 100 m T44 | | Final | 2011-01-26 | 1 |
IPC Athletics World Championships (Lyon, France)

| Event | Medal | Unit | Date | Rank |
| --- | --- | --- | --- | --- |
| Women's Long Jump T44 | | Final 1 | 2013-07-23 | 2 |
| Women's 100 m T44 | | Semifinal 1 | 2013-07-24 | 1 |
| Women's 100 m T44 | | Final 1 | 2013-07-25 | 2 |
| Women's 200 m T44 | | Final 1 | 2013-07-27 | 2 |
IPC Athletics 2015 World Championships (Doha, Qatar)

| Event | Medal | Unit | Date | Rank |
| --- | --- | --- | --- | --- |
| Women's Long Jump T44 | | Final 1 | 2015-10-22 | 1 |
| Women's Long Jump T44 | | WR Attempt | 2015-10-22 | 1 |
| Women's 200 m T44 | | Heat 1 | 2015-10-23 | 2 |
| Women's 200 m T44 | | Final 1 | 2015-10-24 | 2 |
| Women's 400 m T44 | | Final 1 | 2015-10-28 | 1 |
| Women's 100 m T44 | | Heat 1 | 2015-10-29 | 2 |
| Women's 100 m T44 | | Final 1 | 2015-10-29 | 2 |