Imagen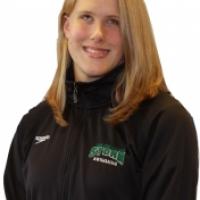 Martha Ruether
Athletics | Swimming
Biography
Impairment information
Type of Impairment
Vision impairment
Origin of Impairment
Congenital
Classification
S13, SB13, SM13
Further personal information
Residence
Canton, OH, USA
Occupation
Athlete, Coach, Student
Higher education
Psychology - The College at Brockport, State University of New York: United States
Sport specific information
When and where did you begin this sport?
She attended a swimming camp for people with a visual impairment in 2004 while at school in Allegany, NY, United States of America.
Why this sport?
"I could not play regular gym class, and my adaptive physical education teacher was the Enchanted Mountain Aquatic Club coach. In terms of my athletic career, I can't play any games or sports with a ball or a racquet because if I get hit hard enough in the back of the head, my [right] retina will detach and I'll go fully blind. I tried to play soccer when I was really little, as everyone in Allegany does, but my doctor said, 'Are you crazy, that's a head-injury sport?' So I tried swimming because I couldn't play dodgeball or any of those kind of gym class games."
General interest
Hobbies
Cooking, coffee, running, spending time with her guide dog Brooke. (Instagram profile, 09 Jan 2021)
Memorable sporting achievement
Competing at the 2016 Paralympic Games in Rio de Janeiro, meeting US swimmer Michael Phelps and former US president Barack Obama. (Olean Times Herald, 23 Jan 2019)
Hero / Idol
Her mother. (Athlete, 07 Jan 2016)
Sporting philosophy / motto
"You are already in pain, you might as well get a reward for it. Work hard." (Athlete, 07 Jan 2016)
Ambitions
To compete at the 2020 Paralympic Games in Tokyo. (malone.edu, 16 Apr 2020)
Impairment
She was born prematurely at 24 weeks, with her retinas not fully attached. She has no vision in her left eye and 20/400 vision in her right eye. (malone.edu, 16 Apr 2020; oleantimesherald.com, 17 Apr 2019; Athlete, 07 Jan 2016; oleantimesherald.com, 14 May 2013)
Other information
STUDIES AND COACHING
In 2019 she began working as a graduate assistant coach at Malone University in Canton, OH, United States of America, while also starting a master's degree in clinical mental health counselling. She found the course and her coaching role through the university's swimming and diving coach, Russ Hunt, who was previously her international mentor. "I chose the school counselling graduate program because I want to learn to support youth as they navigate our difficult world. In light of everything that is going on now, the youth of today have a lot more to deal with, so having caring adults in their corner is really valuable." Previously she was a member of the swimming team coaching staff with The College at Brockport, State University of New York, where she earned a degree in psychology. (malonepioneers.com, 01 Jan 2020; malonepioneers.com, 12 Sep 2019; malone.edu, 16 Apr 2020)

LEARNING FROM MISTAKES
At the 2015 World Championships in Glasgow, Scotland, she expected to win a medal in her S13 50m freestyle final but after the race she was told she had been disqualified for a false start. She says the experienced taught her about the importance of technical aspects of swimming. "Basically if you twitch, you don't even have to jump off the block, to be disqualified. So that was pretty tough. Failures can be seen positively or negatively depending on the way you look at it. In the moment, I was really disappointed. It's really hard to deal with that. You put your heart and soul into something and it didn't work out. But later on you kind of know that that setback is definitely something that can motivate you and fuel you later on. That's kind of the way I look at most of the things that have happened and life in general." (Olean Times Herald, 23 Jan 2019)

KEYNOTE SPEAKER
She enjoys motivational speaking, especially to students, and in 2019 was the keynote speaker at the 33rd Annual National Girls and Women in Sports Day in St. Bonaventure, NY, United States of America. Her speech was titled 'The Finish Line Doesn't Care That I'm a Woman' and addressed gender balance in sport. "Men's sports are often reported to have higher attendance rates of spectators than women's, but my experience at the Rio Paralympic Games proves both genders can reach the same level of sport." (sbu.edu, 04 Apr 2019; Olean Times Herald, 23 Jan 2019)

EARLY DAYS
She says she was initially only pursuing a career in college swimming and was not focused on the Paralympic Games. "I learned about Paralympic swimming when I went to a camp for visually impaired and blind athletes at State University of New York [SUNY] Brockport. When I swam, they noticed I was kind of solid at it and told my parents about the Paralympics and said I should get involved. I was asked to compete at the US Association of Blind Athletes competition in Colorado Springs at the Olympic Training Center where I swam against people from all different countries. I decided I wasn't going to swim Paralympics, I was just going to swim in college and that was it. But late in my freshman year there was a Paralympic meet in Minneapolis. I figured I'd swim and see how it went. When I got there, I found out it was trials for the world championships and I didn't know what any of that was, I was just there to swim." (oleantimesherald.com, 17 Apr 2019)
Results
2013 IPC Swimming World Championships (Montreal, Canada)

| Event | Medal | Unit | Date | Rank |
| --- | --- | --- | --- | --- |
| Women's 100 m Breaststroke SB13 | | Final 1 | 2013-08-13 | 7 |
| Women's 100 m Breaststroke SB13 | | Heat 2 | 2013-08-13 | 7 |
| Women's 50 m Freestyle S13 | | Final 1 | 2013-08-15 | 5 |
| Women's 50 m Freestyle S13 | | Heat 1 | 2013-08-15 | 4 |
| Women's 100 m Backstroke S13 | | Final 1 | 2013-08-17 | 7 |
| Women's 100 m Freestyle S13 | | Heat 2 | 2013-08-18 | 6 |
| Women's 100 m Freestyle S13 | | Final 1 | 2013-08-18 | 7 |
2015 IPC Swimming World Championships (Glasgow, Great Britain)

| Event | Medal | Unit | Date | Rank |
| --- | --- | --- | --- | --- |
| Women's 50 m Freestyle S13 | | Heat 1 | 2015-07-13 | 3 |
| Women's 50 m Freestyle S13 | | Final 1 | 2015-07-13 | 9999 |
| Women's 100 m Backstroke S13 | | Heat 1 | 2015-07-15 | 12 |
| Women's 400 m Freestyle S13 | | Heat 2 | 2015-07-16 | 10 |
| Women's 100 m Breaststroke SB13 | | Heat 1 | 2015-07-17 | 8 |
| Women's 100 m Breaststroke SB13 | | Final 1 | 2015-07-17 | 7 |
| Women's 100 m Freestyle S13 | | Heat 1 | 2015-07-18 | 6 |
| Women's 100 m Freestyle S13 | | Final 1 | 2015-07-18 | 7 |