Imagen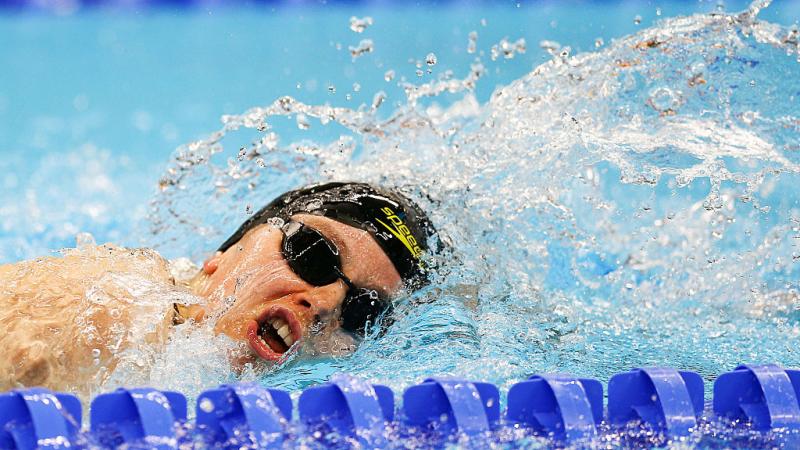 Mary Fisher
Swimming | Alpine Skiing
New Zealand's Mary Fisher left it to her last possible opportunity to win gold at the London 2012 Paralympic Games, in the 200m individual medley SM11, the last race of the greatest ever Games.
After making her international debut in 2009 the impressive New Zealander moved through the rankings and began to medal at the Canada Cup in 2011 with a 50m butterfly silver medal.
The next year, she was stood atop the podium at the Aquatics Centre with a total of four medals and one world record.
Born with a condition called aniridia, which means she has no irises in her eyes, Fisher was only able to distinguish colours as a child and her sight has steadily deteriorated.
Her hobbies include music, reading, tandem cycling and hiking in the New Zealand bush, and she has also taken up Para triathlon as a second sport.
Her performances in London propelled her to national fame, not least because she was amongst a clutch of athletes from the Olympic and Paralympic Games to be awarded the Member of the New Zealand Order of Merit.
Her notoriety did not stop there, with Fisher going on to win five individual gold medals at the 2013 IPC Swimming World Championships in Montreal, Canada, the city where she won her first international medal back in 2009.
In 2015, she was named Swimmer of the Year with a Disability by Swimming New Zealand after winning three gold and two silver medals at the World Championships in Glasgow, Great Britain.
With the women's S11 field deepening all the time, Fisher arrived in Rio with several young swimmers on her back. This included Dutch teenager Liesette Bruinsma, who had set new world records in six events in the months before the Paralympics.
Fisher saw off Bruinsma in the 100m backstroke, as well as Swedish rival Maja Reichard, to claim her second Paralympic title.
In 2017, Fisher will go for her latest world titles at the World Para Swimming Championships in Mexico City from 30 September.
Results
2013 IPC Swimming World Championships (Montreal, Canada)

| Event | Medal | Unit | Date | Rank |
| --- | --- | --- | --- | --- |
| Women's 100 m Backstroke S11 | | Final 1 | 2013-08-12 | 1 |
| Women's 50 m Freestyle S11 | | Final 1 | 2013-08-13 | 1 |
| Women's 50 m Freestyle S11 | | Heat 1 | 2013-08-13 | 1 |
| Women's 400 m Freestyle S11 | | Final 1 | 2013-08-14 | 2 |
| Women's 100 m Freestyle S11 | | Final 1 | 2013-08-15 | 1 |
| Women's 100 m Freestyle S11 | | Heat 1 | 2013-08-15 | 1 |
| Women's 100 m Butterfly S11 | | Final 1 | 2013-08-16 | 1 |
| Women's 200 m Individual Medley SM11 | | Final 1 | 2013-08-18 | 1 |
| Women's 200 m Individual Medley SM11 | | Heat 2 | 2013-08-18 | 2 |
2015 IPC Swimming World Championships (Glasgow, Great Britain)

| Event | Medal | Unit | Date | Rank |
| --- | --- | --- | --- | --- |
| Women's 100 m Freestyle S11 | | Final 1 | 2015-07-13 | 1 |
| Women's 100 m Freestyle S11 | | Heat 2 | 2015-07-13 | 1 |
| Women's 400 m Freestyle S11 | | Final 1 | 2015-07-14 | 2 |
| Women's 100 m Backstroke S11 | | Heat 2 | 2015-07-15 | 1 |
| Women's 100 m Backstroke S11 | | Final 1 | 2015-07-15 | 1 |
| Women's 200 m Individual Medley SM11 | | Heat 2 | 2015-07-16 | 2 |
| Women's 200 m Individual Medley SM11 | | Final 1 | 2015-07-16 | 1 |
| Women's 50 m Freestyle S11 | | Heat 2 | 2015-07-17 | 1 |
| Women's 100 m Breaststroke SB11 | | Final 1 | 2015-07-18 | 5 |
| Women's 100 m Breaststroke SB11 | | Heat 2 | 2015-07-18 | 6 |
| Women's 50 m Freestyle S11 | | Final 1 | 2015-07-19 | 2 |