Imagen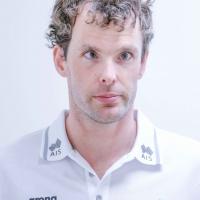 Biography
Impairment information
Origin of Impairment
Congenital
Classification
S7, SB6, SM7
Further personal information
Occupation
Athlete, Bank Employee, Motivational Speaker
Higher education
Management - Swinburne University of Technology: Hawthorn, VIC, AUS
Sport specific information
When and where did you begin this sport?
"I started swimming when I was five or six and found it was a great way to get my limbs moving and improve my health."
Why this sport?
"I started swimming for health reasons. I was born early, with cerebral palsy and impaired vision, and my parents thought it might help. It's great for fitness, but it's also been a great way to meet people."
Club / Team
North Sydney [AUS] / New South Wales Institute of Sport [NSWIS] [AUS]:
Name of coach
Brendan Burkett [national], AUS
Training Regime
He trains for two hours before he goes to work and another two hours after his shift.
General interest
Memorable sporting achievement
Receiving the Medal of the Order of Australia [OAM] in 2014. (mattlevyoam.com.au, 17 May 2018)
Most influential person in career
His parents. (mattlevyoam.com.au, 14 Feb 2021; athletesvoice.com.au, 03 Dec 2019)
Hero / Idol
Australian swimmer Ian Thorpe. (paralympic.org.au, 01 Sep 2016)
Sporting philosophy / motto
"I compete in swimming to show myself that I can achieve whatever I want, not what I am limited by." (mattlevyoam.com.au, 17 May 2018)
Awards and honours
He was named 2014 and 2021 Athlete of the Year with a Disability at the New South Wales Sports Awards in Australia. (Sport NSW Facebook page, 24 Jan 2022; theherald.com.au, 20 Feb 2015)

He won the Academic Excellence Award at the 2021 New South Wales Institute of Sport [NSWIS] Awards in Australia. (NSW Institute of Sport Facebook page, 25 Nov 2021)

In 2014 he received the Medal of the Order of Australia [OAM] for service to sport. (paralympic.org.au, 26 Jan 2014)
Impairment
He has cerebral palsy and a visual impairment after being born 15 weeks premature. "I've had around 50 odd operations ranging from heart, lungs, ear, brain, you name it. When I was young, doctors told me I'd never walk properly. They told me I'd never hear without hearing aids. There were a lot of things I was told I'd never do. I'm glad I didn't listen." (mattlevyoam.com.au, 14 Feb 2021; athletesvoice.com.au, 03 Dec 2019; Westpac Banking YouTube channel, 13 Oct 2019; paralympic.org.au, Sep 2016)
Other information
OTHER ACTIVITIES
He has served as co-chair of the Commonwealth Games Australia Athlete Advisory Group and as a member of the Athletes Advisory Commission of the Commonwealth Games Federation Executive Board. In 2017 he became a member of the International Paralympic Committee's World Para Swimming Athlete Advisory Group. (LinkedIn profile, 11 May 2022; commonwealthgames.com.au, 05 May 2022; Facebook profile, 30 Mar 2022, 17 Dec 2021)

OCCUPATION
In 2021 he began working as a change analyst at the Bank of Queensland in Australia. He previously worked in a similar role at Westpac. "I know when I started [at Westpac] they gave me a chance, and I think that is very rare still. Juggling a relatively full-time job is difficult, but I guess rewarding because I know I've got something behind me when my sport finishes so I can easily transition into a life after swimming." (LinkedIn profile, 11 May 2022; Life's a Beach podcast, 18 Oct 2021; mattlevyoam.com.au, 14 Feb 2021; Westpac Banking YouTube channel, 13 Oct 2019; dailymail.co.uk, 03 May 2019)

BOOKS
In late 2020 his book 'Keeping Your Head Above Water: Inspirational Insights from a Champion' was published. He has also authored a children's book released in November 2021 called 'Brandon Dreams Big! 7 Easy Steps to Get Where You Want!'. (Facebook profile, 12 Dec 2021; Twitter profile, 20 Nov 2021; Instagram profile, 01 Dec 2020; amazon.co.uk, 21 Nov 2020)

CHARITY WORK
He has served as an ambassador for a number of Australian charities including the Life's Little Treasures Foundation and the Telstra Paralympic Education Program. "I am passionate about doing as much as I can for my various charities. For me, I feel I am lucky compared to a lot of others, and if I can use my profile as an athlete to raise awareness for deserving causes then it's my duty to do so." (mattlevyoam.com.au, 14 Feb 2021)

FURTHER EDUCATION
In 2021 he graduated with a master's degree in leadership, innovation, business administration and management from the University of Canberra in Australia. (LinkedIn profile, 11 May 2022; Facebook profile, 23 Apr 2021)
Results
IPC Swimming World Championships Eindhoven 2010 (Eindhoven, Netherlands)

| Event | Medal | Unit | Date | Rank |
| --- | --- | --- | --- | --- |
| Men's 100 m Breaststroke SB7 | | Heat 1 | | 1 |
| Men's 100 m Breaststroke SB7 | | Final Round | | 2 |
| Men's 100 m Freestyle S7 | | Heat 2 | | 1 |
| Men's 100 m Freestyle S7 | | Final Round | | 2 |
| Men's 200 m Individual Medley SM7 | | Heat 2 | | 1 |
| Men's 200 m Individual Medley SM7 | | Final Round | | 3 |
| Men's 400 m Freestyle S7 | | Final Round | | 4 |
| Men's 4x100 m Freestyle 34pts | | Heat 1 | | 1 |
| Men's 4x100 m Freestyle 34pts | | Final Round | | 1 |
| Men's 4x100 m Medley 34pts | | Heat 1 | | 1 |
| Men's 4x100 m Medley 34pts | | Final Round | | 1 |
| Men's 50 m Butterfly S7 | | Heat 1 | | 1 |
| Men's 50 m Butterfly S7 | | Final Round | | 3 |
| Men's 50 m Freestyle S7 | | Heat 1 | | 1 |
| Men's 50 m Freestyle S7 | | Final Round | | 4 |
IPC Swimming World Championships Durban 2006 (Durban, South Africa)

| Event | Medal | Unit | Date | Rank |
| --- | --- | --- | --- | --- |
| Men's 50 m Freestyle S8 | | Final Round | | 6 |
| Men's 50 m Freestyle S8 | | Heats | | 7 |
| Men's 400 m Freestyle S8 | | Final Round | | 5 |
| Men's 100 m Freestyle S8 | | Heats | | 5 |
| Men's 100 m Freestyle S8 | | Final Round | | 7 |
| Men's 400 m Freestyle S8 | | Heats | | 3 |
2013 IPC Swimming World Championships (Montreal, Canada)

| Event | Medal | Unit | Date | Rank |
| --- | --- | --- | --- | --- |
| Men's 100 m Breaststroke SB7 | | Final 1 | 2013-08-13 | 4 |
| Men's 100 m Breaststroke SB7 | | Heat 1 | 2013-08-13 | 3 |
| Men's 50 m Freestyle S7 | | Final 1 | 2013-08-14 | 4 |
| Men's 50 m Freestyle S7 | | Heat 2 | 2013-08-14 | 1 |
| Men's 4x100 m Freestyle 34pts | | Final 1 | 2013-08-15 | 1 |
| Men's 100 m Freestyle S7 | | Heat 1 | 2013-08-16 | 2 |
| Men's 100 m Freestyle S7 | | Final 1 | 2013-08-16 | 2 |
| Men's 50 m Butterfly S7 | | Final 1 | 2013-08-17 | 4 |
| Men's 50 m Butterfly S7 | | Heat 1 | 2013-08-17 | 3 |
| Men's 4x100 m Medley 34pts | | Final 1 | 2013-08-18 | 4 |
| Men's 200 m Individual Medley SM7 | | Final 1 | 2013-08-18 | 1 |
2015 IPC Swimming World Championships (Glasgow, Great Britain)

| Event | Medal | Unit | Date | Rank |
| --- | --- | --- | --- | --- |
| Men's 100 m Freestyle S7 | | Heat 2 | 2015-07-13 | 1 |
| Men's 100 m Freestyle S7 | | Final 1 | 2015-07-13 | 2 |
| Men's 100 m Breaststroke SB7 | | Final 1 | 2015-07-14 | 4 |
| Men's 100 m Breaststroke SB7 | | Heat 1 | 2015-07-14 | 4 |
| Men's 200 m Individual Medley SM7 | | Final 1 | 2015-07-16 | 2 |
| Men's 200 m Individual Medley SM7 | | Heat 1 | 2015-07-16 | 1 |
| Men's 50 m Butterfly S7 | | Heat 1 | 2015-07-17 | 2 |
| Men's 4x100 m Freestyle 34pts | | Final 1 | 2015-07-17 | 3 |
| Men's 4x100 m Freestyle 34pts | | Heat 1 | 2015-07-17 | 2 |
| Men's 50 m Butterfly S7 | | Final 1 | 2015-07-17 | 4 |
| Men's 4x100 m Medley 34pts | | Final 1 | 2015-07-18 | 4 |
| Men's 50 m Freestyle S7 | | Heat 1 | 2015-07-19 | 2 |
| Men's 50 m Freestyle S7 | | Final 1 | 2015-07-19 | 3 |