Imagen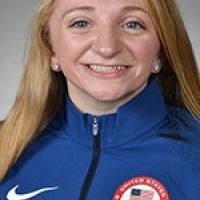 Biography
Impairment information
Origin of Impairment
Congenital
Classification
S7, SB6, SM7
Further personal information
Languages
English, Spanish
Higher education
Political Science - Loyola University Maryland: Baltimore, MD, USA
Sport specific information
When and where did you begin this sport?
She began swimming in 2001 at age five.
Why this sport?
"I did therapy at the local aquatic centre while my brothers swam on the swim team. I saw how much fun they were having and it did not take long for me to join. The water provided me a certain sense of freedom that I couldn't and still can't get anywhere else today."
International debut
Competing for
United States
Tournament
Paralympic Games
General interest
Nicknames
Bigmac, Small Fry, Kenzie (Athlete, 07 Jan 2016)
Hobbies
Reading, travelling, spending time with friends and dogs. (teamusa.org, 19 Aug 2018)
Memorable sporting achievement
Winning three gold and one silver medal at the 2016 Paralympic Games in Rio de Janeiro. (Katie Downey YouTube channel, 26 Jun 2018)
Most influential person in career
Loyola University Maryland coach Brian Loeffler. "He instilled in me a confidence that I've never known before, and when I'm behind the blocks thinking back on all the work we've put in, there isn't a doubt in my mind that I'm ready to step up and get the job done." (swimmingworldmagazine.com, 24 Nov 2020)
Hero / Idol
US Para swimmer Cortney Jordan. (Athlete, 07 Jan 2016)
Superstitions / Rituals / Beliefs
"I have to have plain Cheerios and peanut butter before I go to the ready room. I have done this since I was still competing as an age group swimmer. It is silly but it's become a ritual and when I don't eat it before I race I feel unprepared and like my routine is off." (WOWOWofficial YouTube channel, 01 Sep 2018; Athlete, 07 Jan 2016)
Sporting philosophy / motto
"There's literally nothing stopping you – the only limitations that exist are the ones that you allow to exist." (gameplan-a.com, 18 Jun 2019)
Awards and honours
In 2017 she received an award recognising her sporting achievements from the Georgia State Senate in the United States of America. (nowhabersham.com, 09 Mar 2017)
Famous relatives
Her brother Eli has competed in swimming at collegiate level in the United States of America. (goheels.com, 01 Aug 2019; swimmingworldmagazine.com, 01 Jul 2019)
Ambitions
To compete at the 2020 Paralympic Games in Tokyo. Outside of sport, she hopes to study law and become a politician. (WOWOWofficial YouTube channel, 01 Sep 2018; swimmingworldmagazine.com, 16 Feb 2021)
Impairment
She was diagnosed with osteogenesis imperfecta, also known as brittle bone disease, shortly after birth. She has broken more than 30 bones and undergone numerous operations to insert metal rods into her legs. "When I was 19 days old, I was diagnosed with this bone condition. The doctors told my parents I would never sit, walk, talk. The physical therapist told my parents, 'You can put her on a shelf and shield her from the hard things in life or you can let her live'. That's when everything really changed. Instilling the belief that I am just like everybody else is what sets me apart." (gameplan-a.com, 18 Jun 2019; excellesports.com, 09 Sep 2016; paralypmic.org, 01 Apr 2015)
Other information
MENTALITY
She credits her mental strength for allowing her to overcome her impairment. "It's taken a lot of reflection and a lot of mental training to get to this place [mentally]. Every single setback and every single piece of adversity I've ever faced has given me so much in my life. I hate that it happens, but I am going to break bones in my life. My mum and I, from very early on, came up with this system. When something bad happens to me, I'm given two days to wallow in it. I can be angry at the world, cry, let it out. But after that point, you no longer allow your emotions to overcome you. It's all about making the most of every day. I'm so used to it by now. I'll break my shoulder and I'll be back in the water within a day or two, even against my doctor's wishes. That's just how I am." (swimmingworldmagazine.com, 16 Feb 2021; Paralympic Games YouTube channel, 26 Jul 2020)

TECH TRAINING
She believes technology has played a key role in analysing and improving her swimming technique. "Measuring things like stroke rate, distance per stroke, breakout, and turn times have become a norm in my training. At least once a week we get the video monitors out and break down my stroke so I can get an idea of what I am doing in the water and how I can get the most out of my stroke. Utilising such technology has been absolutely invaluable to my career. Having the ability to watch and break down all aspects of my stroke is a huge tool that I take full advantage of. Taking full advantage of this digital age is what's separating the good swimmers from the great swimmers." (digitaljournal.com, 24 Jun 2019)

OTHER ACTIVITIES
She was appointed to be a keynote speaker at the 2019 LEAD Sports Summit conference in Atlanta, GA, United States of America. She has also started her own outreach programme called 'Kenzie Kares'. "I get the privilege of meeting and talking to children with physical disabilities and life-threatening illnesses by visiting hospitals around the United States of America." (digitaljournal.com, 24 Jun 2019; Athlete, 07 Jan 2016)

OCCUPATION
She has worked in the office of student development at Loyola University Maryland in Baltimore, MD, United States of America. (LinkedIn profile, 12 Jan 2021)
Results
2015 IPC Swimming World Championships (Glasgow, Great Britain)

| Event | Medal | Unit | Date | Rank |
| --- | --- | --- | --- | --- |
| Women's 100 m Breaststroke SB7 | | Final 1 | 2015-07-14 | 8 |
| Women's 100 m Breaststroke SB7 | | Heat 2 | 2015-07-14 | 8 |
| Women's 100 m Freestyle S8 | | Final 1 | 2015-07-16 | 6 |
| Women's 4x100 m Freestyle 34pts | | Final 1 | 2015-07-16 | 2 |
| Women's 100 m Freestyle S8 | | Heat 1 | 2015-07-16 | 5 |
| Women's 400 m Freestyle S8 | | Heat 1 | 2015-07-17 | 3 |
| Women's 400 m Freestyle S8 | | Final 1 | 2015-07-17 | 4 |
| Women's 100 m Backstroke S8 | | Final 1 | 2015-07-18 | 7 |
| Women's 100 m Backstroke S8 | | Heat 1 | 2015-07-18 | 6 |
| Women's 50 m Freestyle S8 | | Heat 2 | 2015-07-19 | 10 |
Mexico City 2017 World Para Swimming Championships (Mexico City, Mexico)

| Event | Medal | Unit | Date | Rank |
| --- | --- | --- | --- | --- |
| Women's 100 m Freestyle S7 | | Final 1 | 2017-12-02 | 1 |
| Women's 100 m Freestyle S7 | | Heat 2 | 2017-12-02 | 1 |
| Women's 4x100 m Freestyle 34pts | | Final 1 | 2017-12-03 | 1 |
| Women's 50 m Freestyle S7 | | Final 1 | 2017-12-04 | 1 |
| Women's 50 m Freestyle S7 | | Heat 2 | 2017-12-04 | 1 |
| Women's 50 m Butterfly S7 | | Final 1 | 2017-12-05 | 2 |
| Women's 50 m Butterfly S7 | | Heat 1 | 2017-12-05 | 1 |
| Women's 400 m Freestyle S7 | | Final 1 | 2017-12-06 | 1 |