Imagen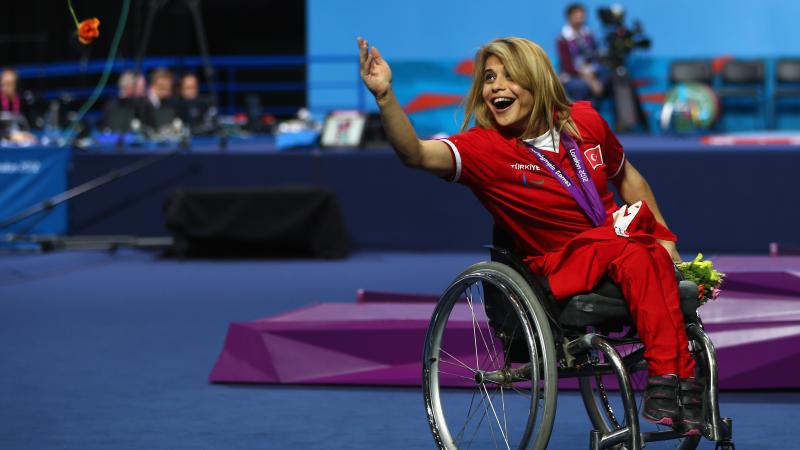 Nazmiye Muratli
Powerlifting
Nazmiye Muratli (maiden name Nazmiye Muslu) has been one of the big names in the international powerlifting scene for several years now, having most recently claimed silver in the women's up to 45kg at the Mexico City 2017 World Championships.
One year before, she won her second Paralympic gold while breaking a world record along the way. It was her sixth major title.
Her first came at the 2007 European Championships. Unfortunately, Muratli failed to claim a medal for her country at her first Paralympic Games in Beijing in 2008.
Nevertheless, she was the golden girl once again at the 2010 World Championships, where she broke the women's up to 40kg world record with a lift of 105kg.
This record did not stand for long, though, as Muratli finally became a Paralympic champion at London 2012 with another record breaking lift of 106kg.
Since London, Muratli also secured gold at the 2014 Worlds in Dubai, UAE, and at the European Open in Eger, Hungary.
The Turkish lifter burst onto the international scene at the 2005 European Championships, when she captured bronze for her country.
This was a fantastic achievement for Muratli, considering that she had only taken up the sport three months prior.
She first got involved with powerlifting through a friend, who had insisted that she went and trained with her. However, shortly after Muratli decided to give up the sport due to its extreme intensity.
Be that as it may, this sabbatical did not last very long as her parents convinced Muratli to get involved with powerlifting once again, which she did to great success.
Results
IPC Powerlifting World Championships Busan 2006 (Busan, South Korea)

| Event | Medal | Unit | Date | Rank |
| --- | --- | --- | --- | --- |
| Women's -44 kg | | Final Round | | 8 |
2010 IPC Powerlifting World Championships (Kuala Lumpur, Malaysia)

| Event | Medal | Unit | Date | Rank |
| --- | --- | --- | --- | --- |
| Women's Up to 40.00kg | | WR Attempt | 2010-07-25 | 1 |
| Women's Up to 40.00kg | | Final | 2010-07-25 | 9999 |
2014 IPC Powerlifting World Championships (Dubai, United Arab Emirates)

| Event | Medal | Unit | Date | Rank |
| --- | --- | --- | --- | --- |
| Women's Up to 41.00 kg MD | | Final | 2014-04-05 | 1 |
Mexico City 2017 World Para Powerlifting Championships (Mexico City, Mexico)

| Event | Medal | Unit | Date | Rank |
| --- | --- | --- | --- | --- |
| Women's Up to 45.00kg | | Final | 2017-12-04 | 2 |
Nur-Sultan 2019 World Para Powerlifting Championships (Nur-Sultan, Kazakhstan)

| Event | Medal | Unit | Date | Rank |
| --- | --- | --- | --- | --- |
| Women's Up to 45.00kg | | Final | 2019-07-13 | 2 |