Alberto Simonelli not feeling the heat
Veteran archer hoping for successful 2018
22 May 2018
Imagen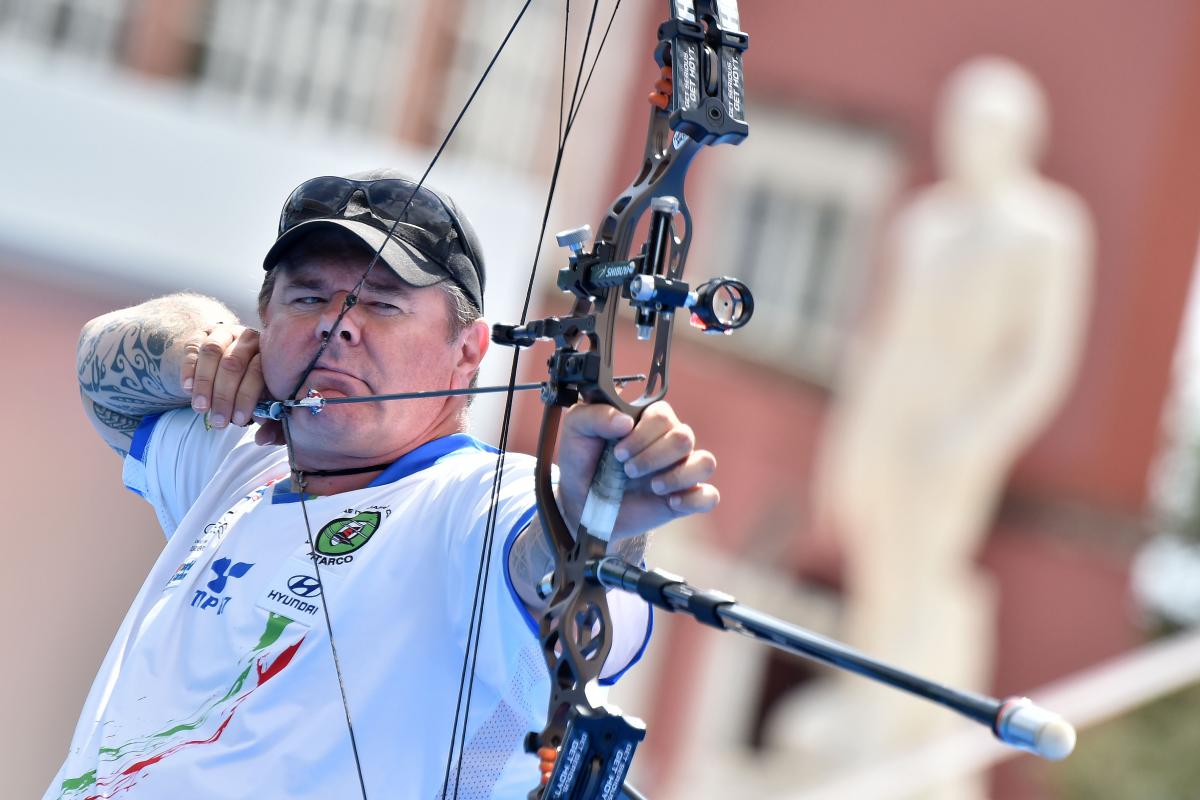 By Malin Dunfors | For the IPC
Temperatures are set to hit the mid-30s during the second stage of the Archery World Cup in Antalya, Turkey. But a potential heatwave will not bother Italy's Alberto Simonelli, as he targets success with Italy in the compound men's team event.
"The only problem with that location could be the wind, but I'm very satisfied with the training I did at the last national team meeting so I think it is positive."
Fifty-year-old Simonelli, nicknamed Rolly, is one of the most experienced archers on the tour, with two Olympic silver medals, and a world title to name a few.
With that in mind, what are his goals this outdoor season?
"I would like to reach the podium in the first stage of the Para archery Cup in Olbia. It would be perfect way to better prepare for the European Championships – I'm the champion in charge and I want to be able to defend the gold that I won in 2016. We won [the] team gold medal last year in World Championships, so we want to confirm ourselves in all the international events of this season. We also would like to beat the world record, even though we know it will be difficult."
And, that is not all.
To repeat his 2017 season, meaning to compete in all the 2018 World Cup stages, and to win again in the mixed team with Eleonora Sarti are also in the charts.
Looking ahead to the Para Archery Cup in Olbia, Italy, Simonelli considers archers from South Korea, Great Britain and Russia* as his biggest rivals.
"I'll have very strong opponents, most of them are used to be competing in the World Championships."
But facing such stiff competition over the years is one of the main reasons why Simonelli says he does not suffer from pre-event jitters.
Simonelli adds that he feels even more relaxed when competing with the team since they can help each other through whatever the competition throws at them. They will aim to reach the third round at Antalya 2018 on Wednesday (23 May).
*Editor's note: The International Paralympic Committee suspended the Russian Paralympic Committee on 7 August 2016 for its inability to fulfil its IPC membership responsibilities and obligations, in particular its obligation to comply with the IPC Anti-Doping Code and the World Anti-Doping Code (to which it is also a signatory). As a result of the suspension, Russian athletes cannot enter IPC sanctioned events or competitions, including the Paralympic Games.