APC-ABU create historic broadcast partnership in Asia
This partnership will ensure major para-sport events in Asia receive television coverage, including the 2014 Incheon Para-Games.
26 Sep 2013
Imagen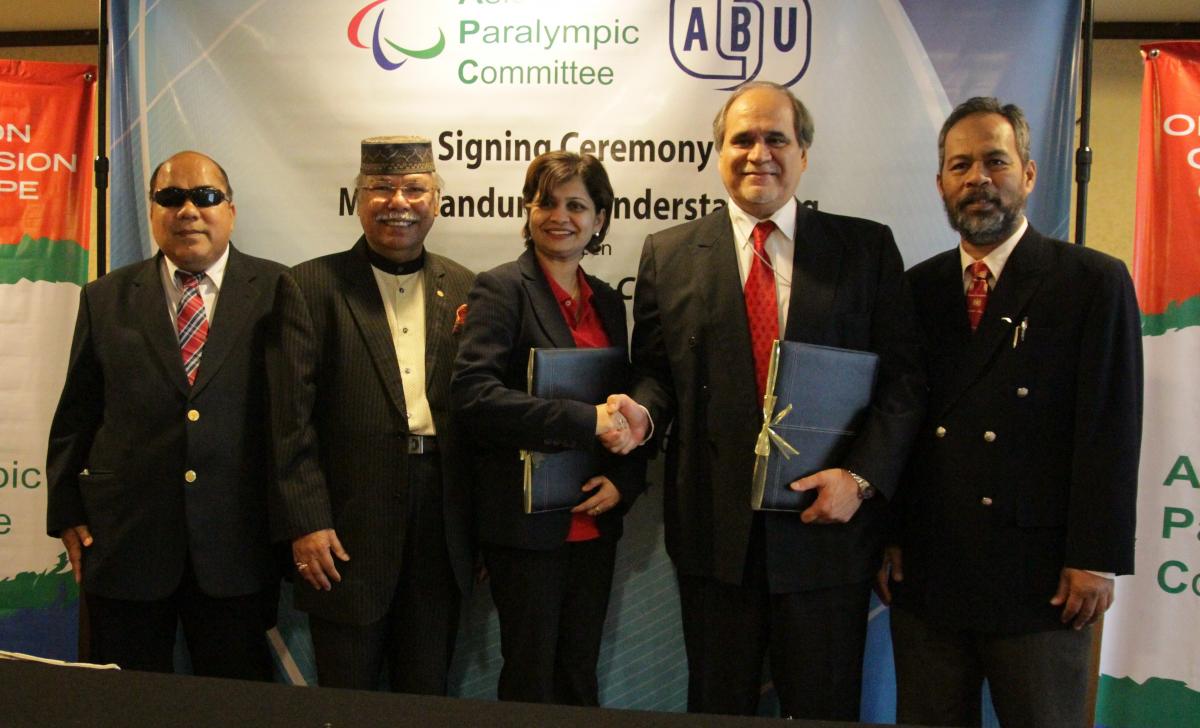 ⒸAsian Paralympic Committee
By Asian Paralympic Committee
"The signing of this MOU marks a new milestone in the Paralympic movement in Asia."
The Asian Paralympic Committee (APC) and the Asia-Pacific Broadcasting Union (ABU) signed a Memorandum of Understanding (MOU) on Thursday (26 September) to work together in enhancing broadcasting coverage and awareness of para-sports in Asia.
This partnership will ensure broadcasting arrangements for events such as the 2014 Incheon Para-Games and other APC major sport championships.
The first venture from this collaboration will be the Asian Youth Para-Games (AYPG), to be held in Kuala Lumpur from 26-30 October.
ABU will be the Games broadcast Partner and produce live feeds, highlights and news packages, as well as assist with distribution of the AYPG news package and highlights to its members through Asiavision.
ABU has 255 members spread across 63 countries.
The signing of the documents was done by Secretary General Malini Rajasagaran on behalf of APC, and ABU Secretary-General Dr. Javad Mottaghi who signed on behalf of the Union.
The ceremony was witnessed by IPC Governing Board Member and APC President Dato' Zainal Abu Zarin, Malaysian Paralympic Council (MPM) Deputy President Assoc.
Dr. Anuar Suun and MPM Vice-President Dato' Mah Hassan Hj Omar.
Zainal, who is also chairman of the upcoming AYPG Malaysia 2013, said: "APC is proud to be associated with ABU and sees this partnership as one that will propel para-sports in the region to a different level starting with the AYPG 2013."
"The signing of this MOU marks a new milestone in the Paralympic movement in Asia. Although the idea to promote and enhance the value of para-sports and Paralympic Movement in the region through a partnership between ABU and APC is something that has been on our minds for some years, it is only now that the idea has come to fruition. "
Apart from the Asian Para Games – held once every four years – APC's other major Games include the Asian Youth Para-Games, Asia Open Winter Games (in the pipeline), regional Games and various individual championships.
ABU Secretary General Dr Javad Mottaghi welcomed APC's initiatives to collaborate with the Union saying that with more than 250 members under its wings, the reach would be enormous and this would enhance the level of interest on the Paralympic Movement through extensive television coverage in the region.
AYPG Malaysia 2013 will be held in Kuala Lumpur with the participation of more than 2,000 athletes from 41 Asian nations. The first edition of the Games was held in Hong Kong in 2003, followed by Tokyo, Japan in 2009.
AYPG Malaysia 2013, carrying the theme "Where Passion Grows, Dreams Fulfilled, Friendships Strengthened," has already set a new benchmark as 14 sports will be contested this time around, compared to only five sports in the last Games in Tokyo in 2009.
Among the notable countries expected to send strong contingents for the Games include world China, Japan, Korea and Iran.
Hosts Malaysia will be banking their hopes on several sports including athletics, swimming, wheelchair basketball and archery.