Astrid Fina Paredes sees another golden opportunity
Spaniard snowboarder aims to ace last World Cup before 2019 Worlds
03 Mar 2019
Imagen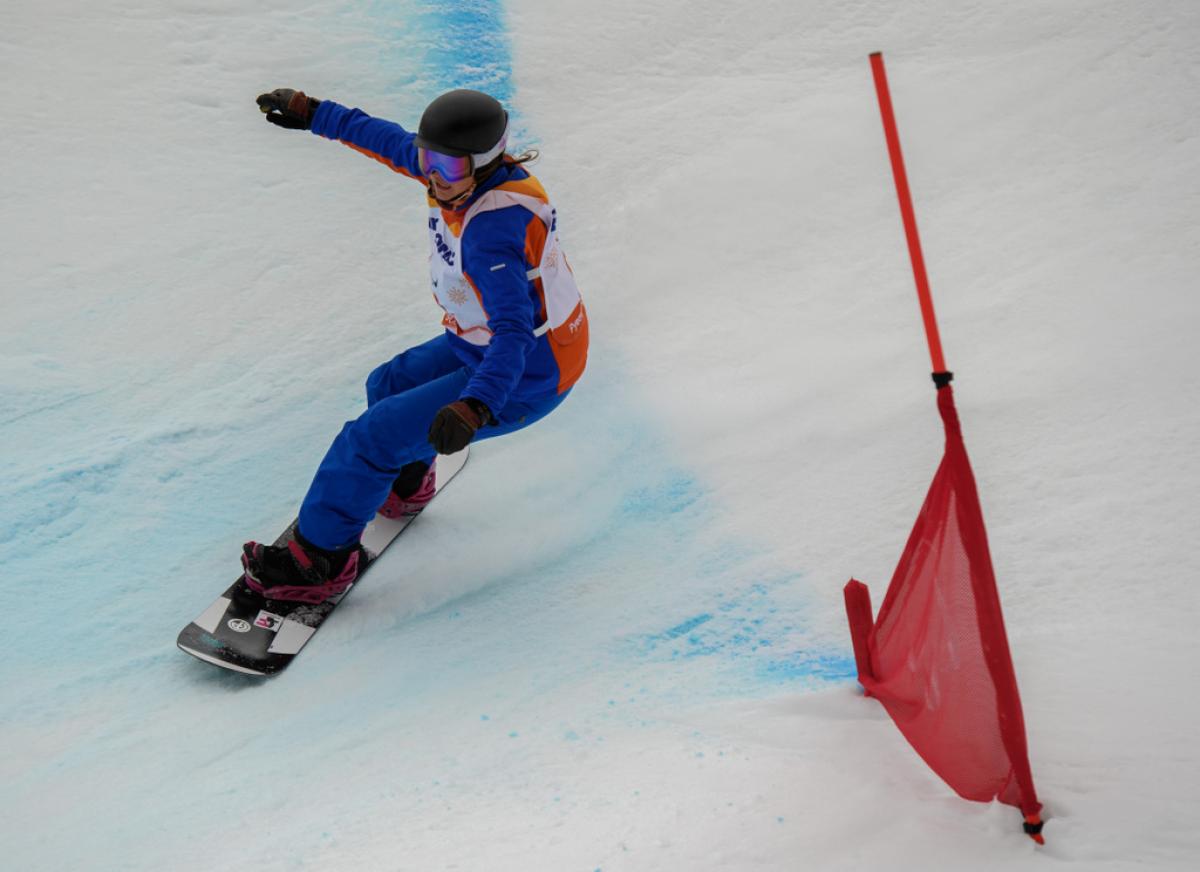 ⒸOIS Photos
By Lena Smirnova | For World Para Snowboard
The World Cup in La Molina, Spain will be the last chance for Para snowboarders to test themselves ahead of the 2019 World Championships in Pyha, Finland from 26-31 March.
The four-day stop will feature both banked slalom and snowboard-cross competitions for a total of 20 races between men and women.
For Astrid Fina Paredes, the home competition could not come at a more perfect time. Fresh off winning her career's first World Cup gold in snowboard cross in Big White, Canada, the Spanish snowboarder is quickly building up confidence and will aim to boost that confidence even more by winning another gold in La Molina.
Women's SB-LL2 - Home grown
Fina Paredes has enjoyed a flurry of medals since winning bronze in snowboard-cross at the PyeongChang 2018 Paralympic Winter Games.
She got second and third places in snowboard-cross at the World Cup in Pyha, Finland this season, and earned her first ever World Cup gold in Big White, Canada. Fina Paredes credits this breakthrough success to her intense pre-season training.
"The World Cup is the main objective of this season," Fina said. "We started the pre-season in June, doing physical preparations, and from September we have been on snow, all in order to come into the World Cup stronger."
Fina's victory in Canada was particularly impressive considering that her snowboard was lost on the inbound flight. Luckily, the pre-season training also prepared her for setbacks like this.
"We come to the competitions having done a lot of preparations, so that if these things happen, I am able to be mentally strong and think that nothing bad will come about, and that everything will work out," she said.
Fina will try to add more medals to her tally in La Molina, where her main rival in snowboard-cross will be Lisa Bunschoten. The Dutch snowboarder is a Paralympic silver medallist in the discipline and already has three victories in cross at the World Cup this season.
While Fina hails from Barcelona, which is only a few hours away from La Molina ski resort, she does not expect to get any home advantage over Bunschoten since the Spanish national team trains in Baqueira instead. All the same, Fina remains optimistic about her chances.
"My objective is to show the work that I have done in training and to get on the podium," she said.
With Fina specialising more in snowboard-cross, Bunschoten's key challengers in banked slalom will be teammates Renske van Beek and Anne Garttener. Bunschoten won three World Cup races in banked slalom this season, but her teammates each managed to get a win against her, in addition to winning other World Cup medals.
Men's SB-UL - Maximum force
Maxime Montaggioni will be trying to extend his winning streak in La Molina after making a triumphant comeback at the previous World Cup stop.
The French snowboarder crashed in training in PyeongChang and was forced to miss the beginning of this season. However, when he did make his debut in Big White, Montaggioni made sure it counted.
An overall World Cup winner last season, Montaggioni started this World Cup campaign with two back-to-back golds in snowboard-cross in Big White. He has yet to collect points in banked slalom.
The biggest challenge to Montaggioni's quest for a second consecutive globe will likely come from Italy's Jacopo Luchini and Australia's Simon Patmore and Sean Pollard.
Paralympic cross champion Patmore got first and second places in the discipline in Pyha, Finland, and is also a threat in banked slalom where he has four medals thus far. His teammate Pollard also has four medals in banked slalom, including a gold in Dubai, UAE.
Men's SB-LL1 - Raise your Vos
Chris Vos has been unbeatable in banked slalom this season, sweeping gold medals in all four races. The Dutch snowboarder, who is a Paralympic silver medallist in the discipline, is also a top medal contender in snowboard-cross, where he got two silver medals and a bronze.
Austria's Reinhold Schett is the the man to beat in cross. He won one race in each Pyha and Big White, and also has not missed the podium in any of the banked slalom races.
Schett's chances of moving up to first place in banked slalom may be dampened, however, by the return of USA's Noah Elliott. The Paralympic champion has yet to compete in the discipline this season, and will be eager to defend his top status in La Molina.
Women's SB-LL1 - Champion on the chase
Double Paralympic champion Brenna Huckaby and France's Cecile Hernandez will go head-to-head once again in what will be Huckaby's second World Cup this season.
Hernandez surged ahead in the slalom standings when she won two races that Huckaby missed, and beat Huckaby in one of the two snowboard-cross races in Big White. Huckaby, who is the reigning world champion in cross, will be trying to bridge that gap in La Molina.
Men's SB-LL2 - Massive undertaking
Alex Massie is coming off a gold and silver performance at his home competition in Big White, and will try to carry this momentum into La Molina.
The race in Big White was his first World Cup victory. Massie also came close to this result with two lower-grade medals in banked slalom at the earlier World Cup stops.
La Molina is an opportunity for Massie to add a golden tinge to his banked slalom results, but he will need to fend off Ben Tudhope to get to the top prize. The Australian snowboarder won two slalom races in Dubai, and also came close to winning cross with a silver in Pyha.
For Mattii Suur-Hamari, the competition in La Molina will be especially important as it is the last racing experience the Finn will get before competing at his home World Championships in late March. The PyeongChang champion in snowboard-cross left no doubt about his home advantage in Pyha when he won double gold in cross there at the end of the year.
The La Molina World Cup runs until 8 March. Live results will be available on the World Para Snowboard website.