Australia and Canada advance on court
In the men's wheelchair basketball semi-finals, Australia defeated USA and Canada topped Great Britain.
07 Sep 2012
Imagen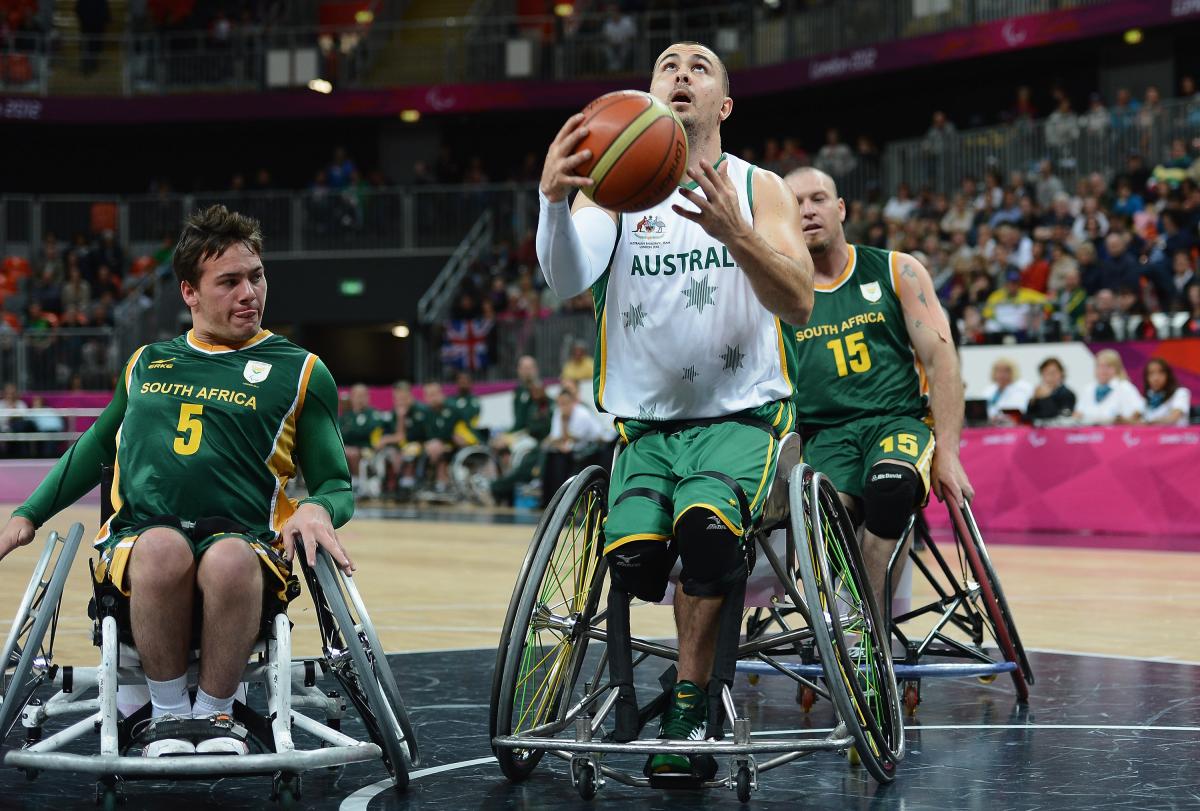 ⒸGetty Images
"It has never been done before, back-to-back gold medals, so we are so up for it."
Semi-final day at the North Greenwich Arena produced two wheelchair basketball master classes as the men's teams turned on the style and both Australia and Canada advanced to the gold-medal game.
In the men's competition, Australia and USA took to the court in what was a spine tingling encounter, with the reigning Paralympic champions being pushed all the way by USA, but eventually clinching the match 72-63.
Australia's captain Brad Ness continued his electrifying scoring form, as he helped break down a resilient USA side by notching up 16 points.
Justin Eveson and Shaun Norris were also lethal in front of the net as they both reached double figure points scores, with the USA unable to quell their influence on the game.
Eveson expressed his delight in being able play for a consecutive gold medal.
"For wheelchair basketball it is awesome," he said, "It has never been done before, back-to-back gold medals, so we are so up for it.
"We are undefeated in all our games so far in this tournament so the odds are good for us."
Norris applauded the "never say die" attitude of the USA and praised his own teams' performance as he looks to study up for his next game.
"They pushed us all game," he said, "it was good to see that the determination and the process all stayed intact and we came through with a win.
"We're going to have to look at video and what we're going to do defensively, offensively, and what you can do personally for the team."
However, USA did not go down easily, as Joe Chambers was a constant thorn in the side of Australia, pulling off some incredible finishes, scoring 12 points for his side.
USA's captain, William Waller expressed his disappointment in missing out on a chance to go for the gold.
He said: "Clearly the disappointment is difficult to put into words after you've been training for four years for this opportunity to get to a gold medal, but there's still an opportunity to get a medal, that's what we need to focus on."
It was clear to see that both teams were determined to make the final as the action went back and forth, but in the end Australia's ability proved too much for a brave USA team.
As the world's ranked No.1 team and reigning world champions, Australia will be confident of retaining their Paralympic title, but they will have to go through their fiercest rivals, Canada, to get their hands on the gold.
It will be third successive Paralympic final that Australia has faced Canada, with the team of red and white winning at Athens 2004 and Australia exacting revenge upon them by claiming the top prize at Beijing 2008.
Canada will prove formidable opponents for Australia, after grabbing the win in their semi-final match against an inspired Great Britain team 69-52.
Having already met in the group stages, where Canada picked up a 70-54 win, Great Britain looked fired up and replicated the same form that had helped carry them through to the semi-finals, but led by superstar, Patrick Anderson, Canada were just too hot to handle on the night.
They demonstrated why they were tipped as pre-tournament favourites, as they defended tirelessly and also converted most of their chances with deadly accuracy.
Anderson punished the hosts by constantly pouncing on rebounds and was at the heart of most of the games' outstanding moments, scoring 17 points.
Joey Johnson was also commanding on the court as he notched up 15 points, making a fearsome forward partnership with Anderson which will have the Australian defence on their toes when they meet.
Johnson believed that their performance typified their team togetherness.
"We are not just a one man team," he said. "We know how good Anderson is and we make sure we get the ball to him, but we are all great players and tonight was a real team effort."
On playing Australia in the final, Johnson is excited for which should an enthralling game.
"There is reason why they are reigning champions, they are very talented and work well as a team, so it should be interesting."
Great Britain can be proud of their performance, as they produced entertaining passages of play at times, as they were buoyed by the rapturous home support, but in the end had to settle with a chance to win bronze when they take on USA.