Australia racks up wins in wheelchair basketball
Both Australia's men's and women's wheelchair basketball team's proved why they're some of the world's best on Day 1 of competition
30 Aug 2012
Imagen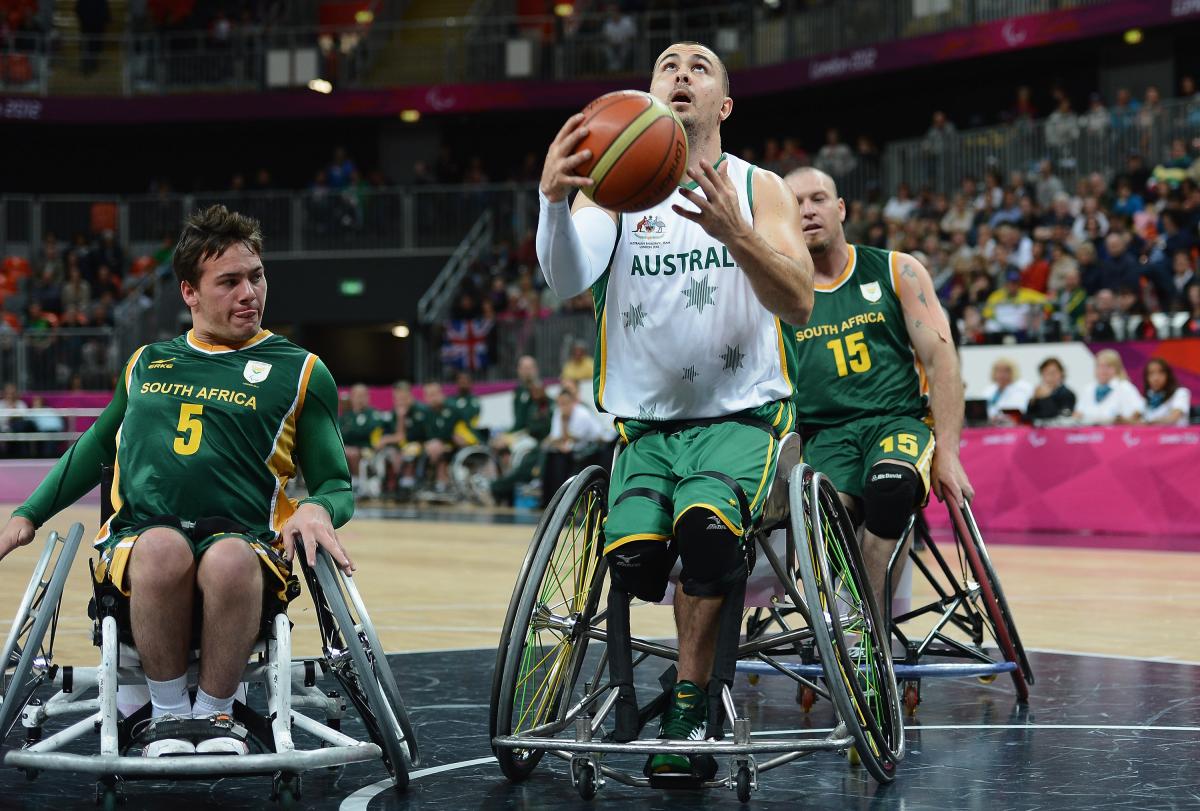 ⒸGetty Images
"We were clinical, aggressive and controlled and the result speaks for itself."
Australia enjoyed a double success at the Basketball Arena on Thursday evening (30 August) to open the Paralympic Games.
The women's wheelchair basketball team scraped through with a 52-50 victory against a tough Brazilian outfit, whereas the men made light work of their South African opponents.
Many could expect an easy victory for the women's side after their bronze medal in Beijing, however the game was locked at 25 apiece at halftime.
Paralympic debutant Amber Merritt secured the winning points for Australia during an impressive performance.
The 19-year-old, originally from England, recognises that it was a good team effort.
"We came through in the end so that's the most important thing," she said.
"As a group I think we performed really well and individually I just think I can only get better."
Cobi Crispin also helped the Aussies tally with 18 points. Despite the close result, she believes advantages can be taken from the hard-fought opening victory.
"We expected a close game," she said. "It's a definite positive and it prepares us for the tough games coming up.''
Brazilian captain Lia Maria Soares Martins was the stand-out performer for the South Americans, as the 24-year-old shot 27 of her team's 50 points.
The Australian men, who won gold in Beijing, secured a convincing 93-39 victory against South Africa in the other game of the evening at the Basketball Arena.
Justin Eveson bucketed 21 but believes respect needs to be shown towards the other participating nations despite the score-line.
"We were clinical, aggressive and controlled and the result speaks for itself," Eveson said.
"Turkey is a danger team and they showed that by beating the USA. We need to show them respect and can't afford to take them lightly.
"We're just one of a number of teams that can win the gold medal. I'd like to be able to win it again, but we just have to take each game out as it comes."
Turkey's men, meanwhile, beat the USA 59-50 in their Group A preliminary round match after an excellent start that resulted in an eight-point halftime lead.
A frustrating final 10 minutes for USA, in which they scored only five points meant their opponents grabbed a vital win.
The Turks made good use of Cem Gezinci in and around the basket, while Bestami Boz blocked well.
Onut claimed good preparation was responsible for Turkey's first-ever victory over the American wheelchair basketball team, and is looking forward to his side's next game against Australia.
"We are going to go into the match having just beaten the USA and they will go into the match knowing that," he said.
USA's Matt Scott, who plays his club basketball in Istanbul for Galatasaray, admitted his side had not been good enough and will look at ways to improve in their next game against Italy.
"Our shot to goal ratio was something like 32 per cent at halftime," he explained. "That's first-game jitters. It happens, but it's out of the way now. We'll have some beautiful video from this game to study so we can improve."
Elsewhere, Patrick Anderson led Canada to a comfortable 68-53 victory over Japan, demonstrating exactly why he is considered one of the best wheelchair basketball players in the world. He ended the match with a total of 32 points, 29 of which were scored in the first half.
Centre Reo Fujimoto got 16 points for the Japanese, but they just did not have an answer to Anderson. It was left to his Canadian team mate, David Eng, to try and describe the impact he has on the team.
"It was like in the movie 'The Avengers,' when they see the bad guys coming, one of them says, 'They have an army', and the other says, 'But we have a hawk,'" Eng said. "We have Patrick Anderson and he's one of the best players in the world."
Colombia took on Poland, and it was the Eastern Europeans who eased to victory by a margin of 63-45.
Mateusz Filipski and Marcin Balcerowski top scored for Poland with 18 points each, while Piotr Luszynski, who also coaches the side, led by example with 17.