Bibian Mentel-Spee: I'm still hoping
Paralympic and world champion focusing on fitness following cancer battle
08 Nov 2017
Imagen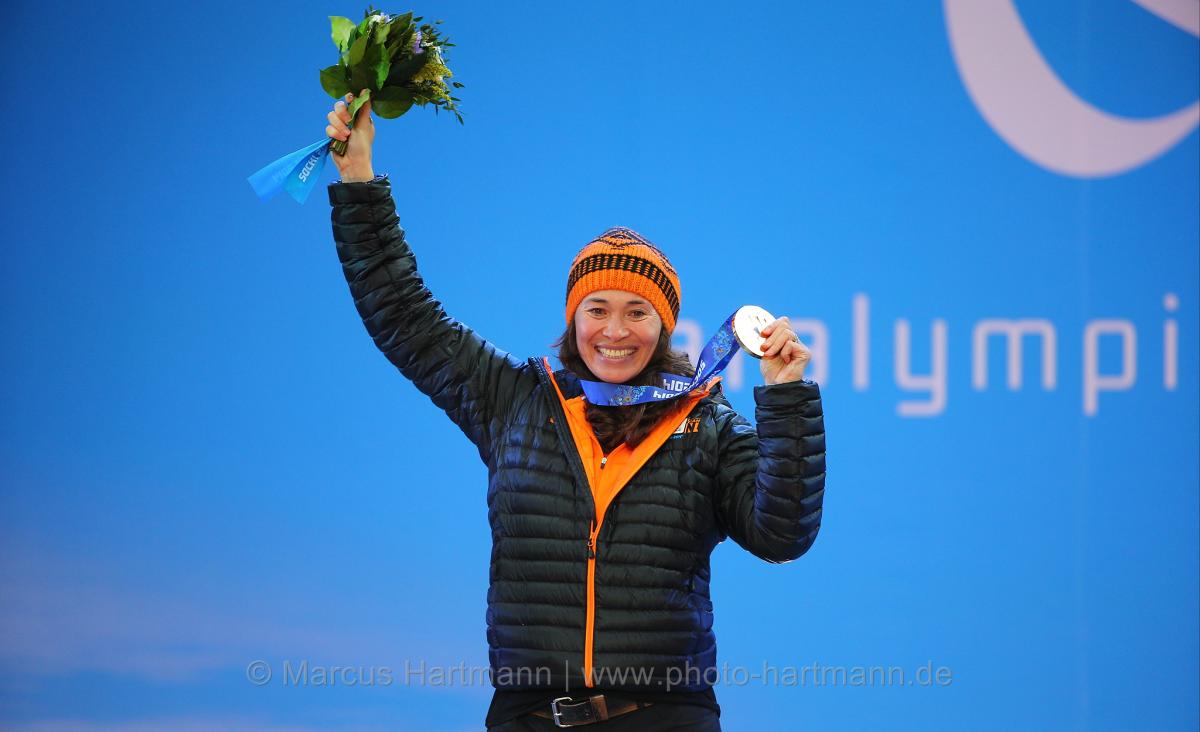 Ⓒwww.photo-hartmann.de
By Ros Dumlao | For the IPC
"It's life. I love life too much especially seeing my kids and my family and my husband and I'm not ready to give up yet. And that keeps me motivated to keep on going and keep on looking for ways to survive."
Despite another summer spent fighting cancer, Dutch snowboarder Bibian Mentel-Spee said not to count her out of the PyeongChang 2018 Paralympic Winter Games.
"It was a pretty intense summer," Mentel-Spee said. "Being an athlete, I'm going to do my best to get back and fit and ready as soon as possible."
"As an athlete I'm still hoping and still focusing on the Paralympics," she added.
But as much as she wants to defend her Paralympic title at PyeongChang 2018, the multi-world and Paralympic champion said she is not focusing on competitions until January, when she will have a follow-up and decide whether or not she will continue riding.
She recently finished radiation therapy in late October after a check-up over the summer.
It was not the way she would have wanted to spend the offseason, especially off the heels of an outstanding 2016-17 season. Mentel-Spee emphasized her dominance in the women's SB-LL2 category, winning double gold at the 2017 World Championships in Big White, Canada, then closing the with wins again in snowboard-cross and banked slalom at the Paralympic Test Event in March.
She then took time off, going heliboarding in Canada and presenting a lecture in the US Virgin Islands. But by the time she returned in July, Mentel-Spee received bad news.
"I had some problems with my neck and shoulder, and I went to have it checked out," Mentel-Spee said. "It turned out they found some tumour in my neck. So I had radiation therapy in the summer. And besides the tumour they found in my neck, they found some next to my esophagus and on my fifth rib as well."
Mentel-Spee was on her way to qualify for the Salt Lake City 2002 Olympic Winter Games but had her lower leg amputated due to bone cancer.
A pioneer in getting Para snowboard into the Paralympic Winter Games in 2014, she won the Paralympic title in snowboard-cross in Sochi and four world titles since then. Those included both snowboard-cross and banked slalom gold medals from Big White 2017, which came following another off-season of cancer treatment.
But despite that round of treatment, Mentel-Spee said she felt great competing, particularly at Big White and PyeongChang. And that is also how she feels after finishing up her radiation therapy this time around. She picked up an infection while in the hospital, which she has weakened her a bit.
Currently the Dutch snowboarder is undergoing rehabilitation on her neck and spends about 20 minutes on a stationary bike. But again, being a high-performance snowboarder, she cannot help but want to get back and compete. However, she also wants to be reasonable.
"I'm just in the mode that I'm trying to recover from everything that I have been through during the summer, and I'm not going to think about the competitions until January because obviously as an athlete I want to compete as soon as possible and be fit and ready," Mentel-Spee said. "But like I don't want to snap my neck and be paralysed from the C-6 down. So we'll see, we'll see."
It has been times like this when Mentel-Spee has felt plenty of support, especially from the Para snowboard family. US snowboarder Mike Shea and his fiancee, and Finn snowboarder Matti Suur-Hamari and his trainer have visited her. Her husband and coach Edwin has been by her bedside all summer long while she was in the hospital.
"I'm jealous of those guys [be]cause they are training and are in the snow a lot," she laughed. "But I talk to them a lot and it's good to be involved and it keeps me focusing on my goals which are competing at the Paralympics for sure."
The 45-year-old said she plans to watch and support competitors at the World Cup in Landgraaf, Netherlands, which gets underway in a week's time. (15 November).
She said she is also looking forward to PyeongChang 2018, whether she is competing or not.
"It's life. I love life too much especially seeing my kids and my family and my husband and I'm not ready to give up yet. And that keeps me motivated to keep on going and keep on looking for ways to survive," she said.