Brazil Wins Football 7-a-Side Gold
In the medal round of the BT Paralympic World Cup Football 7-a-Side completion, Brazil beat Great Britain for gold and USA defeated Ireland for bronze.
27 May 2012
Imagen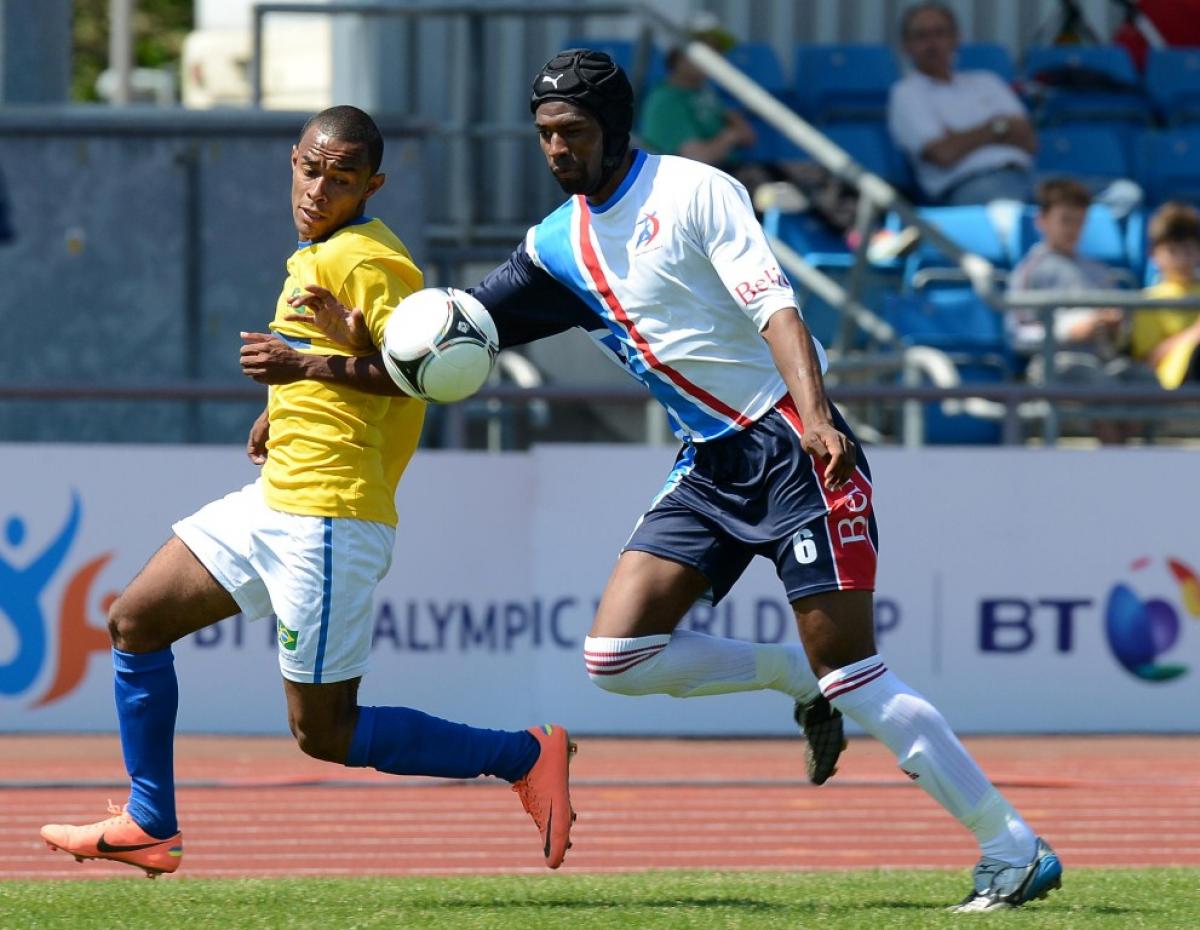 ⒸBT
"Of course we are now going to London expecting to win a medal."
The host nation fell short on the pitch on Saturday (26 May), as the Brazilian favourites triumphed to defeat Great Britain, 4-2, in the gold-medal game at the BT Paralympic World Cup in Manchester.
Wanderson Oliveira led the enthusiastic football nation, scoring two goals early for Brazil, and Fernandes Vieira added another to put the visitor up 3-0 heading into the break.
Ibrahima Diallo and Alistair-Patrick Heselton both netted goals for Great Britain in the second half, but it was not enough to muster a complete comeback, and the Brazilians left the field holding their green and yellow flag and giving head coach Paulo Cruz an ice bath.
"Of course we are now going to London expecting to win a medal," Cruz said.
It was a tough pill for Great Britain to swallow, meanwhile.
"That was tough today," said Great Britain's 17-year-old George Fletcher.
"We needed to step up after they started scoring and we did step up in the second half and we tried to get back into the game. We shouldn't have let Brazil get those early goals and we were punished for them, but we have to take what we can from the match."
USA defeated Ireland, 2-1, in the bronze-medal contest, picking up its first win in Manchester when it mattered most in its final game.
Josh McKinney and Rene Renteria both scored for the winning side, and Luke Evans netted the lone goal for Ireland on a penalty kick at the 52nd minute.
Despite grabbing the bronze, McKinney, a 33-year-old midfielder and American captain, was not fully satisfied and said the team must really work on ball control if it wants to keep up with the top competitors come the Paralympic Games when it enters as the No. 8 team in the world.
"We didn't exactly play the way we wanted to," McKinney said of the Cup. "Fortunately against Ireland we played the way we should play with aggression and came out with the victory and it's always nice to go home with at least one."
Brazil, Great Britain and USA will all compete at London 2012 in Pool B, along with Ukraine, the defending Paralympic champions. Iran, Russia, Argentina and the Netherlands will battle in out at the Riverbank Arena in Pool A.
The Football 7-a-Side schedule for the Paralympic Games was just released Friday and can be found here.
Related Images