British sweep events at Hartpury Festival of Dressage
Five different riders from Great Britain won the individual and freestyle tests at the equestrian event in Gloucestershire.
09 Jul 2013
Imagen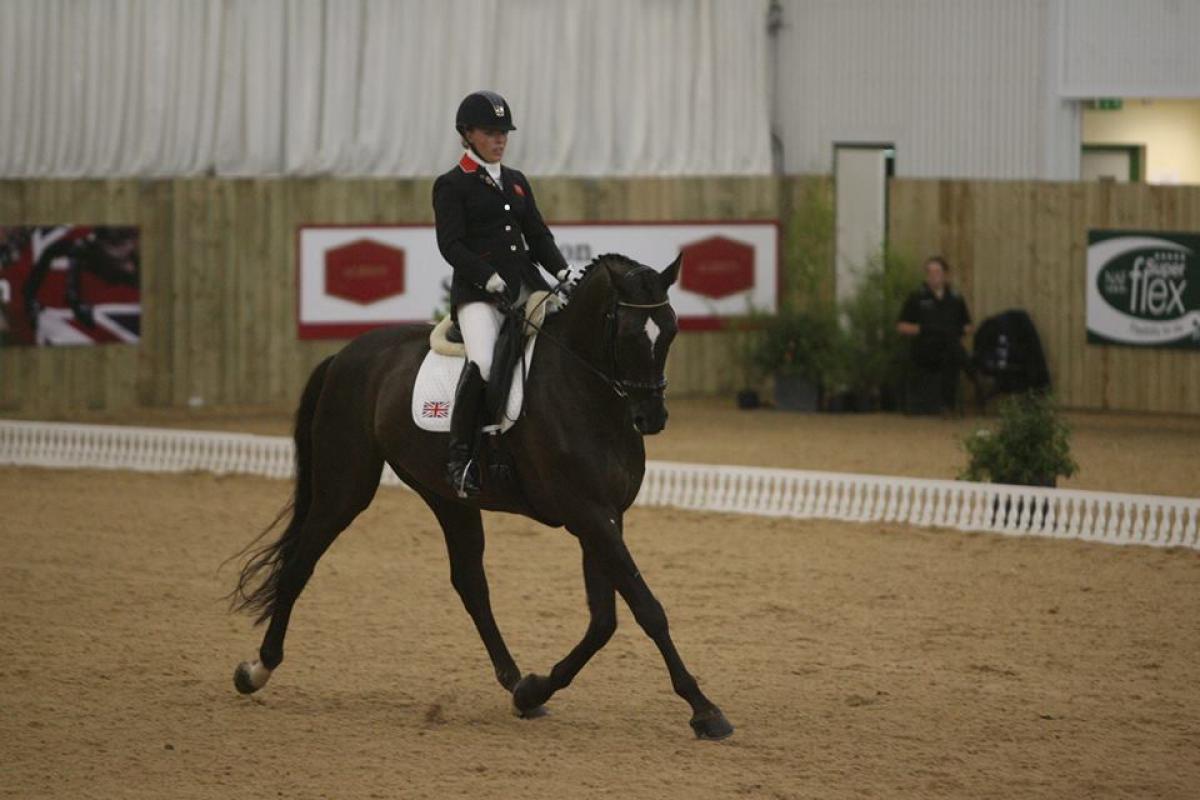 ⒸFEI
By Rob Howell | For the IPC
"I'm really happy I qualified for the Europeans which was my goal for coming here,"
Riders from Great Britain took the top honours at this year's Hartpury Festival of Dressage last weekend, winning every contest across all grade levels.
Paralympians Lee Pearson (grade Ib), Sophie Wells (grade IV), Natasha Baker (grade II), Deborah Criddle (grade III) and Sophie Christiansen (grade Ia) all won their team and individual contests in both individual and freestyle tests.
Wells, riding Valerius, scored the highest number of points at the event and was the only rider to break the 80% mark with 80.2% in the grade IV freestyle.
"I'm thrilled with it and it shows where he's come and how he can perform now," she said.
"He's going to continue developing and get stronger and, hopefully, better in his scores with so I'm really pleased him and his performance. It could have been better on the first two days but we don't want to peak now, we want to peak in a few months time (at the European Championships)."
The three-day competition saw riders from a wide range of countries compete in the famous Hartpury College arena in Gloucestershire, Great Britain.
Teams from Ireland, France and Denmark were represented, as well as Hong Kong, Canada, Australia, South Africa and the Virgin Islands.
For Danish grade Ib rider Stinna Tange Kaastrup, Hartpury was her final chance to secure the necessary scores to qualify for this summer's European Championships, which will take place in Herning, Denmark from 19-25 August.
Kaastrup, riding Steffi Graf, came third in all her contests and in each case made the scores needed to qualify.
"I'm really happy I qualified for the Europeans which was my goal for coming here," she said. "I didn't have a good ride on Thursday but had a good feeling for the freestyle. I had a huge mistake at the end of the test and that was expensive but it comes down to experience between me and the horse, who is brand new so I still have to get to know her. It will come and by the Europeans and she will be really good so I'm really pleased."
For the British riders the competition came just a week after their national championships, at which Ricky Balshaw, riding LJT Engaards Solitaire, beat Lee Pearson in the grade Ib category.
Balshaw gave Pearson stiff competition throughout the Hartpury contest, coming a close second in every test (and by just three tenths of one per cent in the individual test).
"It would have been nice to get the win after I had a good couple of results at Hickstead," he said. "Competing against Lee it's never going to be easy to win even if he's having a bad day. Last week was really good and this week the horse still performed but Lee stuck to his game and just pipped me."
Pearson added: "I came here very reserved on what the outcome was going to be after Hickstead. Ricky is my main opposition and he has a new horse and he beat me at Hickstead by three and four per cent. I did a lot of homework and changed the technique of improving the walk and the judges seem to have preferred that. We just about won all three classes and I'm over the moon."