Burkett's keynote highlights first day of VISTA2013
IPC Sports Science Committee member Brendan Burkett opened up debate for what role equipment must serve in Paralympic sport.
02 May 2013
Imagen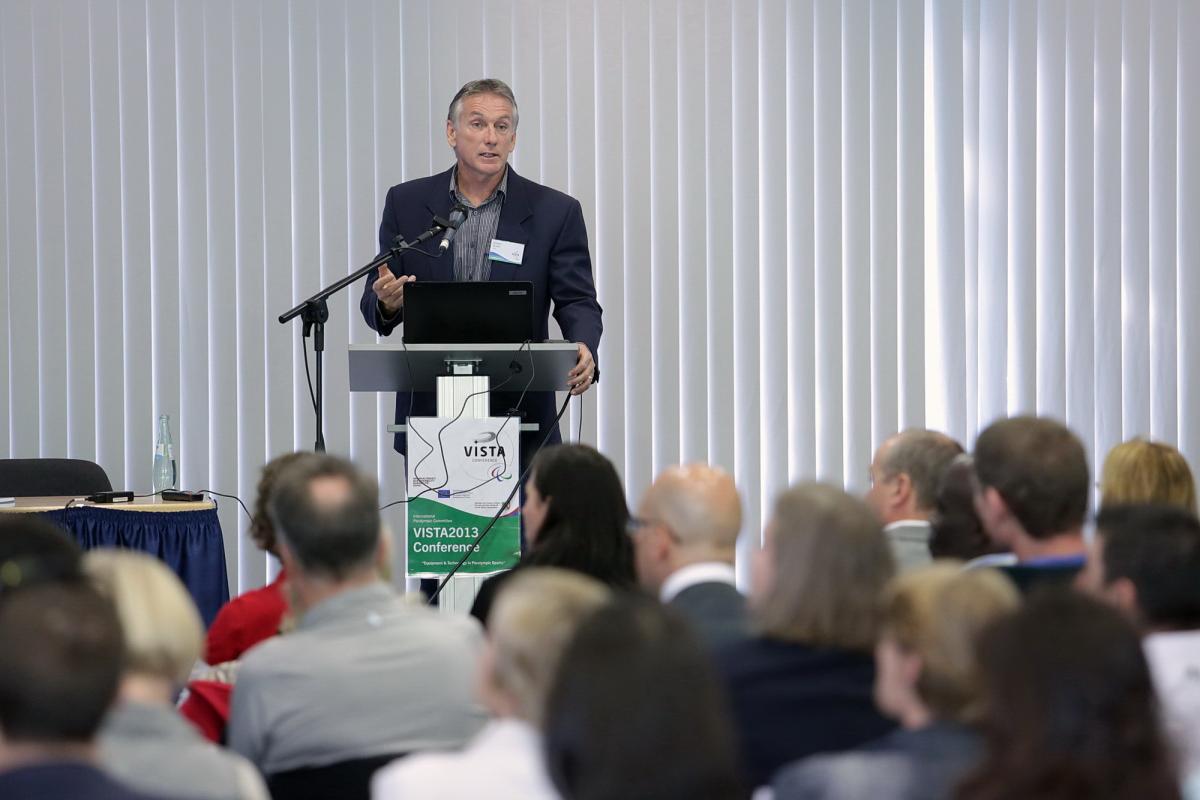 ⒸIPC
By IPC
"We need to keep that while also improving the functionality of the sport. We don't want the sports to be inhibited by robots, though. We want them to always be controlled by the humans."
At the first full day of the International Paralympic Committee's (IPC) VISTA2013 conference in Bonn, Germany on Thursday (2 May), IPC Sports Science Committee member Brendan Burkett delivered a powerful keynote speech on whether equipment in Paralympic sport is performance enhancing or necessary for performance.
Burkett, a Paralympic swimming champion for Australia, is now a biomechanics professor at the University of the Sunshine Coast, and captivated an audience of sport scientists, athletes, coaches and sport administrators with an issue that rose to significant prominence during the London 2012 Games.
"In terms of Paralympic sports, we're still in this void, in this vacuum," Burkett said. "A lot more explanation and research still has to be done.
"But we still need to keep the essence of the sport. We need to keep that while also improving the functionality of the sport. We don't want the sports to be inhibited by robots, though. We want them to always be controlled by the humans."
The challenge, Burkett explained, is always for researchers to effectively match the technology with the athletes' requirements.
Burkett also discussed the battle of tradition versus technology, and the strong notion that we must ensure the public audience is always easily able to understand what role technology and classification play in Paralympic sport.
Prior to Burkett's presentation, Dr. Rory Cooper received the IPC's Paralympic Scientific Award for his contributions to research in the field of sports for persons with an impairment, as the award serves to promote and encourage further study in this area.
"I've collaborated in research with so many of the previous winners of this award, and so it's an honour now to be a part of this group," Cooper said upon receiving the award.
Cooper's research has appeared in more than 270 scientific publications, 1,000 abstracts, 100 magazines and five books.
He also holds five US patents for wheelchair adaptations to optimise propulsion in daily living.
Two of his main aims, he said, have been to help achieve equity in Paralympic competition as well as to increase participation in para-sport and maximise an athlete's potential.
In smaller conference sessions throughout the day, certain sport topics were explored in further detail, including cycling and wheelchair tennis equipment, passive drag in swimming and technological developments in winter sports.
The Opening Ceremony of VISTA2013 took place on Wednesday evening (1 May), as the Daily Telegraph's Gareth Davies moderated an intense round-table discussion surrounding blade length and the running style of double-leg and single-leg amputees.
The panel members included: German Paralympic sprint champion Heinrich Popow, Dr. Wolfgang Potthast, who served as the scientist involved in Oscar Pistorius' original IAAF case, Chairperson of the IPC Sports Science Committee Dr. Yves Vanlandewijk, Dutch sitting volleyball player Elvira Stinissen and IPC Director of Media and Communications Craig Spence.
The opening event was not meant to produce a conclusion, but rather to get people's minds moving prior to VISTA2013 in terms of what role they think equipment and technology should play in the Movement.
"We have to have everybody here ensure that the rules in the Movement are clear whatever they are, and that we are all able to understand them," Popow said.
"But we must also always remember that athletes come first and are the focus of the Movement, and that technology follows that."
VISTA2013 will run through Saturday (4 May) and Friday's keynote address will be delivered by Chris Rushman from Motivation UK, an international development charity supporting people with mobility impairments, and Simone Oehler, from IPC Worldwide Partner Ottobock.
The two will discuss "Equipment and Technology: from Products for Grassroots Development to High-Tech Applications."
Related Images