Cai Changgui ready to perform in Rio
The Beijing 2008 goalball champion talks jetlag, training, maturing since the 2012 Paralympics and video games ahead of Rio 2016.
09 Aug 2016
Imagen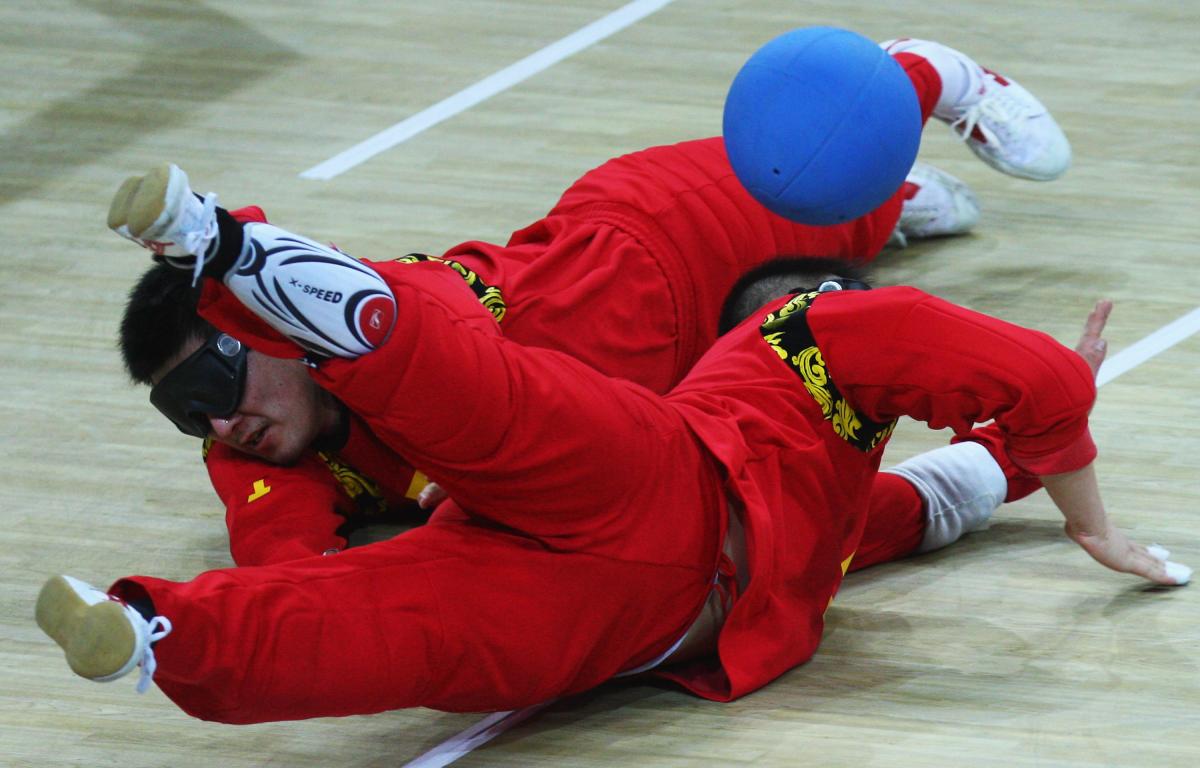 ⒸGetty Images
By Sophie Feng | For the IPC
With only one month until the start of the Rio 2016 Paralympic Games, China men's goalball team is getting physically and mentally ready in the city of Hangzhou, Zhejiang.
But the team's main concern, as stated by their top goalball player Cai Changgui, is not strength or conditioning, but jetlag.
"We are adjusting our bodies to get ready for the time difference in Brazil. We start with six hours and then we do the whole 13 hours," Cai explained.
"We do this early on because there is a lot of mental pressure. In goalball, knowing the goal is right behind you and not being able to see it adds so much more pressure."
Cai was the 2015 IBSA Asian-Pacific Championships' top-scorer with 19 points, leading the team to the continental title after an 8-4 win over Iran in the final.
"I feel even better this year than I did last year. I am mostly a defenceman, but now I also take part in the offence and get to score goals," he said.
The 33-year-old, who won gold at Beijing 2008, has also learned from his mistakes in London, where he was sidelined on doctor's orders but still ran away from hospital at the last minute to play in the Paralympic tournament.
"My right eye was infected and I was put on IV for three days and nights. I did not eat anything. I did not move or go anywhere until the first day of competition," he said.
"They put me on bed rest, but I snuck out and played anyway. Going into quarterfinals, we were second in our group.
"But then, my body could not handle it. I was too fatigued and we ended up losing against Lithuania."
Cai does not want his past impulsiveness to define him, and he has learned his lesson.
"This time, I do not want to get injured or sick. If anything happens, I have to immediately let someone know. I cannot put everything on my shoulders," he said.
The goalball player is confident what happened in London will not happen again, and that the hard work the Chinese team has been putting in will be paid off.
"We have been in intensive training since coming back from the Asian-Pacific Championships last year. We are still considered the dark horses, so we are not afraid to give it everything," he said.
At Rio 2016, China was drawn in a tough-looking Group B together with reigning Paralympic champions Finland, USA, Lithuania and European champions Turkey.
Still, Cai has other things to look forward to once he steps foot in the Paralympic Village.
"I love it when we go in and meet all the athletes. I am excited to play video games at the arcade as well. They have so many games that we never get to play when we are training," he said.
As for the legacy he wants to leave in Rio, Cai refuses to be acknowledged as merely just a blind person.
"I am an athlete first and foremost, and I want other blind people in China to know they can also go out there, do something and be great at it," he said.
The Paralympic goalball tournament will take place at the Future Arena between 8-16 September.
__
Sport fans from around the world can now buy their Paralympic tickets for Rio 2016 from authorised ticket resellers (ATRs)
The IPC's Global ATR is Jet Set Sports, and Rio 2016 tickets and packages can be purchased on the CoSport website.
Residents of Brazil can buy 2016 Paralympics tickets directly from the Rio 2016 website.
Visa International is the exclusive payment card and the official payment system for the Paralympic Games.