Canada earns place in history
Having won the men's wheelchair basketball tournament in three of the last four Paralympic Games, Canada may be one of the best to have ever played the game.
09 Sep 2012
Imagen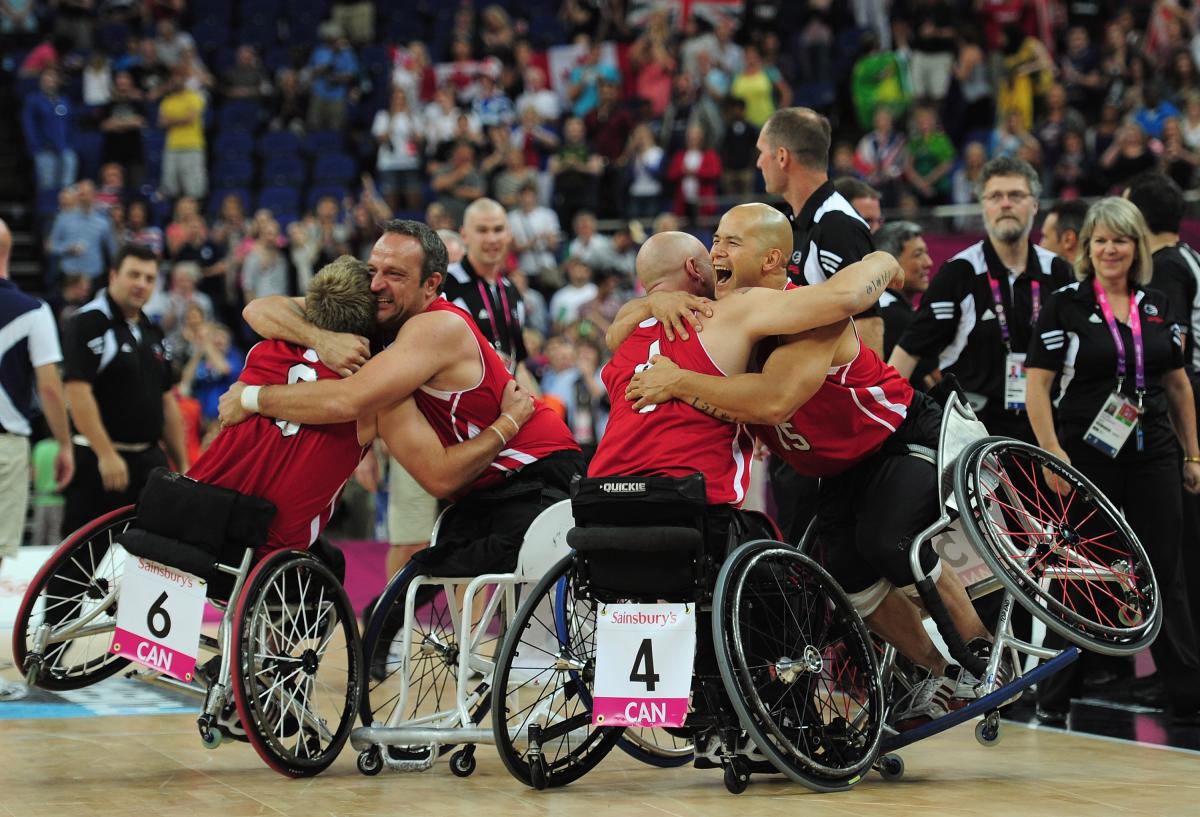 ⒸGetty Images
"Three gold medals and one silver over four Paralympics, I would say that's a dynasty."
Canada men's wheelchair basketball coach Jerry Tonello argues his team is one of the best sporting sides Canada has ever produced.
His team beat Australia, 64-58, to win the gold medal at the London 2012 Paralympic Games. Canada has now won three of the past four Paralympic Games gold medals, with a silver medal from the Beijing 2008 Paralympic Games to go with the three golds.
Tonello said there is no point dancing around what the sustained success of Canada's men means.
"Three gold medals and one silver over four Paralympics, I would say that's a dynasty," Tonello said.
"Unfortunately in North America, because we have so many top sports to compete with you need more than just success," he said. "We should be considered one of the best Canadian teams in history, of any sport. But that's up to the media to spread the word."
Canada exacted some slight revenge against Australia in the final at London 2012, as it was Australia that beat Canada in the final at Beijing 2008.
While losing is something this Canadian side doesn't enjoy, captain of the team, David Eng, said there were definite positives to come out of the silver medal finish four years ago.
"We needed a little time after Beijing (Beijing 2008 Paralympic Games)," he said.
"Pat (Anderson) stopped for a couple of years after Beijing, he retired and I think that was really good for the rest of the team because the rest of the team was able to get experience and be able to play without Pat and not be too dependent on Pat.
"So everybody gained a lot and had to improve their game. When Pat came back, it was really good that he had a better supporting cast and it was really good to win as a team."
Pat Anderson is the star of this Canadian side. The 33-year-old scored more points than any other player at London 2012 and his 200 total points is 115 more than his nearest teammate.
In the final, he scored 34 points, collected 10 rebounds and registered 8 assists.
Rather than talk about his individual performance, Anderson was quick to heap praise on the culture within the sport in his homeland.
"I hope everybody in the wheelchair basketball community in Canada is proud and feels like they played a part in it," he said.
"I think we really have something special the way we do things in Canada. We're not perfect and we have to learn from other countries too. Just because we've won three times it doesn't mean that we do everything the best," he said.
The question that refuses to go away for this side is how many of them will play on?
Richard Peter has played in the last four Paralympic Games finals with Canada and was happy to answer it.
"This is my swan song, my fifth Paralympics," he said.
"My body's telling me to slow down and it's telling me to retire, so I'm going to listen this time. I've had a great run and this has been a great team. It's been a lot of fun. I'm just going to go home and hang up the wheels," he said.
Eng said he is asked a lot about the future of the team and admits there will be further change in personnel.
"The core is getting older and people want to spend time with their families," he said.
"The sport is getting stronger and stronger so it demands a lot more training and a lot more traveling so we'll see."
Despite this, four of Canada's 12-man squad at London 2012 were competing at their first Paralympic Games and Eng said the thirst remains for success within the group.
"The first one is the stepping stone," he said.
"It was one that really gave confidence to the team and that keeps the winning attitude in our programme. Knowing that, if you're going to play for Canada, well, there's history behind it and you take pride playing for Canada."