Canada tips Australia for gold
Canada's men's wheelchair basketball team proved they are the best in the world, defeating Australia in the gold-medal game, while USA beat Great Britain for bronze.
09 Sep 2012
Imagen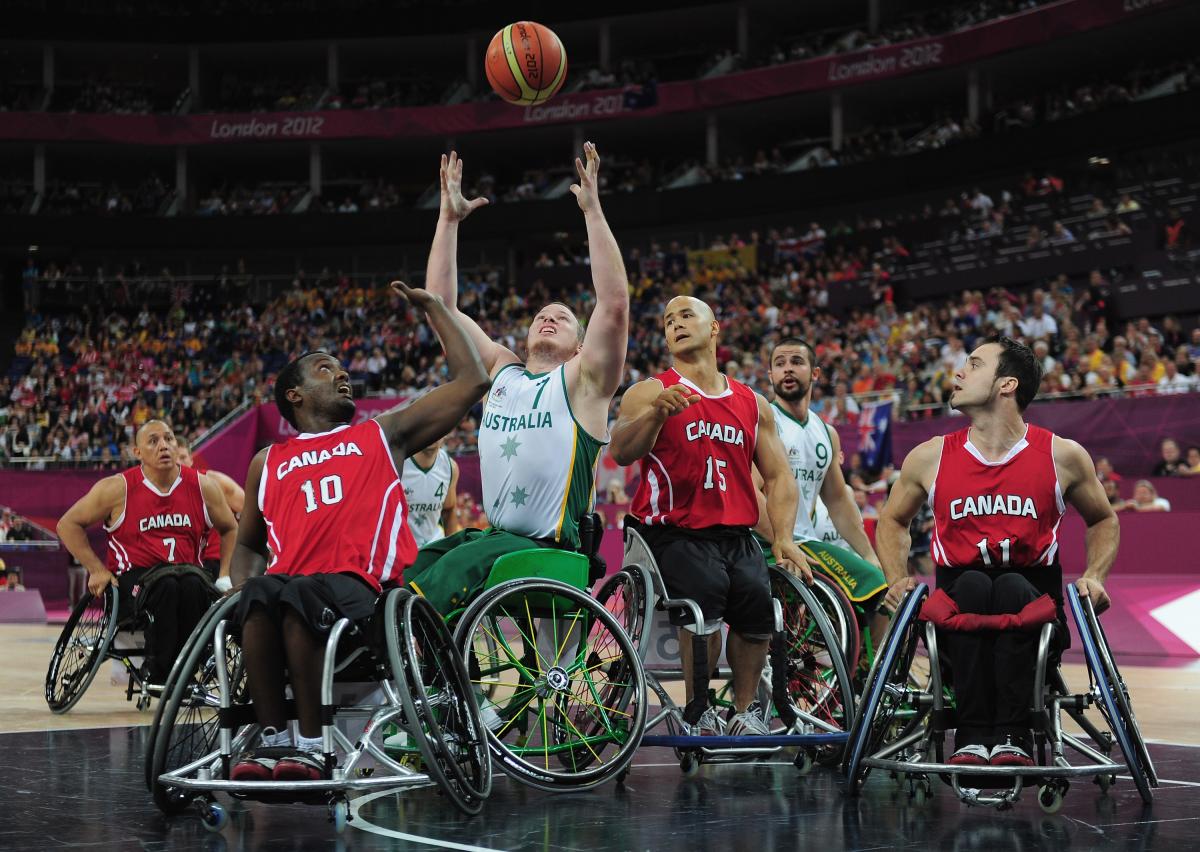 ⒸGetty Images
"It feels like I have never won anything in my life. I feel like a little kid."
Canada proved too strong for Australia in the men's wheelchair basketball final, winning the gold medal for the third time in four Paralympic Games on Saturday (8 September) by a score of 64-58.
Canada's Patrick Anderson was the standout, scoring an impressive 34 points to go with 10 rebounds and 8 assists. He said it was a great feeling.
"I had some ups and downs in this tournament but it feels fantastic to play well in the final," he said.
"It feels like I have never won anything in my life. I feel like a little kid."
Canadian captain David Eng shared Anderson's sentiments.
"This is awesome. This is really something. We worked so hard to get back to this point. Four years ago we were seventh at the worlds and no more," Eng said.
Australian captain Brad Ness scored the first points of the match and his team held the slenderest of leads at quarter time with the score at 15-14.
The second quarter was a very physical and tight affair, with Australia continuing to rotate players well as they've done all tournament. Ness led them into the main break with 10 points as they maintained their one point lead.
For Canada it was usual suspect Anderson doing most of the scoring. Anderson had 15 points at half time, along with 5 rebounds and 4 assists.
Canada started the second half the better side and enjoyed a lead of around four points for much of the third quarter. Shaun Norris was single-handedly keeping Australia in touch on the scoreboard scoring 10 points for the quarter, but Canada's Anderson was more than happy trading blows scoring eight of his own to ensure Canada led by four at the last change.
Australia leveled at 48-48 courtesy of a Jannik Blair bucket in the third minute of the final term, but Canada continued to thrive on the back of Anderson's brilliance, taking the ascendancy and running away to win the match and the men's wheelchair basketball Paralympic Games gold medal.
In the bronze medal match, USA were too strong for Great Britain, winning 61-46.
Both sides started nervously and Great Britain struggled for decent chances to score. But USA settled first and had the better of the first quarter, leading 17-10 at quarter time.
Steven Serio had eight points with four-from-four shooting for USA and his teammate Matt Scott added six points.
USA centre Joe Chambers was the star of the second quarter and was involved at both ends of the court. He had seven rebounds (five defensively) and scored 10 of his team's 12 points for the quarter as USA led 29-20 at the half.
Terry Bywater had an inspired start to the second half, leading Great Britain as they scored nine unanswered points to level scores at 29. But USA had the answers and rallied to lead 39-33 at the final change, before calmly seeing out the match to win by 15 points.
Serio was a standout in the match and scored 20 points with 89 per cent shooting from the field, along with eight assists and four rebounds.
He paid tribute to his teammates and said it was a nice way to celebrate his 25th birthday.
"I had a good individual performance, but it was a team victory," he said.
"My teammates have my back and my confidence comes through on court because of that.
"It's my first medal, we'll work on the colour later. To have this happen today (on his birthday), in front of such a great crowd, is amazing. You can't write this stuff."
In the day's other matches, Turkey beat Poland 76-74 in the playoff for 7th and 8th positions and Spain beat Germany 67-48 in the playoff for 5th and 6th.