Canada-USA semi-final to take centre stage
Canada-USA and Russia-Norway will play for spots in the ice sledge hockey final.
13 Mar 2014
Imagen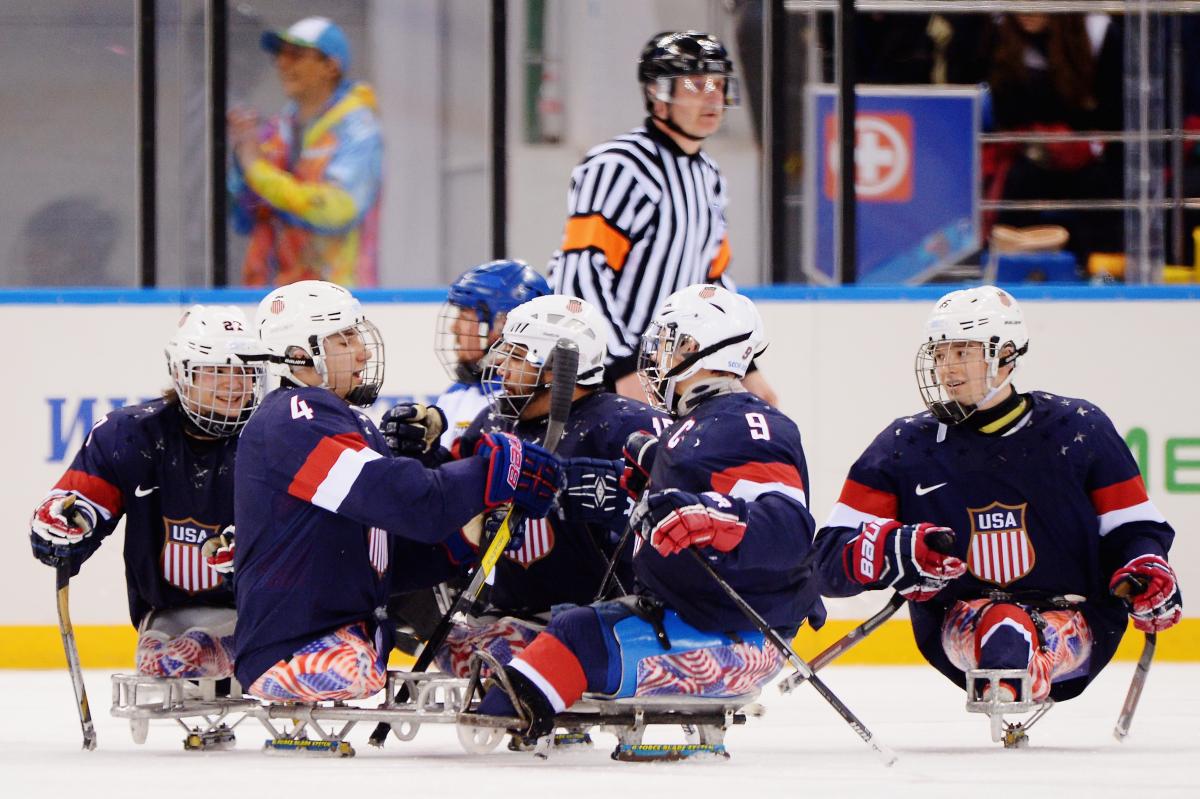 ⒸGetty Images
By Ryan McKenna | For the IPC
"Nothing would be better than if we could come through and beat Canada and play Russia again. That would be perfect."
They might have been ranked No. 1 and No. 2 in the world going into the Sochi 2014 Paralympic Winter Games, but only one team, either the Canada or the USA, will advance to the ice sledge hockey gold-medal game.
The two North American rivals will face each other in the semi-finals on Thursday (13 March) at 20:00 (MSK) at Shayba Arena. It has been 14 years since the two teams played each other at the Paralympics, dating back to Salt Lake City in 2002, when the USA beat Canada, 5-1.
"We know what to expect from the USA and they know what to expect from us," forward Billy Bridges said. "It'll be nothing short of a barn-burner, that's for sure. I don't think there's a single Canadian who can't get up for a Canada-USA rivalry match."
Canada are undefeated so far at Sochi 2014, winning all three preliminary round games and capturing the top spot in Group A.
With their loss in the group round against Russia, the USA finished in second place in Group B with six points.
Despite the lack of Canada-USA meetings on the Paralympic stage, they have played numerous times in the last year and have split the majority of their games.
At the 2013 IPC Ice Sledge Hockey World Championships A-Pool, Canada, on the strength of a goal by defenceman Graeme Murray, Canada defeated the USA 1-0 to win gold.
Despite the loss at the World Championships, the USA have turned a new page at Sochi 2014.
"Well we knew we would have to get through Canada to get a gold medal anyway, whether we play them in the next game or the last game," USA head coach Jeff Sauer said. "Nothing would be better than if we could come through and beat Canada and play Russia again. That would be perfect."
Canadian defenceman Adam Dixon leads the tournament in goals with four and is also tied with teammates Anthony Gale and Kevin Rempel for the scoring lead with six points.
The USA's offence has been a combination of defenceman Nikko Landeros who has collected four assists, and Adam Page who has three goals.
Thursday's earlier semi-final features host nation Russia against Norway, with action getting underway at 13:00 (MSK).
After an opening day shoot-out loss to South Korea, Russia have bounced back for two straight wins are the riding the momentum from their win against USA on Day 4. That win gave them seven points and first place in Group B.
The Day 1 loss seems to have even helped Russia going forward in the tournament.
"Maybe it's even for the better that we lost," goaltender Vladimir Kamatcev said. "The boys got closer together and this led to the first and second victories."
Russia have received a lot of support from their home fans, packing Shayba Arena for every game.
Vasilli Varlakov and Evgeny Petrov hves provided five points each so far and will look to do the same in the play-off rounds.
Russia have also received great goaltending from Kamantcev who made 22 saves against the USA and has only allowed one goal in two games.
Norway, led by defenceman Rolf Pedersen, enter the semi-finals after a win against Sweden and expect a physical matchup against Russia.
"They are fast and check a lot," Norway's head coach Morten Haglund said. "We have to prepare a little bit more like we did for Canada (in the preliminary round), with a defensive team."
Norway's Loyd-Remi Solberg already has three assists in Sochi, while Audun Bakke has found the back of the net twice.
Their goaltending has also been solid with Kristian Buen making 46 saves in three games — the most of any goaltender in the tournament.