Canada win back-to-back wheelchair curling golds
Canada, Russia and Great Britain took to the podium in the Sochi 2014 wheelchair curling competition.
16 Mar 2014
Imagen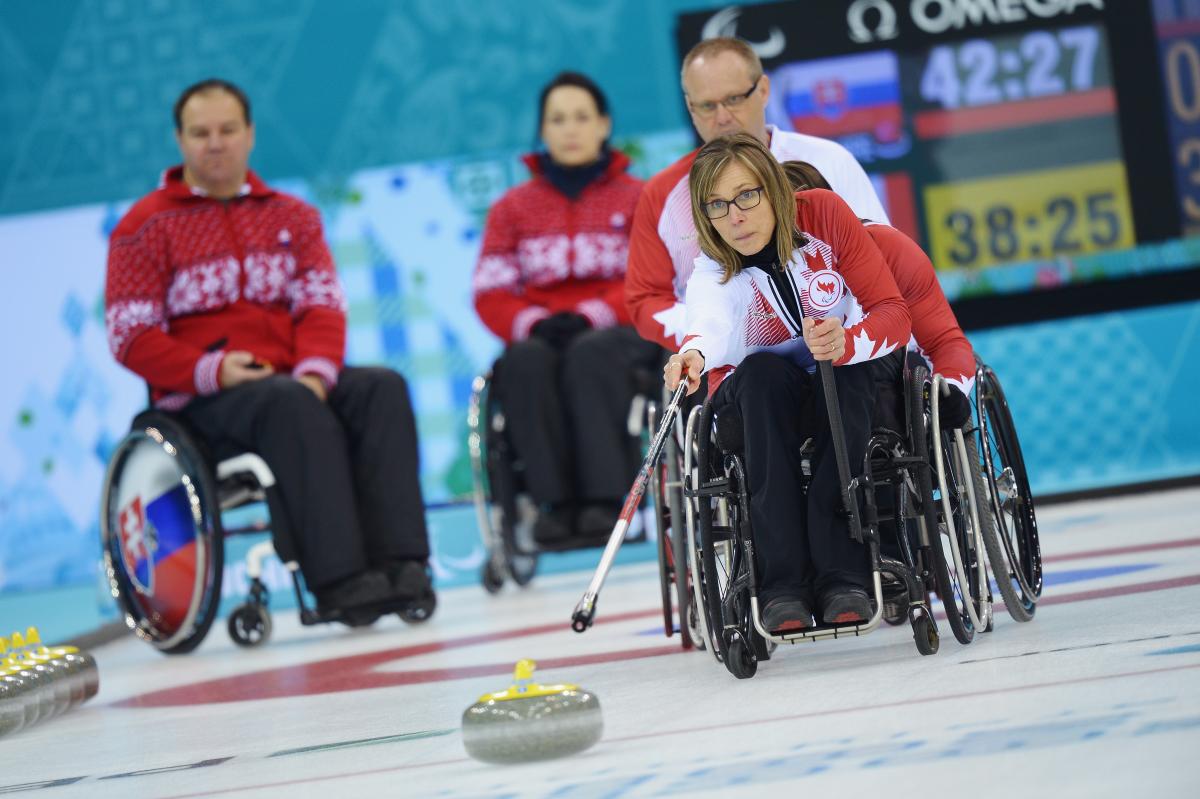 ⒸGetty Images
By World Curling
In the gold-medal game between Russia and Canada, the home team took an early advantage as their skip Andrey Smirnov made a draw to score two points.
Canada defeated Russia 8-3 to win their third consecutive wheelchair curling gold medal at Sochi 2014 at the Ice Cube Curling Centre.
Canada's victory resulted in Russia picking up silver while, Great Britain won 7-3 against China to win the bronze medals.
Lead Sonja Gaudet has now played in all three of Canada's gold medal winning Paralympic teams, which have also all been coached by Joe Rea.
Meanwhile, skip Jim Armstrong and third Ina Forrest won their second Paralympic gold medals while for second Dennis Thiessen and alternate Mark Ideson, this was their first.
In the gold-medal game between Russia and Canada, the home team took an early advantage as their skip Andrey Smirnov made a draw to score two points.
Canada then took one point in the second end before they began a four end run of consecutive steals which played a significant contribution to their win.
After stealing one point in the third end and another two points in the fourth end, they led 4-2 by the fourth end break.
Russia were still in the game but gave up another steal of one point in the fifth end before Canada clinched the game in the next end.
With his last stone, Canadian skip Jim Armstrong played a precise take-out on the Russian shot stone to leave his in the four foot ring.
With last stone advantage, all Russian skip Andrey Smirnov had to do was hit Armstrong's previous stone on the nose to score one point. He could not find enough weight however and gave up a steal of three points to take the score to 8-2 in Canada's favour after six ends.
Russia then scored one point in the seventh end before conceding the game after seven ends of play with the final score 8-3.
After the game, Canada skip Jim Armstrong looked back on his team's performance. He said: "Today we were on the right side of the inch and they weren't. It was our day today, that's really what it came down to."
Silver medallists Russia, competing in the Paralympic Winter Games for the first time, consisted of skip Andrey Smirnov, third Marat Romanov, second Svetlana Pakhomova and lead Alexander Shevchenko. They were supported by alternate Oxana Slesarenko and coach Anton Batugin.
In the bronze-medal game between Great Britain and China, China took early advantage, scoring one point in the first end before stealing two points in the second end after Great Britain skip Aileen Neilson was heavy with her final draw.
This was to be China's last points in the game as Great Britain began their comeback, taking two points in the third end before stealing two points of their own in the next end to go into the fourth end break 4-3 ahead.
With the game still tight, Great Britain gained a crucial advantage in the fifth end when skip Aileen Neilson played a raise tap back into the four foot ring. Chinese skip Haitao Wang then missed his attempted take-out with his last stone to give up a steal of one point and leave the score at 5-3.
Great Britain then went on to steal single points in the next two ends before China finally conceded after seven ends of play, with the final score 7-3.
The bronze-medal winning team for Great Britain included skip Aileen Neilson, third Gregor Ewan, second Jim Gault, lead Angie Malone and they were supported by alternate Bob McPherson, who played several games throughout the week as well, and coach Tony Zummack.
After receiving their medals, Great Britain skip Aileen Neilson said: "There are not many times I'm speechless, but I am speechless right now. This (her medal) isn't just for the four players that were on the ice. There are so many people who have contributed to what is hanging around our necks. I just have to say thank you to each and every one of them."