Canadian Paralympians set off for Heroes Tour
More than 20 of Canada's top Paralympians from London 2012 are taking part in a celebration tour and parade in Ottawa and Toronto.
20 Sep 2012
Imagen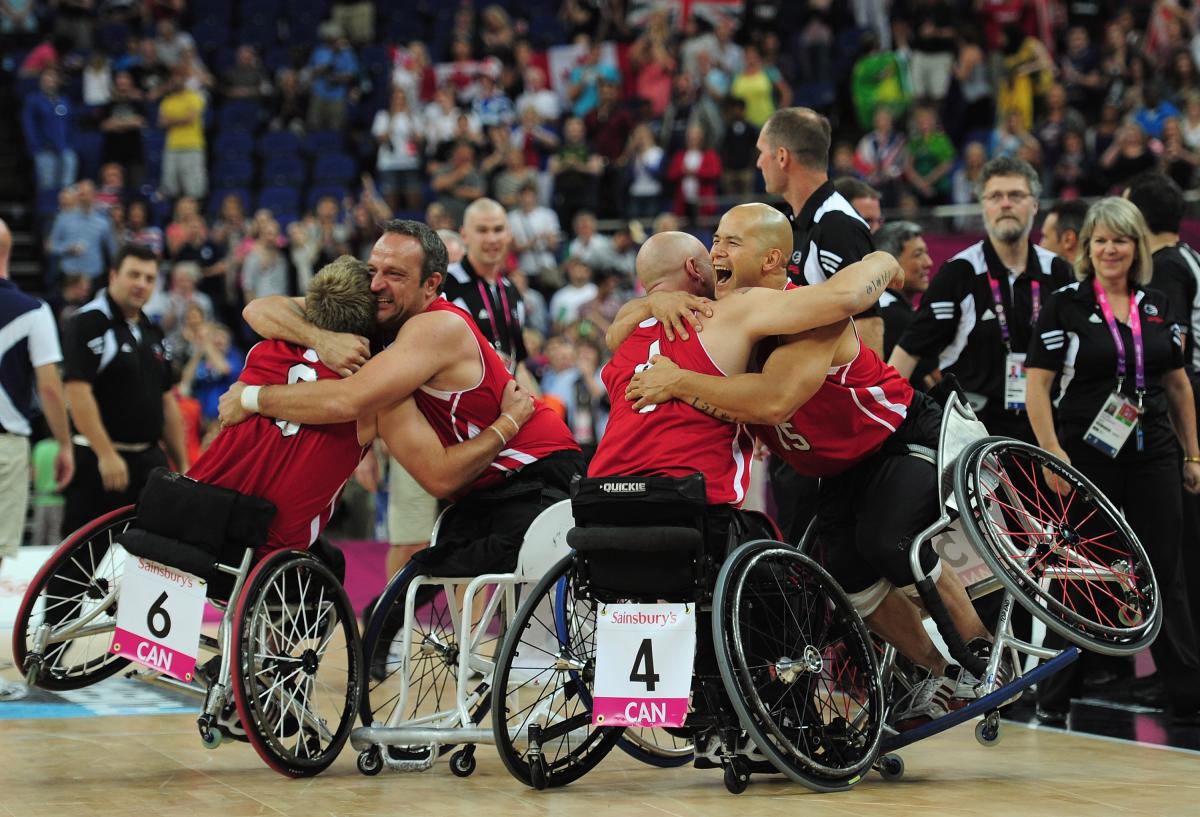 ⒸGetty Images
By IPC
Canada won a total of 31 medals at the London 2012 Games, 16 of which came in swimming and seven of which were gold.
Canadian Paralympians joined their Olympic counterparts in the Celebration of Excellence Heroes Tour and Parade this week that kicked off on Wednesday (19 September).
The tour connects Paralympians, Olympians and their coaches with students, community leaders and clubs, fans, young hospital patients and members of the Canadian Armed Forces."
"I am so excited to be able to share my Paralympic experience in London with Canadians," said Benoit Huot, swimmer and Closing Ceremony flag bearer.
"This is a great celebration of the accomplishments of our Paralympic and Olympic athletes and gives Canadians a taste of the excitement in London. It will be great to relive some of the emotions from London."
Canada won a total of 31 medals at the London 2012 Games, 16 of which came in swimming and seven of which were gold.
Huot won three individual medals for Canada in London, taking a gold, silver and bronze in the pool, serving as just one of the country's several stars in the British capital. Canada's men's wheelchair basketball team topped the podium at North Greenwich Arena, and wheelchair racer Michelle Stilwell won a gold and a silver in the women's T52 sprints on the track.
To celebrate these achievements, the festivities began with the Heroes Tour in Ottawa, where Paralympic and Olympic athletes visited Ottawa-area schools and the Children's Hospital of Eastern Ontario.
In the afternoon, the Canadian teams were welcomed into the House of Commons by Prime Minister Stephen Harper and presented with Queen Elizabeth II Diamond Jubilee medals.
The Heroes Tour continues on Thursday in Toronto when athletes will visit area schools and hospitals before attending a reception at Queen's Park hosted by the Lieutenant Governor of Ontario David Onley and Premier Dalton McGuinty.
The day finishes with dinner at Ronald McDonald House and a Performance Excellence Series event with young athletes.
On Friday, the tour culminates with the Olympic/Paralympic Heroes Parade which will wind through downtown Toronto before concluding at Maple Leaf Square, outside of Air Canada Centre, for a public celebration.
The complete list of Paralympians taking part in the event includes:
Ottawa events
Adam Lancia, Wheelchair Basketball
Amy Kneebone, Goalball
Aurelie Rivard, Swimming
Benoit Huot, Swimming
David Eng, Wheelchair Basketball
Isaac Boucley, Swimming
Jason Crone, Wheelchair Rugby
Jason Dunkerley, Athletics
John Dunkerley, Athletics
Jody Schloss, Equestrian
Josh Karanja (guide), Athletics
Justin Karn, Judo
Marco Dispaltro, Boccia
Don Lane, Marco's assistant
Michelle Stilwell, Athletics
Patrice Dagenais, Wheelchair Rugby
Richard Peter, Wheelchair Basketball
Summer Mortimer, Swimming
Tyler Miller, Wheelchair Basketball
Virginia McLachlan, Athletics
Whitney Bogart, Goalball
Josh Cassidy, Athletics
Toronto events
Abdi Dini, Wheelchair Basketball
Adam Lancia, Wheelchair Basketball
Amy Kneebone, Goalball
Aurelie Rivard, Swimming
Benoit Huot, Swimming
Brandon Wagner, Wheelchair Basketball
David Eng, Wheelchair Basketball
Isaac Boucley, Swimming
Jason Crone, Wheelchair Rugby
Jody Schloss, Equestrian
Joel Dembe, Wheelchair Tennis
Justin Karn, Judo
Marco Dispaltro, Boccia
Don Lane, Marco's assistant
Michelle Stilwell, Athletics
Patrice Dagenais, Wheelchair Rugby
Richard Peter, Wheelchair Basketball
Robbi Weldon, Cycling
Shelley Gauthier, Cycling
Summer Mortimer, Swimming
Tyler Miller, Wheelchair Basketball
Virginia McLachlan, Athletics
Whitney Bogart, Goalball
Garrett Hickling, Wheelchair Rugby
Josh Cassidy, Athletics
Josh Vander Vies, Boccia