Channel 4 to broadcast 150 hours of coverage from Sochi 2014 Paralympic Winter Games
Biggest ever UK TV commitment to Winter Paralympics with 50 hours of TV coverage
31 Jan 2014
Imagen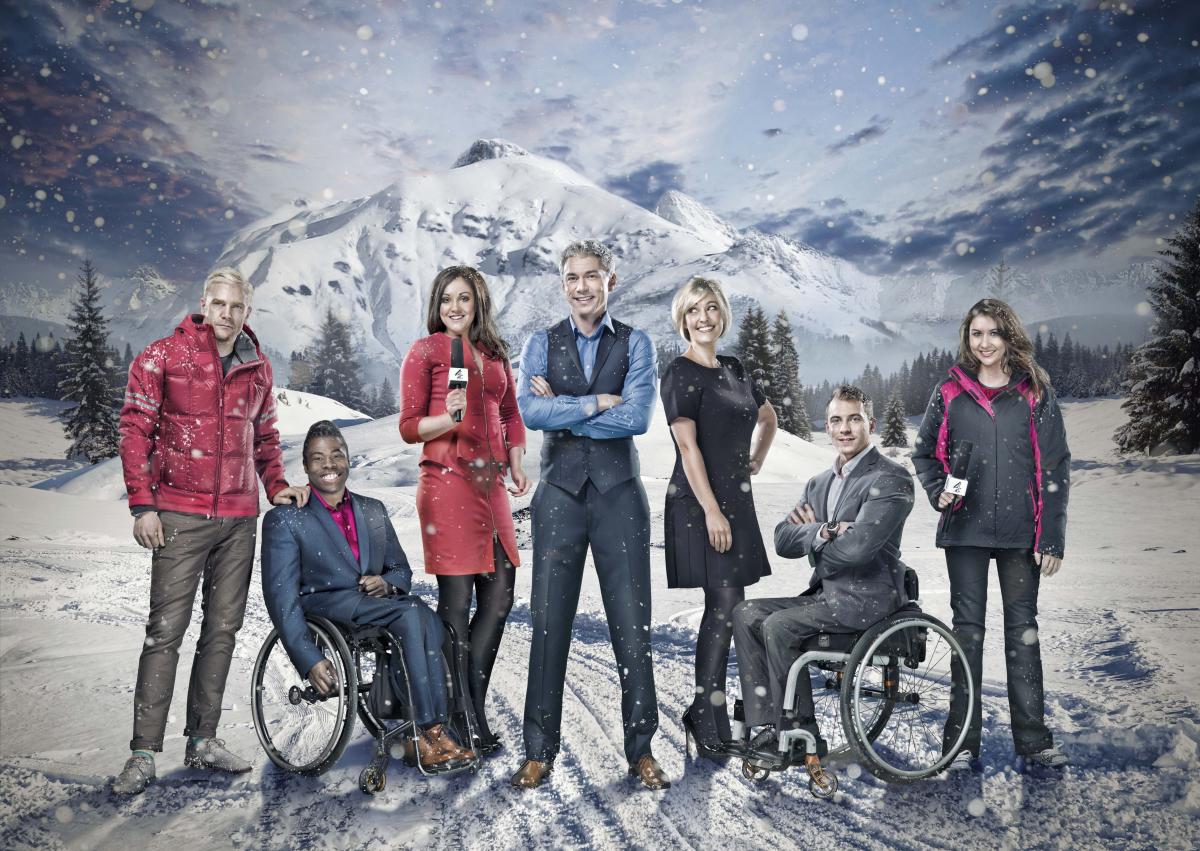 ⒸChannel 4
By Channel 4
"This is Chapter Two of Channel 4's thrilling Paralympic story."
Building on the BAFTA-award winning coverage of the London 2012 Paralympic Games, which helped change attitudes towards people with an impairment, British broadcaster Channel 4 will show 150 hours of coverage from the Sochi 2014 Paralympic Winter Games in Russia.
Channel 4 and More4 will broadcast 50 hours of live coverage over the 10 days of competition, from the Opening Ceremony on Friday 7 March through to the last day of competition on Sunday 16 March – the greatest ever commitment to the Paralympic Winter Games from a UK broadcaster. There will also be two further high definition channels of live streaming available digitally, daily reports on Channel 4 News and special editions of The Last Leg during the Games.
Daily coverage will begin from either 6:00am, 7:00am, 8:00am or 11:30am depending on the programme of events and will include live coverage from all five of the winter sports – alpine skiing, ice sledge hockey, wheelchair curling, biathlon and cross-country Skiing. ParalympicsGB is sending a team of 12 athletes and three competition partners to Sochi, competing in both alpine skiing and wheelchair curling.
In the lead up to the 2012 Games, Channel 4 identified and trained new presenters and reporters with an impairment and four of that team will be returning to present the Sochi 2014 coverage. Ade Adepitan and Arthur Williams will join Jonathan Edwards and Kelly Cates to anchor coverage from Channel 4's London presentation studio, and Rachael Latham and Daraine Mulvihill join Iwan Thomas on the ground in Sochi.
Jon Snow will host live coverage of the opening ceremony with commentary provided by fellow Channel 4 News presenter, Krishnan Guru-Murthy. Keme Nzerem, Channel 4 News' Sports Correspondent, will report from Sochi across the Paralympics with reports in each evening's news programmes.
Another member of that 2012 team will also return: with Alex Brooker alongside Adam Hills and Josh Widdicombe for two special Sochi editions of hit entertainment show, The Last Leg. The trio will take a look at the weird and wonderful talking points of the week and also look at the stories and highlights from the Sochi 2014 Winter Olympic and Paralympic Winter Games.
Arthur and Kelly will present the Paralympic breakfast coverage before handing over to Ade and Jonathan who will anchor coverage of events in the mid-morning. The presenting team will be joined by a range of guests over the Games, including summer Paralympic athletes Richard Whitehead and Nathan Stephens, giving their expert opinion on the events and helping give detailed explanations of each of the sports and the equipment used. The ground-breaking and acclaimed LEXI decoder – which made its debut at the London 2012 Paralympics – will also return to help guide viewers through the different classifications involved in each of the sports.
Over 100 hours of additional coverage will be broadcast on two Paralympic Extra streams available as video on demand on computer, smartphone and tablet. Fast-turnaround highlights of medals and key moments will be available on the Channel 4 Paralympic website, YouTube, and on Facebook and Twitter; and there will be live blogging throughout the Games, sharing the latest new, photos, videos, comment and opinion. The Channel 4 Paralympic website will include full athlete profiles for all British competitors plus all you need to know about the sports and the international stars competing.
Coverage will be produced by leading independent sports producer, Sunset+Vine, which co-produced Channel 4's BAFTA award winning coverage of the London 2012 Paralympic Games. It will again be supported by a prominent television marketing campaign produced by Channel 4's award winning in-house creative team, 4Creative. The digital output will be produced by Deltatre – who worked on Channel 4's digital coverage of London 2012.
Channel 4 has also commissioned six short films from Boom Pictures profiling some of the ones to watch in Sochi and some of the amazing sports – which will be broadcast in the week leading up to the Games. Additionally, Twofour has been commissioned to produce a series of short form films for Channel4.com giving an insight into the profile and training of five athletes competing in Sochi.
Launching the coverage, Channel 4's Commissioning Editor for Sport Jamie Aitchison said: "Channel 4's coverage of London 2012 brought Paralympic sport to the fore to an extent that had never before happened in the UK and helped changed perceptions of disabled sport. I'm delighted that, with over 150 hours of coverage across television and online, we have the opportunity to build on that with by far the biggest ever commitment to covering the Paralympic Winter Games."
Alison Walsh, Channel 4's Disability Executive said: "Our London coverage won universal praise for its portrayal of the athletes and Paralympic sport. It's particularly exciting to have a number of the fantastic new presenters who made their debut with us, and who worked so hard with our teams to get the tone on disability right in London, returning to host our coverage in Sochi after developing their careers both with Channel 4 and elsewhere since the Games in 2012."
Gary Franses, Executive Producer for Sunset+Vine said: "This is Chapter Two of Channel 4's thrilling Paralympic story. London in 2012 was unforgettable. Sochi will be too because once again the world's finest athletes will prove there's no limit to what they're capable of achieving. Sunset+Vine are proud to be part of another piece of sporting television history."
Channel 4 announced in February 2012 that it had been awarded the UK television rights for both the Sochi 2014 and Rio 2016 Paralympic Games following a competitive tender process by the International Paralympic Committee (IPC). The deal built on the success of Channel 4's coverage of London 2012 which broke UK viewing records for Paralympic sport and reached over 69 percent of the population. The coverage won a range of industry awards including the BAFTA for Best Sport and Live Event.
Audience research carried out for Channel 4 by BRDC Continental and YouGov after the Games in 2012 found that coverage had an impact on perceptions of disability and Paralympic Sport in the UK – with two thirds (65%) of viewers feeling that coverage of the Paralympics had a favourable impact on their perceptions towards people with disabilities. 80% of viewers enjoyed the fact that there were disabled presenters on screen in and 74% liked the matter of fact discussions about disability Channel 4's coverage of the Paralympics.