China's Peng Zheng, Hongqiong Yang compete a brace of golds
'We've been training at home in recent years, but we hope to get out to different countries in the coming years and to learn from them and do well'
09 Mar 2022
Imagen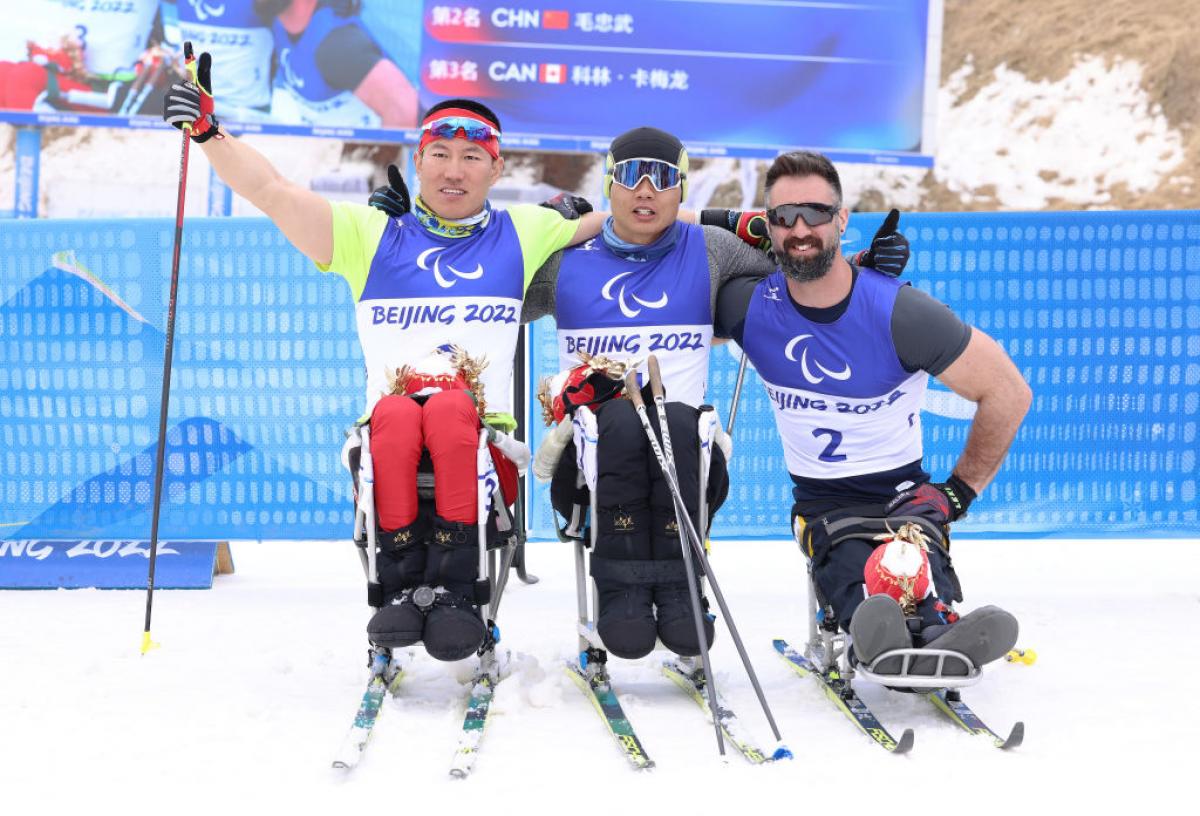 ⒸLintao Zhang/Getty Images
By ND Prashant | For the IPC
The Sprint Sitting Cross-Country men's and women's final was a repeat of the Long Distance Sitting final with all the top three position grabbed by the same Para athletes and in the same order.
China's Peng Zheng completed a brace of golds with another breathtaking performance at the Beijing 2022 Winter Games at the Zhangjiakou National Biathlon Centre.
Zheng, who finished with an impressive time of 2:42.4 seconds, made the rest on the field look pretty ordinary in the finals. The only athlete to test him was his compatriot Zhongwu Mao. The two-way battle ended in Zheng's favour with Mao following short by a mere +2.5 seconds. Canada's Collin Cameron came home third, +3.9 seconds behind.
The women's Sprint Sitting action too saw Hongqiong Yang carry on from where she had left in the Long Distance Sitting. Here too she kept US ace Oksana Masters at bay to clinch gold with a time 3:18.2. Masters gave it everything to try and stop Yang from doing a repeat but eventually fell short by a mere +1.7 seconds. China's Li Panpan pocketed bronze with a time of 3:31.0.
"This was a really tough and close race. I'm really glad to get this gold because I might not have got it if I wasn't as stable as I was today," said an elated Zheng, who also thanked the vocal Chinese fans for backing him all the way.
"I'm not sure about any tactics, but because all the fans outside have been cheering for us, the rhythm they've been giving us is really great.
"We've been encouraged by that support and got strength from that," said Zheng, who is now keen on emulating his success and enhance his performance by competing in other parts of the globe.
"We've been training at home in recent years, but we hope to get out to different countries in the coming years and to learn from them and do well."
Mao, having come close to beating countrymate Peng twice in less than a weeks, was confident that his time for gold will come sooner than later.
"I just want to constantly challenge myself to do better. I've been setting new goals for myself. I actually wanted to win gold today, but I'm still happy with this result. This is huge recognition for me. If I keep working hard, sooner or later I will win gold," said a delighted Mao.
Cameron didn't want to dwell much on where he had ended up on the podium saying: "It is what it is. It's not what I wanted today. I came here to win this race today and was really confident.  My  competitors had incredible races. I think we all had our best race of our life.
"Here's nothing more I could have done today so I'm happy with this in a way but I still wanted a little bit more today."
The women's champ Yang, speaking about her back-to-back success against Masters said: "For sprint, winning or losing depends on even a few seconds. During the race, I didn't care whether my opponents were catching up.
"No matter what sound I heard, no matter whether it was far or near, I was keeping my own pace. Anyway, I was the only one on the field. I skied my own way.
"I want to go home and lie down immediately because it's exhausting. Usually, I am sleeping at the time when we had the final today."