China women's team going for gold on goalball finals day
China meets Japan and in the women's golden match and Brazil faces Finland in the men's match which is likely to be a far closer affair.
07 Sep 2012
Imagen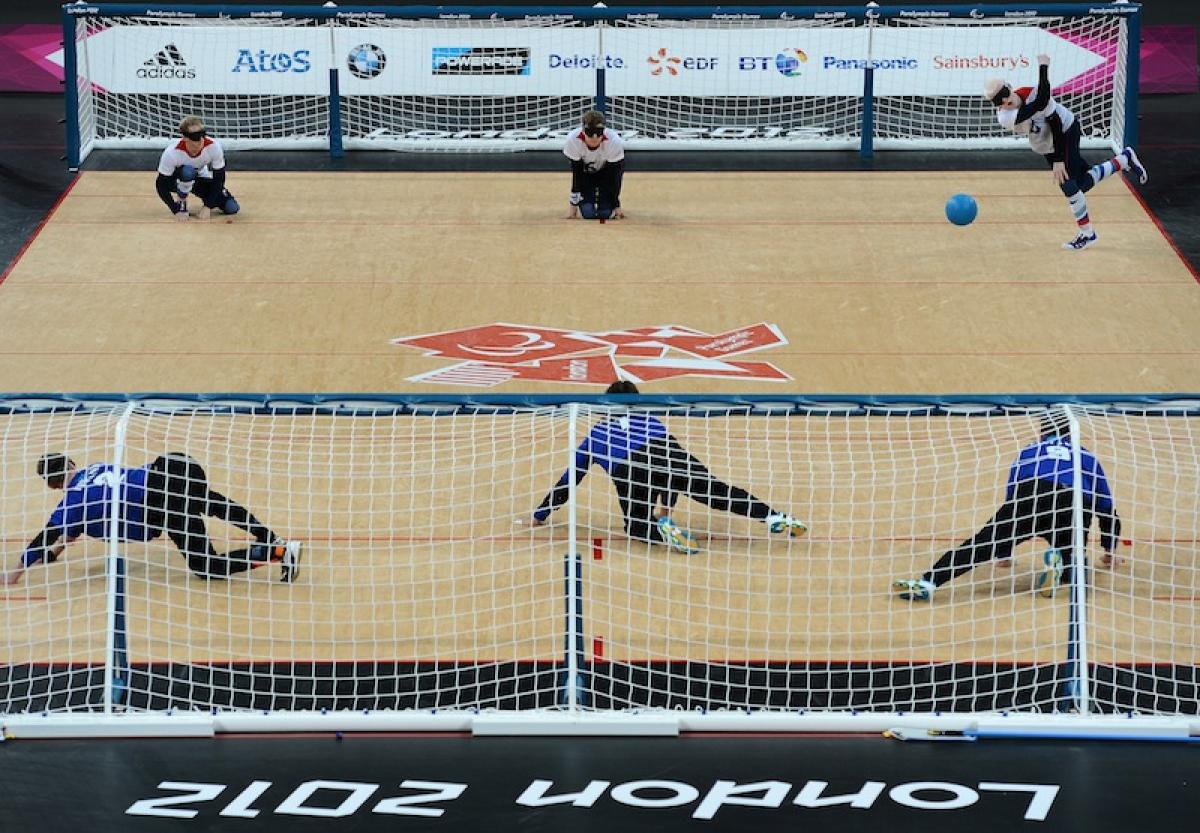 ⒸGetty
Brazil's surprise result in the semi-finals – beating men's world champions and Beijing silver medallists Lithuania – led to carnival-style noise from the team's supporters.
Japan will face world champions China in the final of the women's goalball after a dramatic afternoon which saw sudden death extra throws.
And in a surprise result, Brazil beat world champions and favourites Lithuania to take their place against Finland in the men's final.
The Copper Box audience held their breath as Japan, who took a bronze medal at the Athens 2004 Paralympic Games, overcame Sweden.
They will now take on the favourites China, who are world champions and took the silver medal in Beijing 2008.
All six members of the teams had to take penalties, before sudden death meant glory for Masae Komiya against a heartbroken Sofia Naesstrom.
Komiya said: "We know how China plays because we had some practice matches with them. Although they are very strong, we will do our best."
Coach Naoki Eguro said the team had progressed since Beijing 2008.
He said: "Since we didn't do well in Beijing we practised a lot and we welcomed a new coach, Kyochi Ichikawa, because we wanted to have a stronger offence and that's why we made it through to the final.
"And if we win the final, the popularity of goalball in Japan will increase."
In the other women's semi-final, Finland had seemed in confident mood, scoring a first minute goal, but went down 4-1 to a stronger Chinese side.
China's superiority told in the second half with Fengqing Chen scoring twice in six minutes and Lin Shan sealing her team's place in the final with a 20th-minute shot. They have only conceded five goals during the Games.
China lost out on the gold medal in Beijing 2008 to the US team, who they beat in the quarter-finals at these Games.
Coach Wand Ruixue said China had the right attitude. "In the next game we can't afford to make mistakes. There is a 50 per cent chance of victory."
Brazil's surprise result – beating men's world champions and Beijing silver medallists Lithuania – led to carnival-style noise from the team's supporters.
Goal-scorer Romario Diego Marques said: "I am really emotional. It was very close but we came through in the end."
Assistant coach Diego Concalves Colletes said he hoped this result would increase the sport's profile before the Rio 2016 Paralympic Games.
On the team, he said: "Goalball is their lives. They live it, they are a spectacular team."
The Finland men's team made it to the final after a 2-0 win over Turkey, who were previously unbeaten.
Finland's campaign for this competition began with three defeats but they have gone from strength to strength and will now hope to repeat their success of Atlanta 1996, when they took a gold medal. They also won silver in Barcelona in 1992.
Finland's Erkki Minala said the team's tactics for the final would be: "Defence, defence, defence – and score goals."
Jarno Mattila scored both goals to take his tally to 13 for the tournament, making him Finland's leading goal-scorer. But he was not daunted by the responsibility.
"I have a lot of experience and my shoulders are wide," he said.
Turkey's Tekin Duzgun did not blame the pressure for the defeat.
He said: "We're never affected by pressure like this. There is no difference playing in front of 100,000 or 10," he said.
Sweden and Finland will now battle it out for a bronze medal in the women's goalball, while Lithuania will take on Turkey in the men's competition.
Related Images