Chynka shows dominance in season opener 
The reigning European champion's double gold puts Ukraine on top at the traditional Para Dance Sport International Competition held in Amstelveen
11 Apr 2023
Imagen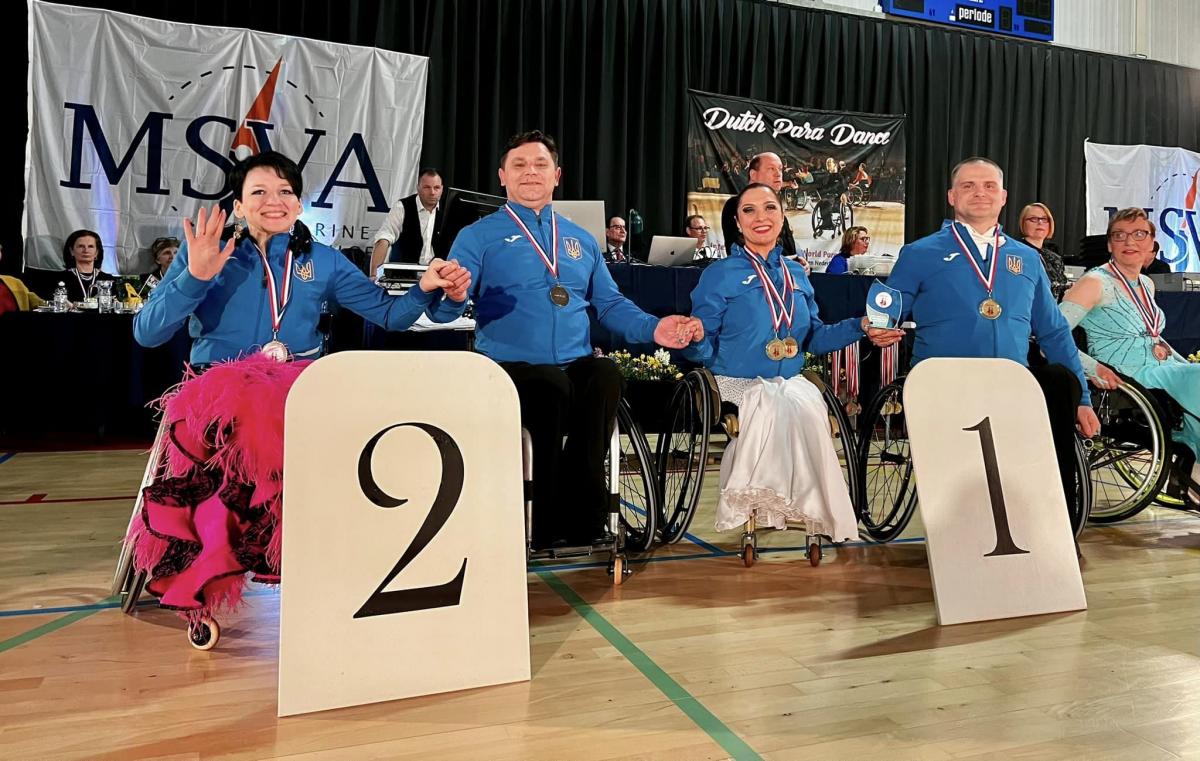 ⒸNPC Ukraine
By World Dance Para Sport
Multiple-time world and European champion Olena Chynka picked up from where she left off last season, opening the 2023 season with double gold medals at the Amstelveen 2023 Para Dance Sport International Competition that concluded on Sunday (9 April). 
Chynka mesmerised the audience at Amstelveen, in the metropolitan area of Dutch capital Amsterdam, with her incredible dance moves to finish on top in single women class 2 freestyle and duo class 1 and 2 freestyle, alongside with Oleksandr Onishchenko.
The elegant dancer led Ukraine's medal winning spree at Amstelveen as several others joined her on the podium including Natalia Chekhonatska, who overcame compatriot Snizhana Kernychna for the first-second positions for Ukraine in single women class 1 freestyle.  
The combi class 1 freestyle event was also an all-Ukrainian affair as the pair of Andrii Mironchuk and Ilona Slugovyna finished ahead of Ihor Bozhenko and Snizhana Kernychna for the gold medal.
Kernychna grabbed her third silver pairing up with Vladymyr Kernychnyi to stay on the heels of Chynka and Onishchenko, all of them Bonn 2019 World Championships medallist, to finish second in duo class 1 and 2 freestyle events.
Kazakh Kalymbetov impresses
If Chynka excelled in the De Meerkamp dance floors, Yermek Kalymbetov came up with some impressive moves to hand Kazakhstan two gold medals in single men's class 1 and 2 freestyle and combi class 2 freestyle event with his partner Kulshum Atalykova.
In combi class 1 freestyle, Kazakhstan too picked up a medal – bronze – finishing behind Ukrainians stars, thanks to the efforts of Ardak Otorbayev and Aidana Beglenova.
The Para Dance Sport International Competition is one of the most traditional events in the history of Para dance sport and for 32 years took place in Cuijk, located 115 km southeast from Amstelveen.
Following the passing of co-organiser Hans Verhoeven in 2023, this event was held in Amstelveen continuing the legacy initiated by Verhoven and Corrie van Hugten, chairperson of the Local Organising Committee, the Stichting Wheelchairdansen Nederland (SRN).
A total 62 athletes (38 women and 24 men) from nation took part in the Amstelveen 2023 Para Dance Sport International Competition and kicked off the season with some expected results. Complete results from the competition in the Netherlands can be found here.
The 2023 Para dance sport international season will resume in June with the Lomianki 2023 Para Dance Sport Polish Open.