Croatian Paralympic Committee marks its 50th anniversary
IPC President Sir Philip Craven was in Rijeka to help the NPC celebrate its landmark anniversary.
09 Sep 2014
Imagen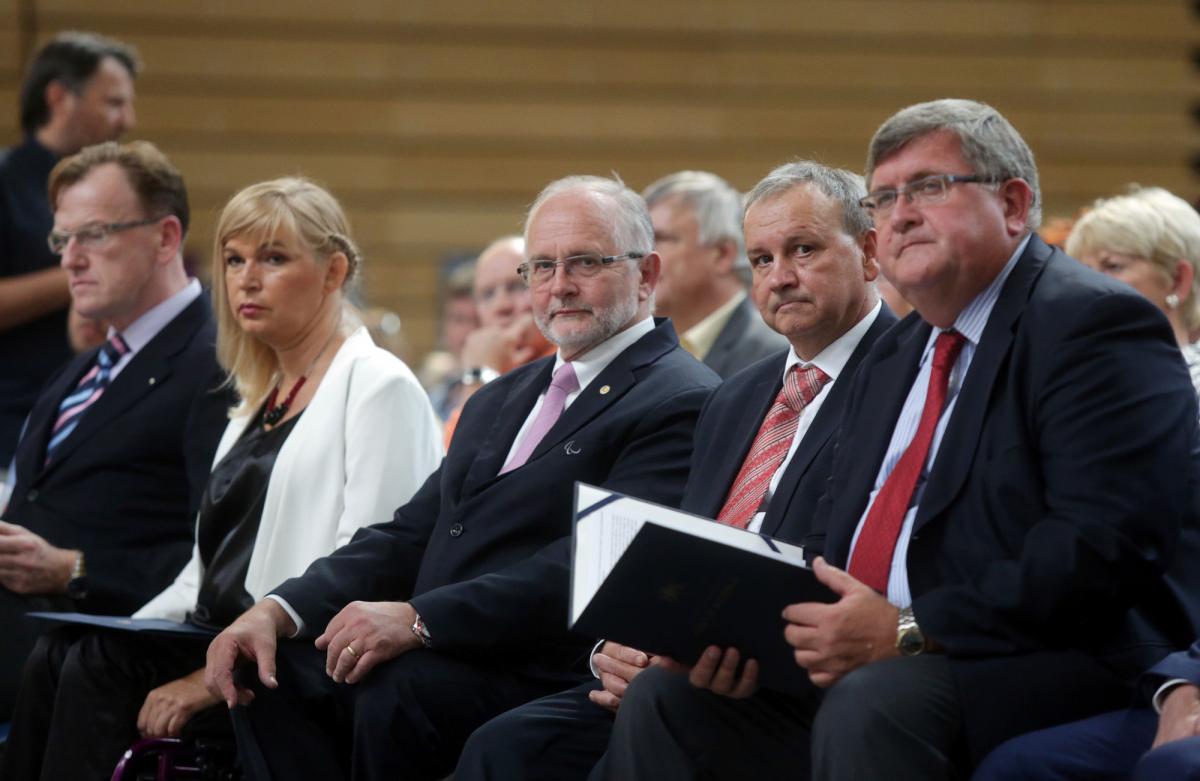 ⒸCroatian Paralympic Committee
By IPC
"Croatia is a country passionate about its sport, and even more passionate about its champion athletes. The future is bright for Croatian sport, and under the guidance of my good friend Ratko Kovacic, the future of Croatian Paralympic sport is even brighter."
International Paralympic Committee President Sir Philip Craven was amongst the VIP guests in Rijeka, Croatia, last week (4 and 5 September) to help the Croatian Paralympic Committee celebrate 50 years of organised sport for people with an impairment in the country.
The anniversary celebrations took place in Rijeka, a city where the first informal sports activities for people with an impairment took place in Croatia half a century ago. Today, the city remains at the forefront of developing para-sport, producing a number of para-athletes and medal winners.
As part of the celebrations, Sir Philip attended the Croatian Paralympic Committee's Gala Academy and a charity football match at the Kantrida Stadium in Rijeka between the Generation of '98 and Legends of Rijeka Sport. The match aimed to raise funds for developing para-sport in the country.
"I had a great two days in Croatia where the NPC, led by President Ratko Kovacic, showed itself to be one great band of brothers and sisters in the best of Paralympic traditions," said Sir Philip who was accompanied by the Presidents and Secretaries General of NPCs of Slovakia, Austria, Slovenia, Serbia, Montenegro and Greece.
"It was a real pleasure to be present in the city of Rijeka where para-sport was informally founded in Croatia in 1964 and to be in the presence of one of the Paralympic Movement's greatest ever champions, Milka Milinkovich who hails from Rijeka.
"As with all anniversaries, they are a time for reflection and I think the Croatian Paralympic Committee can be extremely proud of what they have achieved in the last 50 years.
"Looking to the future, I think the Croatian Paralympic Committee's priorities are very similar to those of the IPC.
"Together we need to increase the number of people practicing para-sport and it is vital that we build on the success of the London 2012 and Sochi 2014 Paralympic Games."
During his time in Croatia, Sir Philip also met Rijeka Mayor Vojko Obersnel, who was honoured that his city was hosting the 50th anniversary.
"We sincerely congratulate the Croatian Paralympic Committee and all the athletes on this Jubilee. I am convinced that this initial 50 successful years will be followed by more successes and more medals in the next 50 and more years! Here in Rijeka and the Primorje-Gorski Kotar county are cradles of sports for people with disabilities in our country.
"We are proud of the sporting successes achieved by athletes with a disability and desire that more disabled people get involved in sports.
"To take care of the quality of life of the disabled is for us not only a part of the responsibility but it also defines the way we want to develop our city.
"These magnificent athletes are persistent, full of energy and joy of life. Their courage and brave mastering of every-day challenges and difficulties and great results they achieve cannot be ignored. On the contrary, they are an example to everyone and should motivate us to live healthy lives and participate in sport."
Sir Philip's visit to the Mayor finished with a concert of Zagreb soloist in front of the City Hall, which was a present from sponsor Allianz to the Croatian Paralympic Committee.
Friday evening's charity football game featured a whole host of big names who were led onto the pitch by children involved in the Wholehearted Coaches project.
Paralympian Rudolf Petrovic, Gordon Maras, Minister of Entrepreneurship and Crafts, Croatia Paralympic Committee Board Members and representatives from Allianz played alongside former international footballer and AC Milan star Dario Simic, a winner of 100 caps.
"Although it is in the forefront of humanitarian character and a celebration of the Paralympic Movement, as true athletes we wanted to win," said Simic.
"Every person has the right to play sports and do it right. We should all be represented."
Sir Philip Craven added: "Croatia is a country passionate about its sport, and even more passionate about its champion athletes.
"The future is bright for Croatian sport, and under the guidance of my good friend Ratko Kova?i?, the future of Croatian Paralympic sport is even brighter."