Drahoninsky on target at Donaueschingen 2015
The Czech Republic archer was three points shy of a world record on day one of the qualifying rounds of the World Archery Para Championships.
25 Aug 2015
Imagen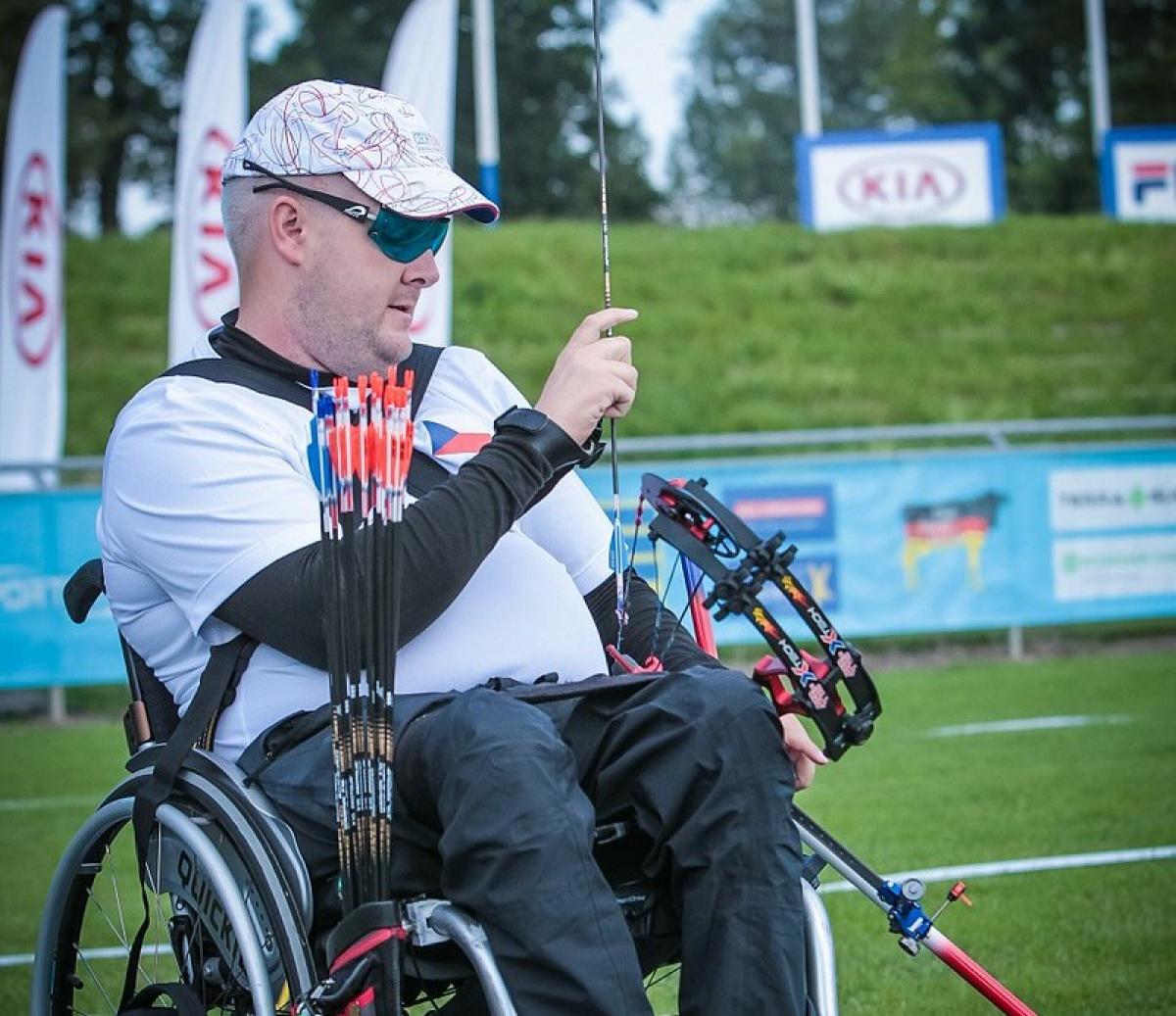 ⒸWorld Archery
By Billie Marshall for World Archery
"I feel very good with how I'm shooting at the moment. And winning quite a few tournaments in the build-up is always a confidence boost."
It has been a while since the Czech Republic's David Drahoninsky has tasted golden success, but the 33-year-old looks like he could return to the top. Drahoninsky posted a session-high score of 672 out of a possible 720 points in the W1 men's qualification round on Monday (24 August) at the 2015 World Archery Para Championships in Donaueschingen, Germany.
Drahoninsky – bronze medallist at the 2013 Para World Championships in Bangkok, Thailand – hit gold at the Beijing 2008 Paralympics. Gold in this week's World Championships, which run until 30 August, would be huge for Drahoninsky.
His score in Donaueschingen was just shy of his own world-best mark of 674.
"I feel very good with how I'm shooting at the moment," Drahoninsky said. "And winning quite a few tournaments in the build-up is always a confidence boost."
"I'm a little disappointed that I was only three points off a new world record, but there is more time to achieve that," he said.
Second to Drahoninsky was the USA's Jeff Fabry, who prevented Drahoninsky from taking a second Paralympic title in the final of London 2012. Fabry scored 650, while Great Britain's John Walker rounded out the top three with 647. Germany's Uwe Herter also had 647, taking the fourth seed.
Great Britain's John Cavanagh was the third of a trio of recent Paralympic champions expected to be in the mix with the two leaders as a top-10 qualifier; the 59-year-old landed in seventh overall.
Monday's qualification rounds also featured the W1 women's, visually impaired (V 1, V2/3) and men and women's compound opens.
China's Guo Ying, and Great Britain's Jo Frith and Jessica Stretton all scored 640 out of 720 points in 72-arrow ranking round of the women's W1; Donaueschingen 2015 marks W1 women athletes' first ever world championships. Competing for that first world crown are 11 athletes from eight nations, including Russia, Spain, South Korea, the USA, Spain and the Czech Republic.
Alberto Simonelli, the 1998 world champion, led an Italian one-two in compound men's open qualifying, scoring 697. It was a qualifying round that also saw Simonelli's Italian team set a new world record.
He finished the 72-arrow round five points clear of teammate Matteo Bonacina. The pair, alongside Gianpaolo Cancelli, who scored 673, set a team score of 2,062.
Slovakia's Marcel Pavlik sits in third, followed by the USA's London 2012 silver medallist Matt Stutzman placed fourth and then British defending world champion John Stubbs.
In the women's compound open, South Korea's Kim Misoon leads after scoring 459, followed by Italy's Eleonora Sarti (457) and Great Britain's Mel Clarke (453).
The 2015 World Archery Para Championships continue on Tuesday (25 August) with qualification rounds in the recurve and compound women's open and recurve men's open.
Complete results from Donaueschingen 2015 can be found on World Archery's website.