Drama on second day of European para-dressage champs
Grade II and III both see upsets at competition in Herning, Denmark.
24 Aug 2013
Imagen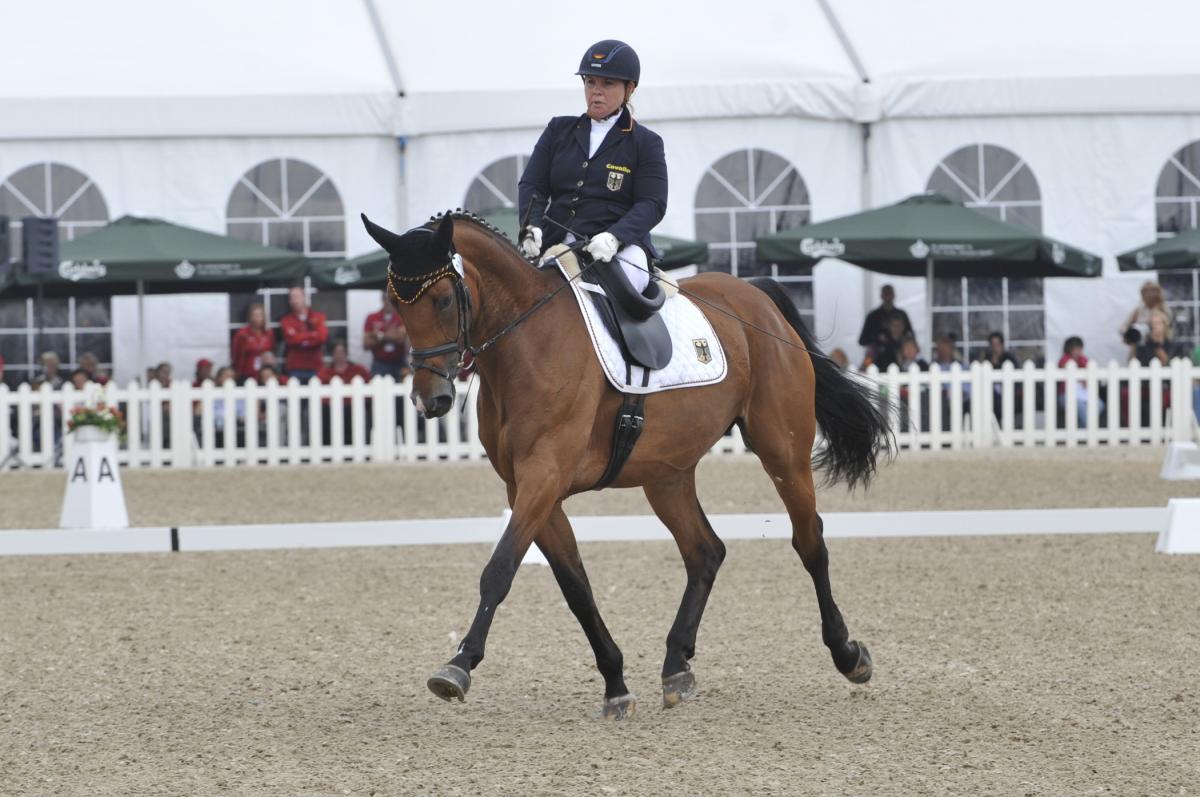 ⒸKate Houghton/FEI
By Rob Howell
"On the way up to the arena he felt like 'come on, we can do it', so I felt really confident and knew we could do it. I didn't expect to win the class."
It was a dramatic day of team competition at the JYSK FEI European Para-Dressage Championships in Herning, Denmark, yesterday (22 August), with the Grades Ia, II and III riders being put through their paces.
Great Britain's London 2012 triple gold medallist Sophie Christiansen and compatriot Anne Dunham dominated the Grade Ia competition. Christiansen and Janeiro 6 claimed the honours on a score of 76.391%, while Dunham, who has won 12 gold and countless silver and bronze medals at world, european and Paralympic level, slotted into second with LJT Lucas Normark with 75.435%. Italy's Sara Morganti gave a strong performance on Royal Delight to finish third with 74.947%, her best score in an international competition.
Germany's Angelika Trabert upset the Grade II form book to take the win on Ariva Avanti with a mark of 71.853%. Great Britain's double London 2012 gold medallist Natasha Baker, was second with an excitable Cabral to finish on 69.765%, ahead of Britta Napel (GER) on Aquilina 3, scoring 68.971%.
The form book was also thrown out in the Grade III contest, when Dutch rider Sanne Voets steered Vedet Pb to victory with 70.947% ahead of Germany's double London 2012 individual and freestyle gold medallist Hannelore Brenner on Women of the World in second place on 69.684%. The French combination of José Letarte and Warina scored 69.185% for third.
Dramatic Grade II competition
The Grade II competition saw plenty of drama, which appeared to stem from the a horse becoming agitated in the warm-up arena and, subsequently, spooking a number of other horses.
The excitement distracted Denmark's Caroline Cecille Nielsen and Leon, sadly resulting in the horse stepping out of the arena for elimination.
Baker explained that the increased tension also affected Cabral: "He started his warm-up really well and then the Dutch horse was spinning and cantered out of the arena and went backwards into the hoardings. That totally set him off and he was on edge and then everything else got on top of him. I got him back in the walk and he was starting to feel good. He took a breath and relaxed a bit and then some people walked into the stands, he spotted them, stuck his head up in the air and that was it."
Baker remained philosophical, however, and added: "It's not the rider's fault, nobody can help that. You've got to just shrug it off. The good thing is the team have got three amazing scores, so mine was the last one and we have the individual classes to go so I've got a chance to pull it back up."
Germany's Trabert, a 2010 Alltech FEI World Equestrian Games gold medallist and London 2012 silver and double bronze medallist, said of her day: "I was very pleased with her. She stayed with me. I don't know if my scores were a little low. I felt like it was a little better than the percentage I got. I will see my score sheet and have a look at that and hope that in two days we'll do better. I'd like to do better than today and we'll see where we end up. I can work to be more precise and accurate and I think we can do a little more."
Speaking after the Grade Ia competition, Christiansen said: "It wasn't quite London standard as I was playing it a bit safe in this environment with all the people around. But I'm really pleased with him and it means I can go up a gear at the weekend. I would have liked a bit of a higher score for the team, but you can't have it all."
Dunham returns to international competition
The JYSK FEI European Championships represents a return to international competition for Dunham, who became the first British athlete to win gold at four consecutive Paralympic Games when she took individual followed by team gold at the Beijing 2008 Paralympic Games in Hong Kong. She is here to defend her two individual European titles.
"It's lovely to be back competing at international level", she said. "It feels as fresh as ever every time I qualify and come to one of these. It's a challenge to get here. It's a challenge when you're here and I don't really want to give it up yet."
The biggest smile of the Grade Ia competition was worn by Italy's Morganti. "I am very, very happy," she said. "My horse was cool and calm. I dream of medals, but I am not going to be disappointed if it does not happen."
After her win in the Grade III competition, The Netherlands' Voets said: "When I got on my horse he really felt willing to work. Since we arrived on Sunday he has become more and more fit. On the way up to the arena he felt like 'come on, we can do it', so I felt really confident and knew we could do it. I didn't expect to win the class, especially since Hannelore Brenner is so good and has won so many times before."
"I am very satisfied with my horse, because it is not easy to ride here," Hannelore Brenner said. "There is so much outside of the course and the horses have difficulties concentrating. I was nervous and rode the wrong way, which I also did in London. In London I won anyway, but I don't think I have enough points for that today. This is my third European Championship and the competition has been wonderful. I love Denmark and the Danish people."
Great Britain end the second day in a strong position in the team competition, but the start of today's (23 August) individual tests could still affect the results.
The Grade Ib showcases Austrian Pepo Puch, Great Britain's Ricky Balshaw and Denmark's popular Stinna Tange Kaastrup return to the arena for the Grade Ib individual test, followed by a re-match for London 2012's Grade IV gold and silver medallists, Belgium's Michele George and Great Britain's Sophie Wells.
You can follow the championships on Twitter and Facebook.
Key performances and interviews with medal winners will be available as video-on-demand from the JYSK FEI European Para-Dressage Championships on Fei TV.