Dutch domination at La Molina 2015
There was also several surprise results in snowboard-cross at La Molina 2015.
24 Feb 2015
Imagen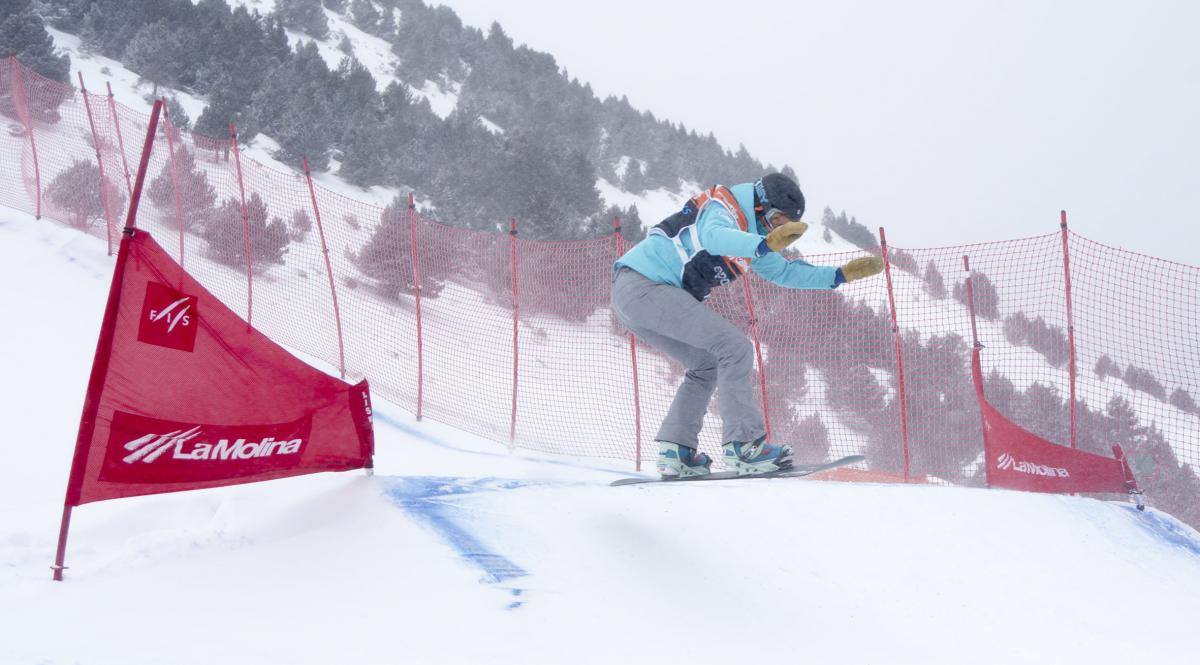 ⒸOriol Molas
By IPC
"It feels awesome to be both Paralympic and World Champion at the same time"
The first IPC Para-Snowboard world champions in the new format of snowboard-cross head-to-head were crowned on Tuesday (24 February), as two Dutch riders stole the show in a snowy and windy La Molina, Spain.
With Bibian Mentel-Spee and Chris Vos taking gold, the Netherlands also collected a bronze to lead the medals table after the first day of competition. The USA had a great day on the slopes too, taking one gold, two silvers and a bronze.
After the initial qualification rounds in the women's SB-LL2 the final was to be a contest between the undefeated and pre-race favourite Mentel-Spee and the USA's Heidi Jo Duce.
Mentel-Spee worked hard to maintain her 100 per cent season record and emerged victorious against Duce to add the World Championships gold to the Paralympic title she won at Sochi 2014 nearly one year ago. She was joined on the podium by her teammate Lisa Bunschoten who took bronze.
"It feels awesome to be both Paralympic and World Champion at the same time," Mentel-Spee said. "La Molina did such a good job with the course, because it has been snowing all day long and they just managed to get a really good course for everyone to race on, so that is amazing, but of course winning is just the best feeling ever."
In a surprise appearance, Barcelona and Dutch football legend Johan Cruyff would be the man who delivered Mentel-Spee her gold. His foundation is involved in sport for people with impairments in La Molina.
A shocked Mental-Spee said "I didn't know he was coming and I went inside to the Ceremony and felt a hand on my shoulder and it was Johan. I really know him from working with the Johan Cruyff Foundation and being an ambassador, so I've known him for a little bit but it was just amazing that he came to hand out the medals. It's been a great day for the Netherlands, I am so proud of them. It is crazy."
In the men's SB-LL1 competition, the Netherlands would secure their second World Championship gold as youngster Chris Vos saw off stiff competition in the final from Norway's Kristian Moen. Russia's Serafim Pikalov took bronze to complete the podium.
"We are just like a big family, I am so proud of Lisa [Bunschoten] and Chris [Vos] and I've watched them grow from the basic turns to where they are now and I am just enormously proud," Mentel-Spee said. "Pyeongchang better beware that's for sure."
The USA's Brenna Huckaby took a surprise victory over French Sochi 2014 silver medallist Cecile Hernandez Cervellon in the women's SB-LL1. Huckaby has been chasing Hernandez-Cervellon all season, finally beating her to the line when it counted most. Teammate Nicole Roundy joined her on the podium in third.
Another shock came in the men's SB-LL2, with Finland's Matti Suur-Hamari taking the win over US Paralympic champion Evan Strong in the final. Canada's Alex Massie was elated with his bronze medal in his first competitive season.
Italy's Manuel Pozzerle defeated British pre-competition favourite Ben Moore in the semi-final of the men's upper-limb impairment race. Moore would secure the bronze, before watching Pozzerele become champion after defeating his fellow countryman Roberto Cavicchi into silver medal position.
The 2015 IPC Snowboard World Championships continue on 28 February with banked slalom and features 42 of the world's best para-snowboarders from 18 countries.
Live results will be available at www.LaMolina2015.com. Updates will be posted to IPC Alpine Skiing's Facebook page and Twitter, as well as @Paralympics Instagram.