Eleven para-equestrian titles awarded in France
The year's first major competition showcased what fans might expect at the Alltech FEI World Equestrian Games later this year.
11 Apr 2014
Imagen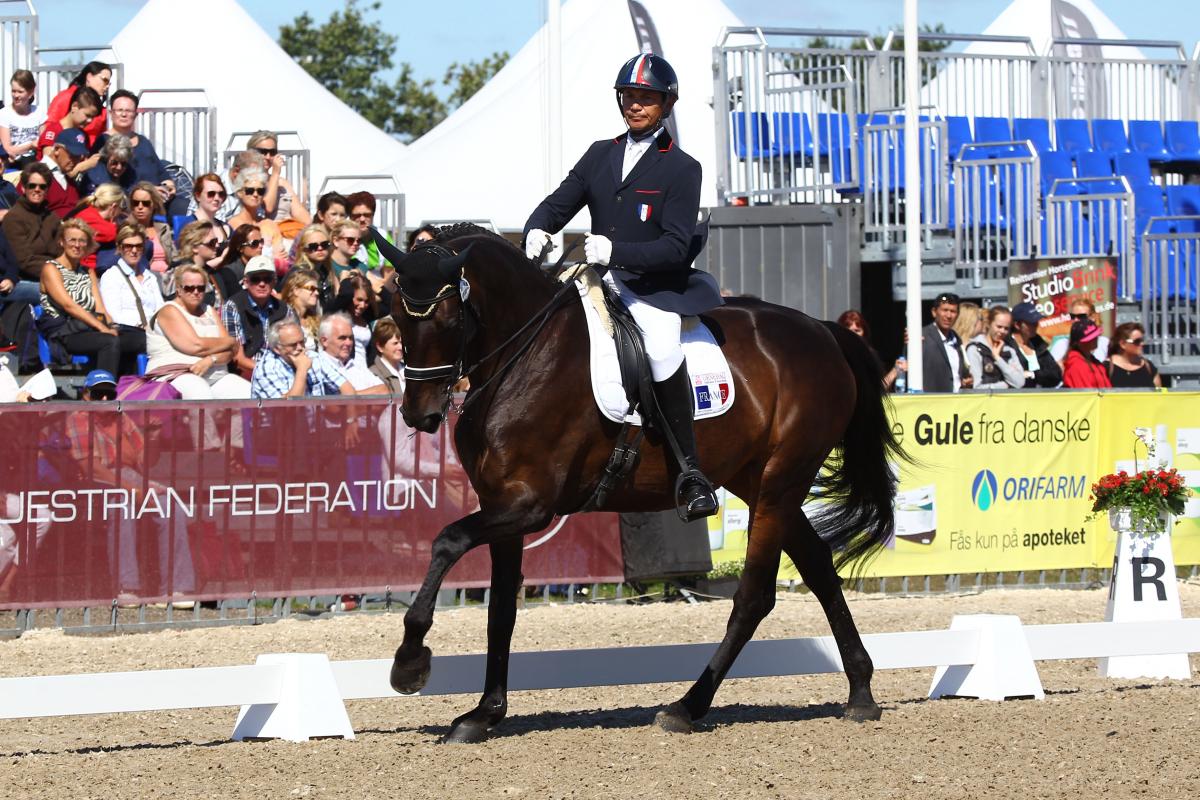 ⒸFFE-PSV
By Rob Howell | For the IPC
More than 20 countries travelled to the competition, including from as far afield as Hong Kong, Singapore, Brazil, Canada and the USA.
Para-equestrian dressage riders from around the world gathered in Deauville, France, for a Standard Show last weekend (4-6 April) for the first major international competition in the run-up to the year's biggest equestrian event, the Alltech FEI World Equestrian Games 2014 in Normandy in August.
More than 20 countries travelled to the competition, including from as far afield as Hong Kong, Singapore, Brazil, Canada and the USA.
Once again the British team came away the major winners, with seven of the 11 titles on offer going its way. However, there were also strong performances from other nationalities, too, and the reappearance of a few familiar faces.
The victorious British team of Sophie Wells (grade IV), Natasha Baker (grade II), Ricky Balshaw (grade Ib) and Deborah Criddle (grade III) took the team championship with a combined score of 146.633% over runners-up, the Netherlands, with 141.332%. France came third with 135.931%.
There were victories in the individual tests and freestyle events, too, for Wells and Baker, with Balshaw runner up in his individual and freestyle test, and Criddle second in her freestyle.
And there was something of a comeback for multi-Paralympic gold medallist Lee Pearson (riding Zion) who, after a relatively quiet 2013, took both the grade Ib individual and freestyle titles and reignited his friendly rivalry with compatriot Balshaw in the process.
Close behind in third place in both tests was Denmark's Stinna Tange Kaastrup.
With those three on top form, and with the prospect of Austria's Paralympic and European champion Pepo Puch entering the mix as well, the grade Ib competition is shaping up to be one of closest yet this year.
Singaporean rider Gemma-Rose Foo won the grade Ia individual and freestyle tests, riding Cassis Royal with a score of 72.304%, with France's Thibault Stocin on Lou Heart second and Jens Lasse Dokkan of Denmark on Heiberg third in the individual test.
Foo's teammate, fellow grade Ia, competitor and London 2012 double medallist Laurentia Tan, also returned to competition coming second in the freestyle on Ruben James. Ireland's Helen Kearney, on Mister Cool, was third.
The same top three dominated the grade II competitions, with Baker winning both on Cabral. Rixt Van Den Horst of the Netherlands was second on Uniek, and Canada's Lauren Barwick was third on Off to Paris.
In grade III, the Netherlands' Sanne Voets, on Vedet PB Nop, took the individual and freestyle titles, beating France's Jose Letartre in the individual test, with Canada's Roberta Sheffield third. Criddle finished second in the freestyle, with Denmark's Susanne Sunesen third.
A similar situation unfolded in both grade IV tests, with Wells on Valerius finishing first in both events. Frank Hosmar of the Netherlands was second on Alphaville Nop and Belgium's Ciska Vermuelen was third on Whooney Tunes.
Riders are now fighting hard for places at the Alltech FEI World Equestrian Games and they will compete again in Moorsele, Belgium, from 25-27 April, Mannheim, Germany, from 2-6 May, and in Hartpury, Great Britain, from 9-11 July.